Keeping youngsters entertained in port is easy if you know these gems for kids
If you are sailing with youngsters, eventually you'll ask yourself what to do with your children in port. The Chesapeake Bay offers numerous quaint towns on both shores. Exploring them with the toddler and preschool set can be fun and exciting with some planning.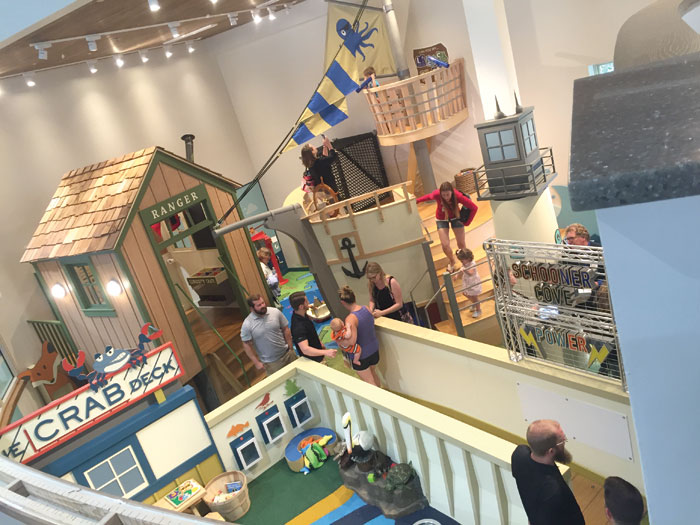 Solomons Island is one of our favorite destinations. The Calvert Marine Museum has two programs for children and caregiver to do together. Sea Squirts is for children 18 month to three years old, and Little Minnows is for three- to five-year-olds. The former is offered three mornings a month (check their calendar for exact dates), and the latter is the fourth Thursday of the month. The museum also has a boat building class for children five and older. When Mom or Dad needs a reprieve, they offer adult yoga on Tuesday nights.
The Annmarie Sculpture Garden, located off of St. John's Creek before you cross the bridge into Solomons Island, is about a two-mile hike from Zahniser's Yachting Center (just for reference), but worth it if you have a good stroller and some time. There is a wooded trail with fairy houses, a nature nook where kids can meet different critters, a nature play space, gem mining, and an art lab. They offer specific programs throughout the summer and suggest you check their website.
Across the Bay to the north, Cambridge, MD, has a "Reading Social" on the first Saturday of the month. This is for children age two to 12. In addition to hearing stories, kids can do arts and crafts. All kids leave with a book!
Oxford, MD, has one of the coolest waterside parks I've seen. It's perfect for a picnic and blowing off some steam.
St. Michaels is a popular spot for boaters and one of the more robust Eastern Shore towns. The Chesapeake Bay Maritime Museum (CBMM) hosts a scavenger hunt specifically for preschoolers. Parents do it with their kids and can download the map from cbmm.org. They also offer "Family Activity Backpacks" filled with toys to help children interreact with exhibits. For fulltime cruisers or those who live on the Eastern Shore, check out CBMM's summer camps—campers start at age four. When our daughter was six months old, we stumbled upon a free concert at one of the churches on Talbot Street, so it's worth wandering the town to see what's happening.
Crossing back over to the West, Baltimore City offers a lot! For budget-minded sailors (pardon my redundancy), The Enoch Pratt Library System has free baby, toddler, and pre-school story hours. The Canton branch is an easy walk from The Anchorage and Baltimore Marine Center (BMC) at Lighthouse Point, and The Light Street Branch of the library is easily accessible from BMC Inner Harbor. BMC Inner Harbor is also close to the Maryland Science Center; they have a specific room for preschoolers with hands-on activities.
Port Discovery Children's Museum is on the other side of the Inner Harbor but totally doable with a good stroller. It is a children's paradise. The National Aquarium, of course, is a big attraction. Be forewarned that they do not allow strollers inside (there is a safe place to stash them). If your children are more "spirited" it may be difficult to navigate.

Havre de Grace is a great town best known for its Decoy Museum. Really young children, however, may be more interested in the Harford County Public Library branch located within town. In addition to story hours, they have Schooner Cove: an 800-square-foot learning play area for kids up to age six. Dip and Doodles is a design studio that sometimes offers art programs so checking their website may pay off.
Sailing is the main activity, of course, but having on-land activities can be a nice distraction for young kids and parents alike.
by Sharon Praissman Fisher