Aboard five women-skippered and crewed sailing vessels
A sailing fleet of five women-skippered and women-crewed boats sailed to Mill Creek off Whitehall Bay when Herrington Harbour Sailing Association (HHSA) kicked off the fall 2021 cruising season with our first Women's Cruise.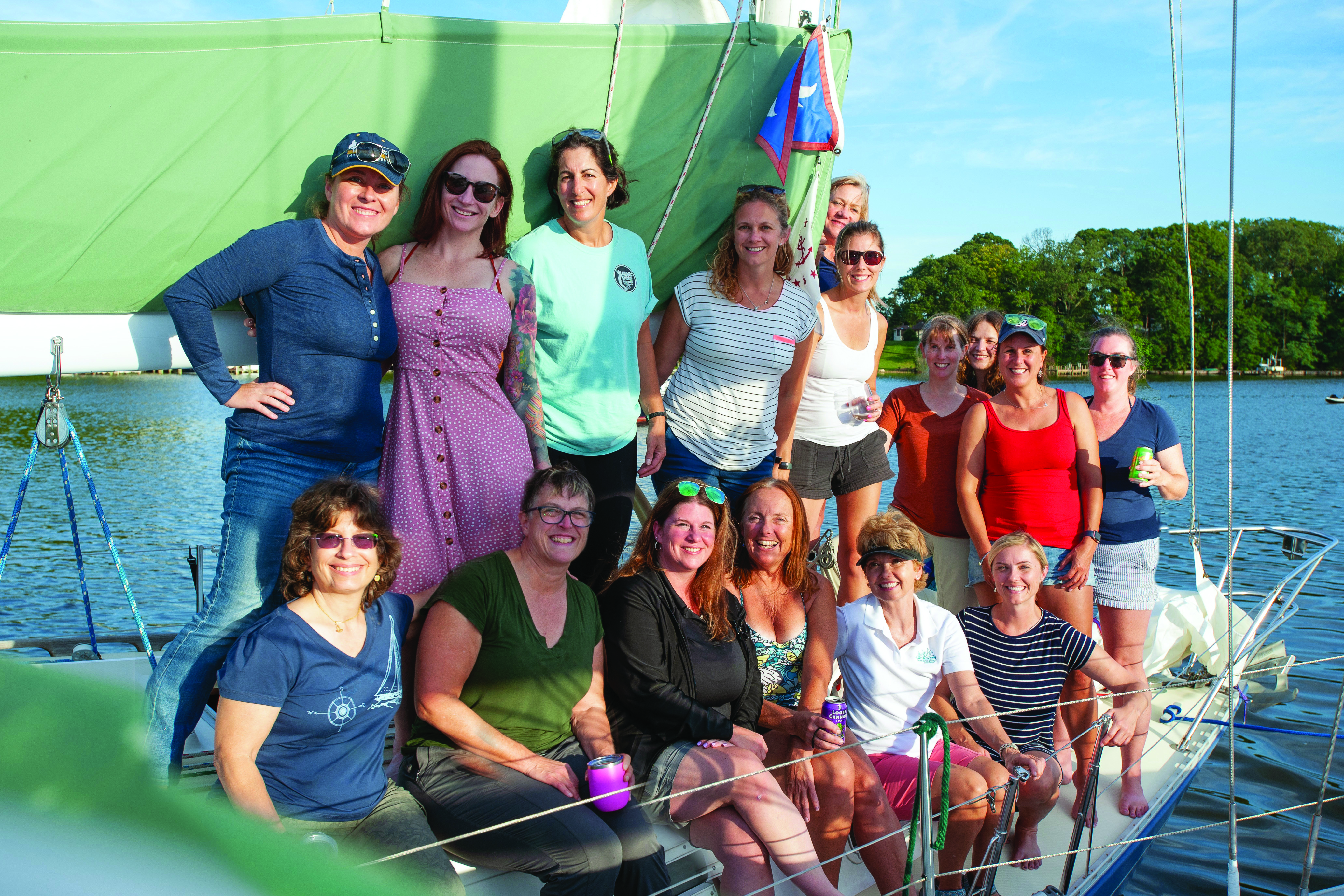 Women Underway supports women sailing
Women Underway is an HHSA group for women supporting women sailing and is open to both HHSA members and non-members. The turnout for the cruise was a great example of Women Underway's goals: of the five boats, three were skippered by HHSA members and two were from outside the club. The 18 sailors included a professional captain, lifelong sailors, an accomplished racer or two, and a few brand-new sailors. The goal of the cruise was to get a group of women together to teach and share sailing and skills with other women.
In preparation for the weekend, the cruisers shared a list of skills that they wanted to practice, everything from navigation and sail trim to engine maintenance and anchoring. Kristin Rutkowski said, "I appreciated the extra practice with anchoring and using waypoints for navigation. I do mostly day sails and having the course with compass headings isn't something I have a lot of practice with."
A cocktail hour was held on Catie Mae (skippered by Stefanie Brady from St. Michaels). We discovered many common connections between us and, of course, made new ones. Kristin managed the great feat of getting almost all of us into a group photo that included herself via a timer and some boat gymnastics.
A sporty sail home
The sail home was much sportier. Winds had kicked up and were gusting to over 20 knots. As we zipped home to Herring Bay, Happy Place took advantage of the breeze and added a loop around Poplar Island before beating back into Herrington Harbour North. Good practice for Brandy Leggatt who is preparing to be a liveaboard cruiser with her husband and two kids.
It was a weekend of great women sailors sharing, learning, and supporting other women sailors. As Kristin put it, "What an amazing weekend. I'm grateful for the fun, the chance to enjoy a beautiful fall weekend, time to improve my cruising skills, and best of all the opportunity to connect with some amazing women."
Learn more about Women Underway via the women's sailing tab at the HHSA website. We hold monthly Zoom meetings when we don't meet in person and will hold our women's regatta in June 2022 and a women's cruise next season, too.
By Jayne Durden