Marine Electronic Continue To Improve
As one might expect, there are fewer innovative new electronics products available to the sailor or boater due to global slow-downs in industry, travel, supply chain, and just about everything else. This isn't merely my opinion, but more of a general consensus among friends in the marine business. And yet, products continue to improve not only in reliability and sophistication but in functionality as well. More products are wireless capable, for example. Here is a roundup of some of the leading lights in marine electronics for sailors this year.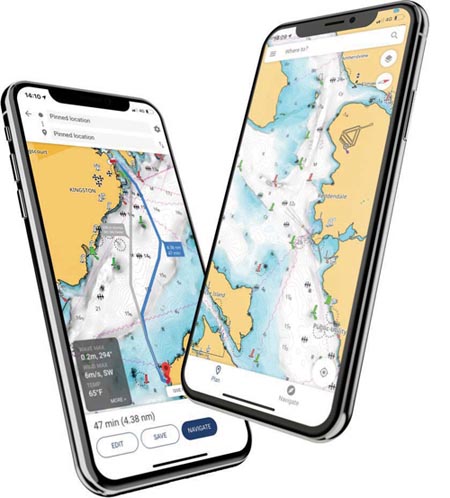 New Simrad/Lowrance App
Lowrance (and sister Navico company Simrad) recently unveiled their new companion app featuring enhanced navigation and device connectivity. The app, which is free to download, includes various maps, weather services, personalization options and the ability to store personal waypoints. It includes a set of "free" features, along with a combination of new premium features with advanced functionality and seamless synchronization with the full range of Lowrance fishfinders and chartplotters. The app offers free up-to-date and detailed nautical charts from C-MAP, creation and management of personal waypoints, routes, and tracks, along with the latest marine weather, essential points of interest, and more. The company will now also offer a premium version of the app which, it says, offers global charts and offline maps, AIS, weather overlays, GPS navigation data and other features. For fishermen, the app includes 'detailed fishing information.' Download it from Apple and Google app stores. Price: free.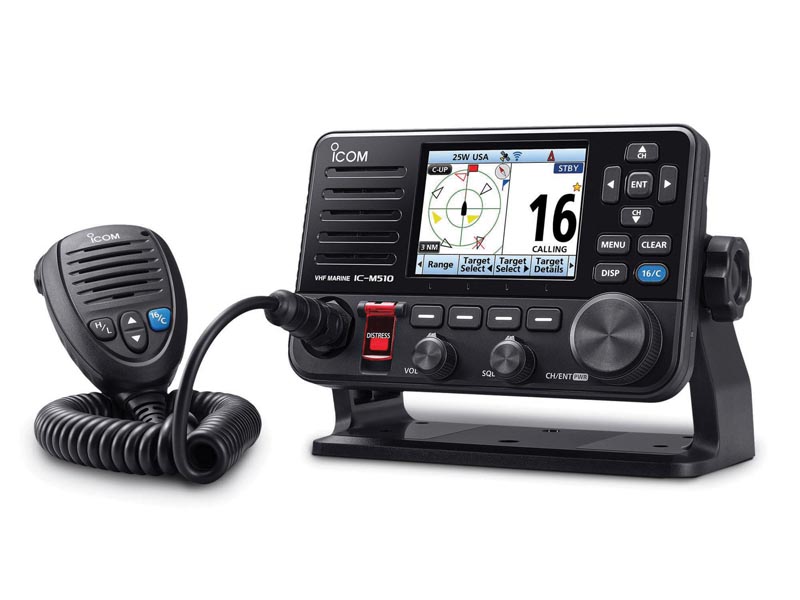 Icom IC-M510 VHF With WLAN
ICOM has introduced its new M510 fixed mount VHF. The M510 is nearly half the depth of the M506, allowing installation in more confined spaces. The large color display has a simple user interface allowing casual and serious boaters plenty of options to communicate. The M510 includes a full-color, 3.5-inch TFT LCD screen with super-wide viewing angles approaching 180 degrees. VHF and mobile-phone technology merge in the Icom IC-M510 fixed-mount radio, offering built-in control using up to three smart devices via Icom's WLAN function. The RS-M500 app lets you turn your mobile phone into a wireless mic or remote controller. Features include an available integrated AIS receiver to show real-time AIS traffic information on the M510 color TFT LCD screen. With built-in GPS, the new Icom guides you to a designated waypoint and allows you to assign up to 100 destinations as waypoints.
The standard marine user interface is enhanced with animated functions and night mode for optimal viewing in the dark. Boaters can upgrade to the M510 AIS version to access real-time vessel traffic information. Operators can call an AIS target directly when using an individual DSC call, reducing the amount of marine hardware with a combo AIS and VHF two-in-one that share the same VHF antenna.
Other features on the new ICOM M510 include an output power of 25W, an IP68 waterproof rating, and a built-in GPS, plus an NMEA 0183 output jack. The RS-M500 app allows owners to connect three iOS or Android smart devices to function as a wireless intra-ship command speaker/microphone. If the NMEA connection is in a different part of the boat, the CT-M500 can wirelessly connect with the M510, providing flexibility for placement. Price: $600.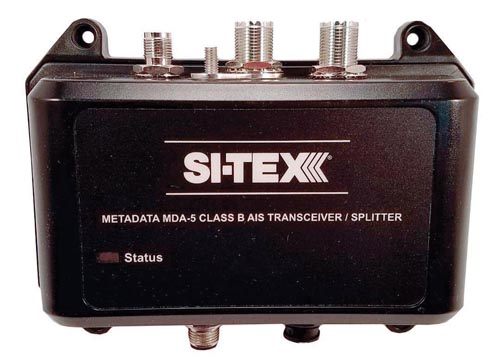 SI-TEX MDA-5 AIS 5-Watt AIS Transceiver
SI-TEX Marine Electronics' MDA-5 AIS 5-Watt AIS Transceiver is the latest addition to the company's popular Metadata family of AIS products. It offers a range of essential features and safety benefits for recreational and light commercial vessels. This advanced Class B/SO system transmits at five watts, compared to two watts for traditional Class B units, allowing boats equipped with the MDA-5 to be "seen" over longer distances and/or in challenging environments. It also transmits a vessel's position and dynamic data such as heading, speed over ground, and course over ground on a more frequent, "Class A-type" priority basis. This more frequent broadcasting of vessel information ensures that other vessels around you receive the most up-to-date data possible and is particularly important when vessels are traveling at high rates of speed and/or are transiting heavy traffic areas. The MDA-5 is compact, lightweight, and easy to install just about anywhere. It is ruggedly built for the marine environment, with an IP67 waterproof rating and dust and vibration-proof construction. The MDA-5 features NMEA 2000, NMEA 0183 and USB connections for easy integration with onboard marine electronics, along with built-in WiFi to effortlessly pair with tablets and laptops running navigation software. With its integrated zero-loss VHF antenna splitter, the MDA-5 can be installed without needing a second antenna. The MDA-5 is IEC, FCC and USCG Certified and is available through authorized SI-TEX Marine Electronics dealers. Price: $800.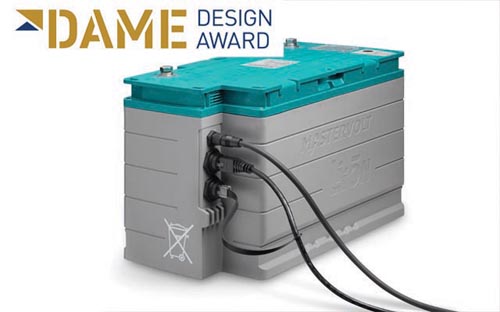 Mastervolt Lithium Ion Battery MLI Ultra 1250
Lithium batteries for recreational boating are becoming more and more attainable. The development in the past 10 years has seen huge improvements in affordability and compatibility with modern marine electronics. The MLI Ultra 1250 sets new standards in battery design. It features market leading technology, including an intelligent battery management system, integrated battery switch, heat pad, IP65 design, and extended connectivity. This battery is built for reliability and low cost of ownership. Price: $1978.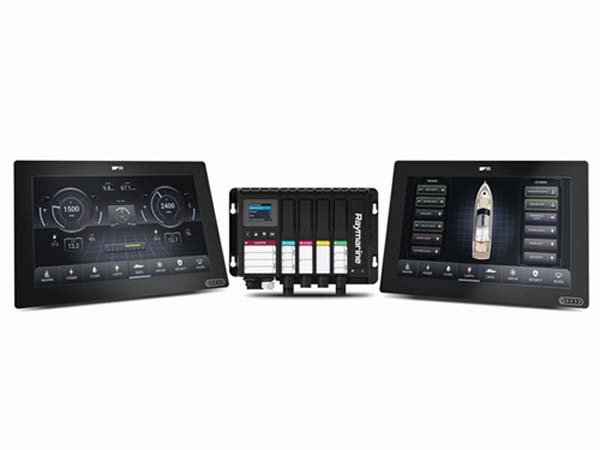 Raymarine Cyclone Radar
The Raymarine Cyclone radar system is a solid-state, open-array radar that delivers 'superior target separation and long-range resolution.' It utilizes CHIRP pulse compression with Raymarine's 'beam sharpening' technology to produce an image that is so sensitive it can even detect birds. Cyclone is engineered for extremes with a wind rating of over 100 knots. A fast 60-rpm rotational speed delivers 360 degrees of awareness and accurate tracking of up to 100 distinct ARPA targets in real-time, even with the vessel at full speed. Precision radar imaging comes courtesy of CHIRP pulse compression and beam-sharpening technology for superb target separation and long-range resolution. With Cyclone, boaters can simultaneously enjoy maximum visibility of near and distant targets using Raymarine's RangeFusion technology.
RangeFusion technology merges short-pulse, near-target ranges with long-pulse, distant target ranges, providing a single radar image that is easier to interpret. The system has an attractive and streamlined profile because its designers intentionally avoided the more angular, boxy shape of traditional radars. The Cyclone is available in three different sizes: three, four, and six feet, and each size is available in either a standard 55-watts power rating or the Cyclone Pro version which offers 110 watts of power. At just 13.2 inches high, Cyclone's lower profile allows greater flexibility of boat architecture and more flexible installation options. Cyclone is the lightest open-array radar available, with the three-foot models weighing just 51 pounds. This smaller, compact profile brings Cyclone's unique open-array performance to nearly any sized vessel. The Cyclone system is designed to integrate seamlessly with all Raymarine Axiom multifunction displays. Price: $7000 to $9750.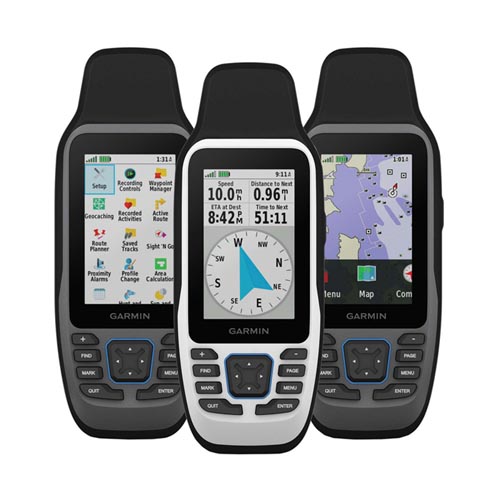 Garmin GPSMAP 79
The new Garmin GPSMAP 79 series handheld navigation instrument is available in two models: the GPSMAP 79s with a built-in worldwide basemap and support for downloadable marine charts, and the GPSMAP 79sc, which comes standard with built-in BlueChart g3 cartography.
Featuring a larger, optically bonded display and scratch-resistant glass lens, the GPSMAP 79 series prevents fogging, improves contrast, and enhances clarity for easier, sunlight-readable navigation in marine environments. In addition to a three-axis, tilt-compensated compass, the GPSMAP 79 series also allows boaters to access data worldwide using reliable GNSS with support for multiple constellations. The GPSMAP 79 marine handheld series provides up to 19 hours of battery life while using GPS and 8 GB of memory to store up to 10,000 waypoints and 250 routes. Packed securely in a rugged, floating design, the GPSMAP 79 marine handheld series equips mariners with a suite of essential, easy-to-use onboard navigation tools. Price: $350.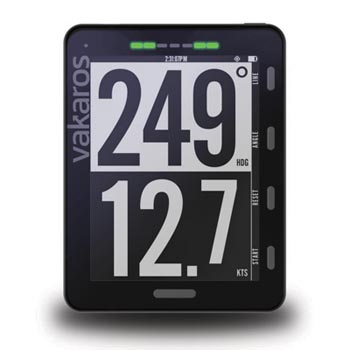 Vakaros Atlas 2
Racing sailors know that if you win the start, you control the fleet. In the Atlas 2 sailing instrument, you'll find state-of-the-art sensors, sophisticated algorithms that give numbers you can trust, distance and time-to-line, and starting screens that deliver the situational awareness you need to get to the line on time and at full speed. The Atlas 2 boasts centimeter accuracy with the only L1 + L5 GNSS on the water, a compass that measures in tenths of a degree, wireless charging, nearly a week of battery life, and so much more. Need to measure depth, speed-through-water, or wind? The Atlas 2 can wirelessly link with a range of sensors and combine their data with its powerful internal sensors and motion algorithms. Setting up new sensors is easy with the Vakaros. Connect the app, and you can customize the display to see exactly what you want, when you want to see it. Every Atlas 2 includes a technology called RaceSense, which can call the start with centimeter accuracy, putting an end to general recalls, black flag starts, and protests. It can enforce boundaries, handle scoring, and even show you a live leaderboard while you race. Starts at $1099.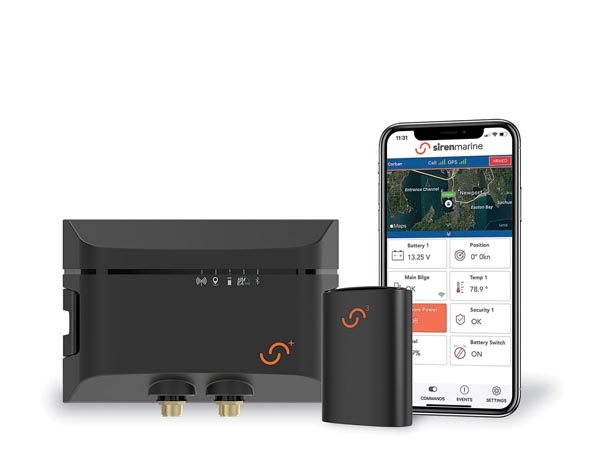 Siren 3 Plus Boat Monitor
Siren Marine's Siren 3 Plus uses the Siren Marine app and a cellular subscription to remotely monitor and track boat location, battery level, bilge-water level, temperature, and other onboard systems, sending instant alerts to the owner in case of a critical event. In addition to hard-wired features, the system is available with optional wireless sensors, including a battery monitor, entry sensor for theft and vandalism protection, and more. Other available features include remote digital-switching control from your phone. Price: $500.
by Capt. Michael Martel