Bay Bridge Boat Show 2021 is a Power and Sail Event
This year's spring boat shows are combined into one power and sail event at Bay Bridge Marina in Stevensville, MD. Sailors can enjoy the beautiful spring setting on the Eastern Shore featuring powerboats, sailboats, demonstrations, a variety of educational opportunities, and onboard activities offered for all boaters, whether they enjoy sailing, powerboating, or both!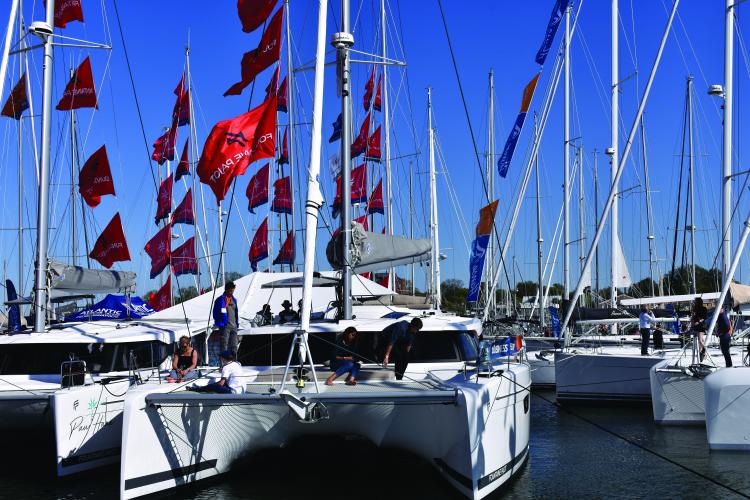 Show Times:
Thursday, April 15: 12 to 6 p.m.
Friday, April 16 and Saturday, April 17: 10 a.m. to 6 p.m.
Sunday, April 18: 10 a.m. to 5 p.m.
Tickets:
General Admission:
Thursday: $10, Friday: $12, Saturday: $15, Sunday: $12; Children 12 and Under: Free
VIP Lounge Ticket with Parking: $85. Ticket includes boat show admission, reserved on-site parking, and exclusive access with unlimited entry into the VIP Lounge—an elegant lounge with comfortable seating, delicious complimentary cuisine, wine and spirit tastings. 21 and over. Valid for one day only. VIP Lounge without Parking: $65
Educational Courses:
Diesel Maintenance Course: Presented by Cruisers University, April 14-15. Master Class with Jim Zima from Great Lakes Diesel. This two-day, hands-on class will provide a preliminary and in-depth review of how a diesel engine works. All aspects of general and yearly maintenance will be covered. Cost: $400 per student; multi-day admission to the show is included.
2021 Offshore Medicine: Presented by Cruisers University, April 16-18. This course offers relevant and practical training for the largest and most remote wilderness on earth. Full participation earns Offshore Emergency Medicine certification by Wilderness Medical Associates International. Cost: $1095 per student; multi-day admission to the show is included.
Find registration for both classes at annapolisboatshows.com.
Free Seminars:
Boat Buying 101, Docking and Line Handling, Sailing Annapolis to Bermuda, Weekends on the Chesapeake
All classes will be held Friday, Saturday, and Sunday at the same times each day. No pre-registration necessary, but limited seating is available. First come, first served. Seminar schedule and speakers are subject to change. Show admission required.
Show Features:
PropTalk Demo Dock
More than 100 exhibitors on land
Sailboats of all styles, shapes, and sizes
VIP experience
Educational seminars
Custom rod building lessons
Food court
Prizes
Free parking available off-site with free shuttle to and from the show
Health and Safety:
The health and safety of all in attendance is the highest priority of the boat shows. You can find a full list of safety policies and procedures at annapolisboatshows.com. Below are some highlights.
All attendees will be encouraged to purchase tickets in advance and all tickets will be mobile friendly to encourage a touchless entry into the shows.
Everyone must wear a face covering at all times, if required by the county health department. Allowable coverings include approved face covering over nose and mouth.
CDC-approved face coverings will be made available at all show entrances in designated dispensers for anyone who does not have their own covering.
When parking off-site, 50 percent of bus seats will be blocked off, encouraging social distancing. Family members will be allowed to sit together.
Distancing etiquette: six feet minimum between non-related parties.
The show will promptly close at 6 p.m. Everyone is asked to leave 30 minutes after closing to allow for nightly cleaning and disinfecting by the Clean Team.
Bathroom facilities will be single stall only, with constant deep cleaning.
For more information, exhibitor lists, and to purchase tickets or register for an educational seminar, visit annapolisboatshows.com.