Four Questions for SpinSheet Co-Founder Dave Gendell: As he prepared for tonight's talk at Fawcett Boat Supply, we thought we'd ask Dave four questions: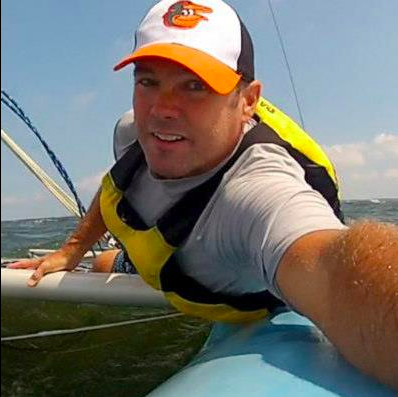 1. If you could get into a time machine and go back to one amazing sailing day, which would it be?
This is tough because so many good moments and friends have derived from sailing. Looking back, most of the days were amazing. One that stands out is a return race from Oxford probably around 1990, on my dad's boat with him, my brothers, and a few long-time friends. The last section was somewhat downwind in a breeze with a lot of maneuvering toward the finish as the breeze came aft and a bunch of shallow spots came into play. I was working off a paper chart book and my brother Greg was on fire, flying all over the boat, pulling blocks out of his pockets to set up new sheeting angles, and then, later, advocating for a spinnaker peel and that sort of thing. We did well and as soon as we crossed the finish line we put the Redskins game on the radio and opened drinks and lunch. There was laughter and good wind all the way back to the Magothy River. My dad was in heaven and, looking back, the rest of us probably were too.
2. What was one funny or memorable 2017 on-the-water moment?
2017 sailing was something like an ongoing reunion. I made a real effort to have meaningful sailing sessions with people that I love and ended up sailing with a dozen different friends over the course of the summer and, in many cases, with the kids of my old sailing friends. The moment that stood out from all of it was on a breezy Sunday morning with my 13-year-old son and my 18 year-old-godson aboard. We sailed out of Back Creek and it was windier and wavier than any of us expected. I said, "Boys, you two make the call... we can sail up in the harbor like gentlemen or out in the Bay and see what happens." Of course there was no doubt that these guys wanted to go out into the Bay.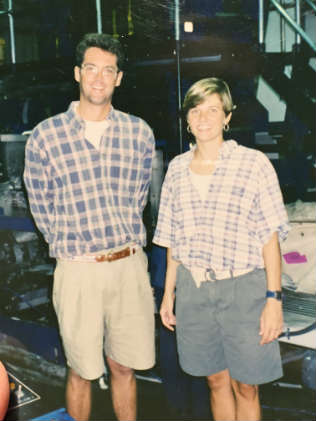 3. Your best friend comes sailing with you on a sunny summer Saturday… What's in his cooler?
A few cans of beer, a few waters, and a bag of pretzels. I try to keep it simple (too simple, some might say).
4. What are you going to talk about tonight at Fawcett Boat Supply at 7 p.m. for your free lecture?
I'll cover a lot of ground in a pretty short time. SpinSheet origin story, Chessie, Isabel, the Schooner America in Annapolis, World War II shipbuilding in Eastport, and even some Robert Goddard rocketry projects on the Severn River. I'm really looking forward to it.