Hurricane Irma has an unpredictable path, but as a potentially catastrophic Category 5 hurricane, the most powerful Atlantic storm on record, she's worth watching closely. Here are some weather and news sources we think will interest Chesapeake sailors:
Let's Start from Space!
The International Space Station's external cameras captured another dramatic view (above) of Hurricane Irma as it made landfall in the Caribbean Sept. 6. The powerful Category 5 storm with sustained winds of 185 mph made landfall on several islands while continuing on a westward track. Irma is expected to bring severe wind and rain to several islands in the Caribbean over the next several days with the potential to impact the Florida peninsula by week's end.
NOAA Hurricane Center
This site has lots of data to filter through, but it's always a good place to find the current warnings, wind speeds, and cones of probability.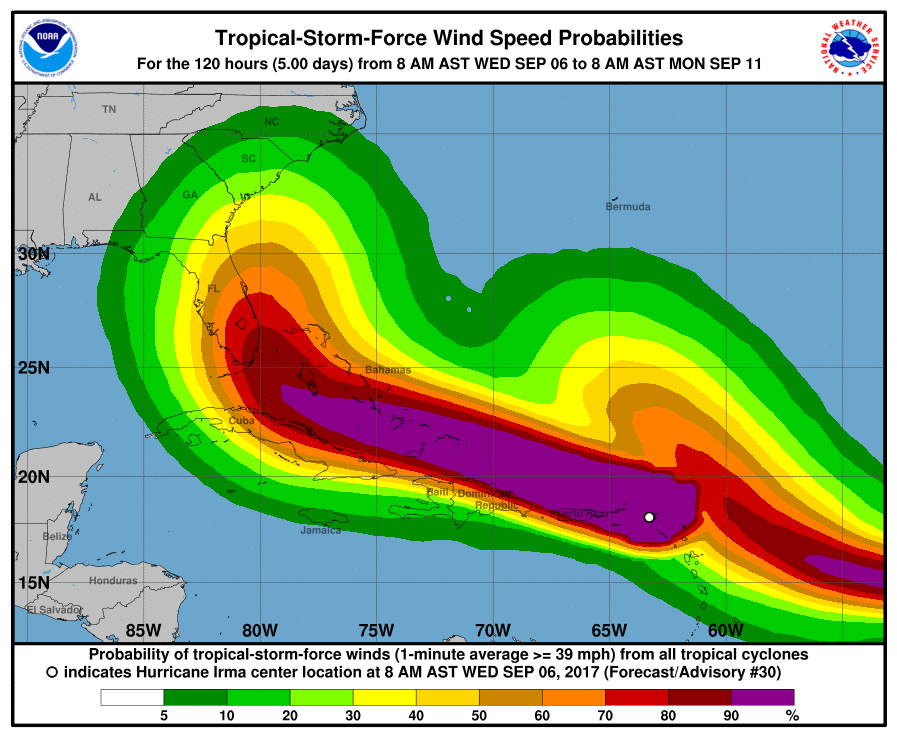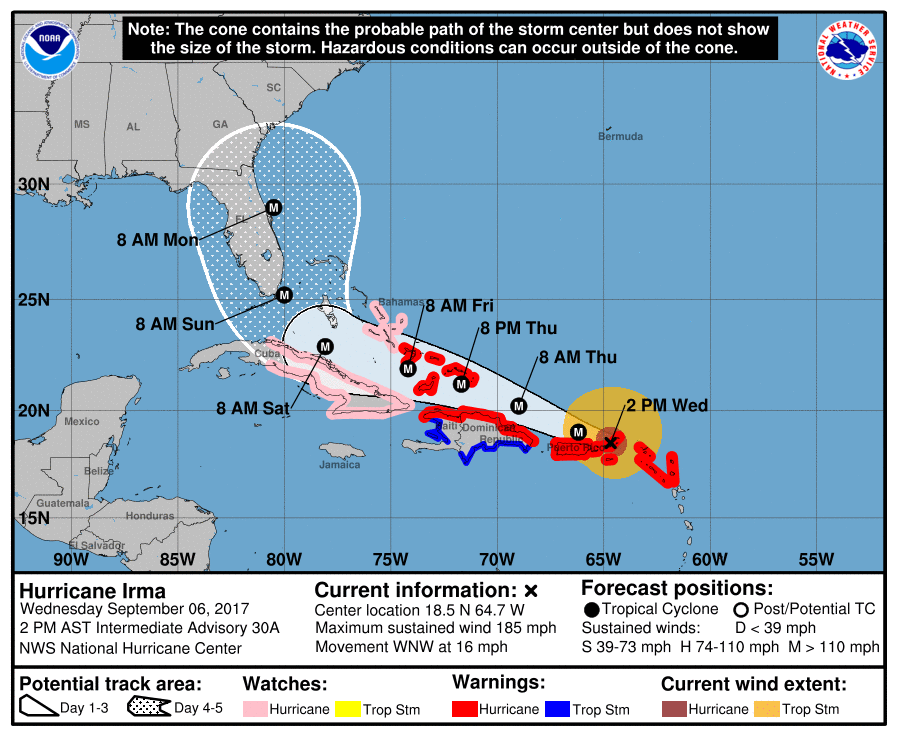 NOAA's site also has some interactive maps, as well as a mobile site.
Here's the latest ​Tropical Weather Outlook: NWS National Hurricane Center Miami FL, 200 PM EDT Wed Sep 6 2017
For the North Atlantic...Caribbean Sea and the Gulf of Mexico: The National Hurricane Center is issuing advisories on Hurricane Irma, located near the U.S. and British Virgin Islands, on Tropical
Storm Jose, located over the central Atlantic Ocean, and on Tropical Storm Katia, located over the southwestern Gulf of Mexico. Tropical cyclone formation is not expected during the next 5 days.
From this morning St. Martin's News Network:
Hurricane Irma, a dangerous Category 5 hurricane, is currently blasting the islands of St. Martin and Anguilla. Irma is now heading toward the Virgin Islands, Puerto Rico, Hispañola, the Bahamas and Cuba before posing a serious threat to Florida and parts of the Southeast beginning this weekend.
Irma first passed over Barbuda, an island of 1600 residents, with gusts of at least 155 mph overnight into Wednesday morning. Early Wednesday morning, the eye of Irma then moved over St. Martin and Anguilla, where sustained winds of 117 mph were measured.
Irma became the strongest hurricane in the Atlantic basin, outside of the Caribbean Sea and Gulf of Mexico, on record on Tuesday morning, according to the National Hurricane Center.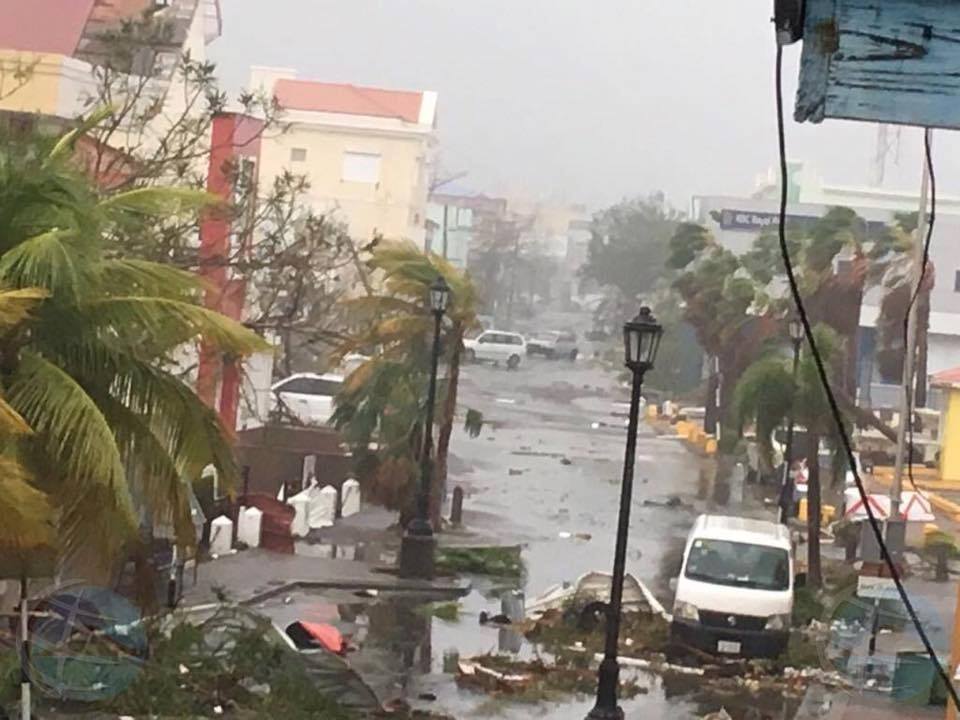 Irma's Latest Status, Timing
The center of Irma is located around 15 miles east of St. Martin and 15 miles west-southwest of Anguilla and is moving west-northwestward at about 15 mph.
Irma moved directly over the island of Barbuda between 1 and 2 a.m. AST, bringing sustained winds of 118 mph before the anemometer broke. Pressure dropped to 916 mb before the barometer on the automated station also broke. A storm surge of about eight feet was also recorded.
Irma's maximum sustained winds are steady at 185 mph based on data from NOAA and Air Force Hurricane Hunter aircraft. Based on wind speed, Irma is the strongest Atlantic hurricane since Wilma in 2005 which also had maximum sustained winds of 185 mph.
Additionally, Irma is just the 5th Atlantic hurricane to have maximum sustained winds of 185 mph or greater, according to Dr. Phil Klotzbach, a tropical scientist at Colorado State University. Hurricane Allen occupies the top spot with 190 mph winds in 1980.
Hurricane warnings have been issued for the northern Leeward Islands, Puerto Rico, the Virgin Islands, the northern coast of the Dominican Republic, the southeastern Bahamas and the Turks and Caicos Islands. This includes Antigua, Barbuda, Anguilla, Montserrat, St. Kitts, Nevis, Saba, St. Eustatius, Sint Maarten, St. Martin, St. Barthelemy, Guadeloupe, Vieques and Culebra.
Find more from St Martin News here... Some pretty devastating photos on the SMN news on FB.
From the Washington Post
An interactive cone:
This map shows how Irma is as big as Ohio. Not familiar with Ohio? Find out how big this storm is from your state in this cool interactive map.
Irma a Growing Threat to U.S.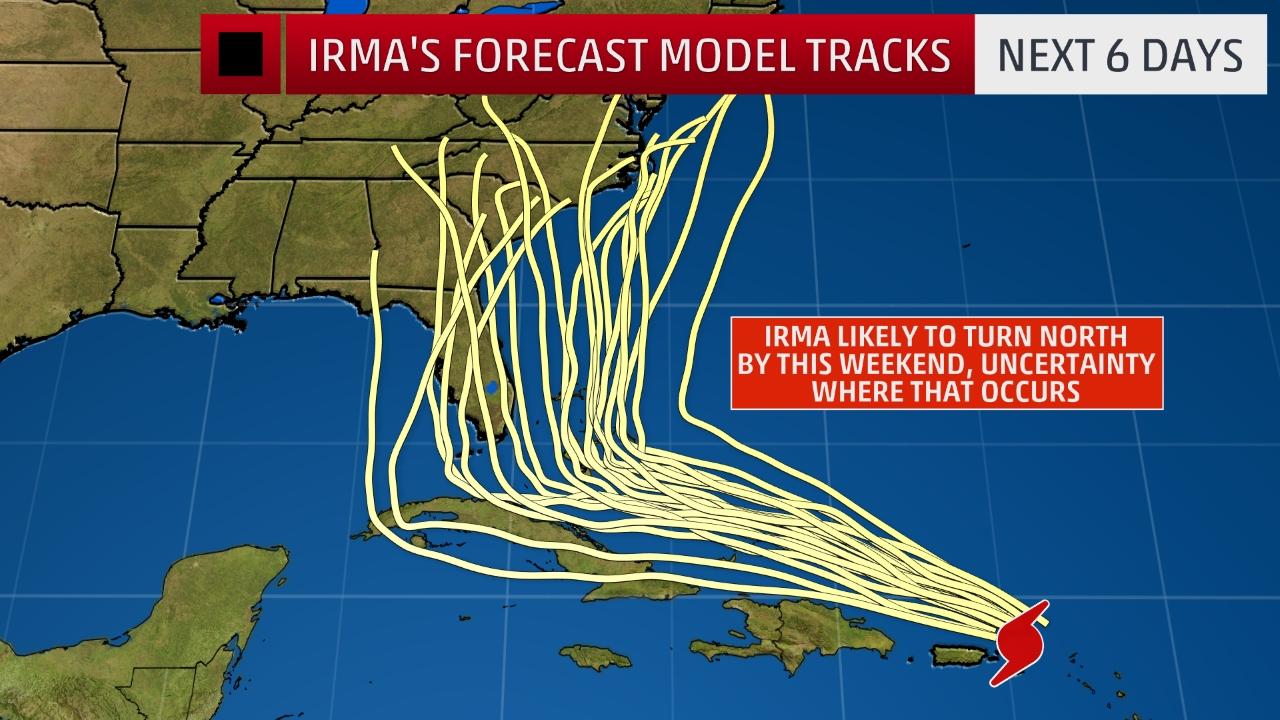 We here in Chesapeake country are wondering what the probabilities of Irma affecting us are… as of now, with the hurricane still 1000 miles from the U.S., predictions are still too uncertain. We'll keep you posted as this evolves. More on Irma from the Weather Channel here.
We love science and scientists, but we also love this: