When it comes to food, he's thinking Chesapeake.
Blending his talents as a chef, restauranteur, and cookbook author, John Shields wants to make sure we "think local" not only in how we eat, but also how we preserve the important connection between area farms and the Chesapeake Bay.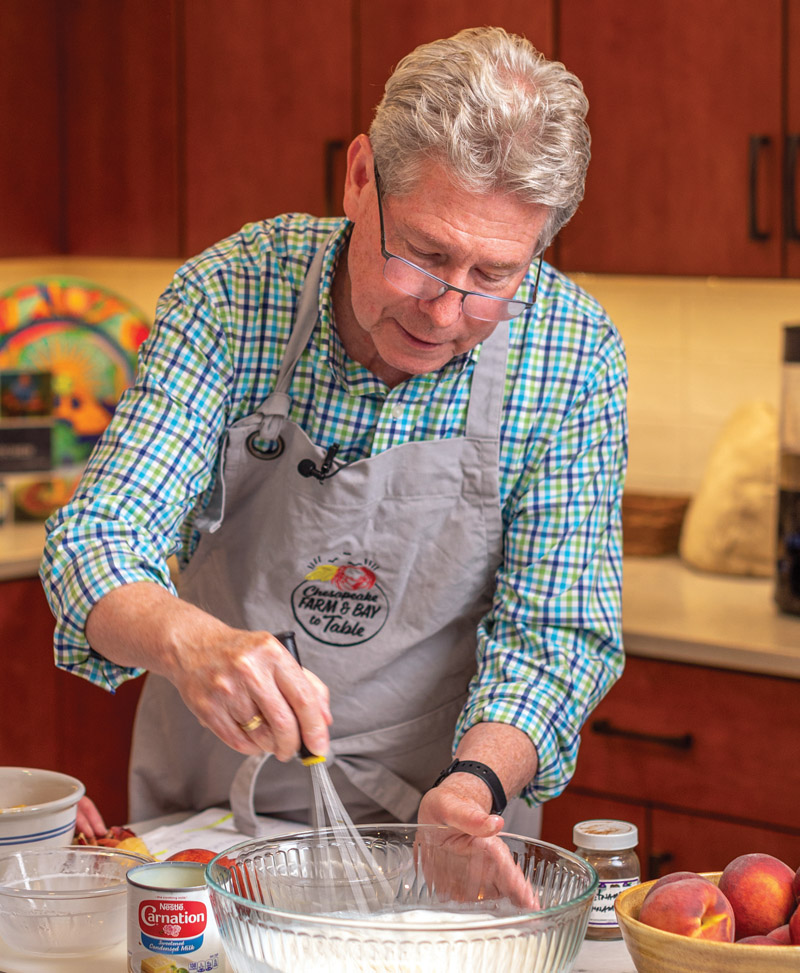 How did the idea of the Common Table take place?
I have been cooking professionally for over half a century and just like any community or culture, people come together enthusiastically around food. I love the image of a "common table" bringing people from around the Chesapeake region together to learn about local, healthy food, and to work together to rebuild our local food economy. The region's seafood, agriculture, recreation, culture, and cuisine are unique, and a decline in one area affects all the others. Working together, we can preserve the Bay's traditions and respect the environment.
How would you describe your culinary style to someone outside the Chesapeake region?
Simple cooking using the freshest and finest ingredients from the Chesapeake watershed. It's a holistic approach.
What about the Chesapeake Bay inspires you to devote your time to the area?
I'm from this area and am probably biased, but I think the Chesapeake region is one of the most beautiful in the world. We have everything from the mountains to the Bay to the sea. We're lucky to be living in such a rich environment. All the food sources we need are local.
What is the easiest way for someone to adopt your way of cooking?
People can begin by buying "local" and in season whenever possible. If there's a healthy resolution for 2023, it would be to go to a farmstand or farmers market at least once or twice a month. Try planning some plant-forward meals with more emphasis on grains and vegetables, complemented by local meat, dairy, poultry, and seafood.
We've heard a lot about plant-forward dining? What's that all about?
Plant-forward eating is about eating more plants and fewer animal products (meats, eggs, and dairy products). It's also about eating less processed foods. The key is learning to 'stretch' the protein source.
What's on the menu besides oysters and crab?
Try the invasive species, such as the blue catfish or snakehead. Also consider the less "sexy" fish such as perch, croakers, and the like.
How can we spice things up?
Chesapeake Fish Peppers. They're part of our African American culinary history and have been rediscovered. Farms are growing them all around the region.
What has been the focus of your cookbooks?
Most of my cookbooks have been focused on the food of the Chesapeake. My earlier books featured the traditional foodways of the Bay. My newest book, "The New Chesapeake Kitchen," envisions a Chesapeake kitchen and kitchen philosophy for the 21st century.
Food presentation can make a meal. Any tips?
Use lots of colors in the dishes you make and don't overcrowd the plate.
How will you continue to promote the Chesapeake Bay's bounty?
Through Our Common Table we will continue to educate folks about our local Chesapeake food economy. We do this through cooking series, scholarships for young people who want to cook professionally, community grants, and educational lectures.
How can people learn more about your work?
Go to our websites: ourcommontable.org, johnshields.com, and gertrudesbaltimore.com. We're on Facebook @ourcommontable and Instagram @mrcrabcakejohn. You can sign up for recipes, videos, and restaurant information.