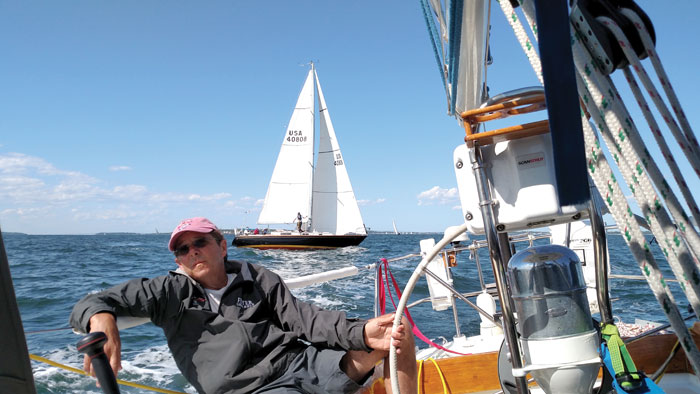 Veteran Bay sailor and offshore racer Doug Abbott tackles a few of the many questions a coastal sailor might pose before heading into ocean waters. Abbott campaigns his 1967 Cal 40, Flyer (which he completely refurbished, with the help of friends, between 2010 and 2013), out of the Tred Avon Yacht Club (TAYC) in Oxford, MD. Abbott is also a member of the Miles River Yacht Club and Cruising Club of America and is currently in the midst of preparing for the 2018 Newport Bermuda Race (N2B).
What's the most important thing to know about preparing for an initial trip offshore?
The single most important thing is to respect the ocean! If you aren't scared when you head out to sea, then you don't respect it enough. That's what drives us to prepare, prepare, prepare. Preparation leads to confidence, which is extremely important, but inadequate preparation and cockiness can be deadly. My friends Tad duPont and Henry Gibbons-Neff taught me the importance of being totally prepared when racing offshore.
The next thing for prospective crew is to bring a related skill to the table. Although it's a plus in a race, everyone on the boat doesn't need to be a great helmsman or sail trimmer. An ocean racing yacht needs a crew with a versatile set of skills including mechanics, sail repair, navigation, medical skills, and yes—a good cook. The more of these skills one can bring to the table, the more valuable one will be. Newcomers should take offshore sailing classes, read books, and hook up with a boat doing an ocean delivery with a seasoned crew. The shorter the passage the better, and then work up.
A few offshore trips up or down the East Coast, within bail-out distance from land, will help people acclimate to the ocean (for example, determine susceptibility to seasickness) and hopefully experience a range of weather conditions. Once you start becoming used to the ocean, you can concentrate on your job, as opposed to where your bunk and bucket are. The trip between the Chesapeake Bay and Newport is a good one for starters. You are in the ocean for only about 200 nautical miles, if you take the canal and go outside from Cape May.
Lastly, to be a good offshore crewmate, you have to be patient and get along with people. Alfa types are rarely tolerated. It's best to be acquainted very well with the people you go offshore with. Personality clashes can be quite unpleasant when you are hundreds of miles from shore. In short, connect with experienced sailors who have been there, a lot, and learn from them.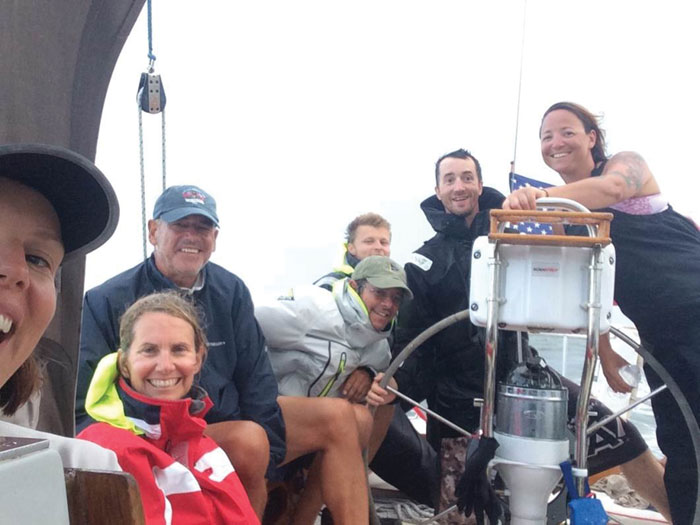 Would a pre- or post-race delivery be a good way to gain ocean experience?
Yes, this is a very good way to gain offshore experience. We use the autohelm and roller-furling headsail, reef-down early, and are in no particular rush, so the trip is less demanding than a race. That said, the weather is still there. We still need to be able to navigate our way home. Things on the boat can still break, and the crew is made up of fewer people; so even on the deliveries, we need a crew with similar experience as the race crew. For the trip back from Bermuda, we pick one or two experienced sailors, who know their way around a boat, have preferably done at least one coastal offshore delivery, and are enthusiastic about a delivery across the open ocean. Our delivery crews participate in the same training and drills as the race crew.
How do you keep track of all the preparation details?
Lots of handwritten notes in a binder, what's on my mind at the time, and yes, an Excel spreadsheet because I tend to lose track of the first two. For the safety and race registration related items and deadlines, the Bermuda Race Organizing Committee (BROC) provides a very easy-to-follow checklist that I carry around with me. I start the planning process in January, and the first item on the list is reserving lodging in Bermuda, which fills up quickly. I spend a few hours each week working on the task list. Then, when the weather breaks, usually in mid-March, we start working on the boat.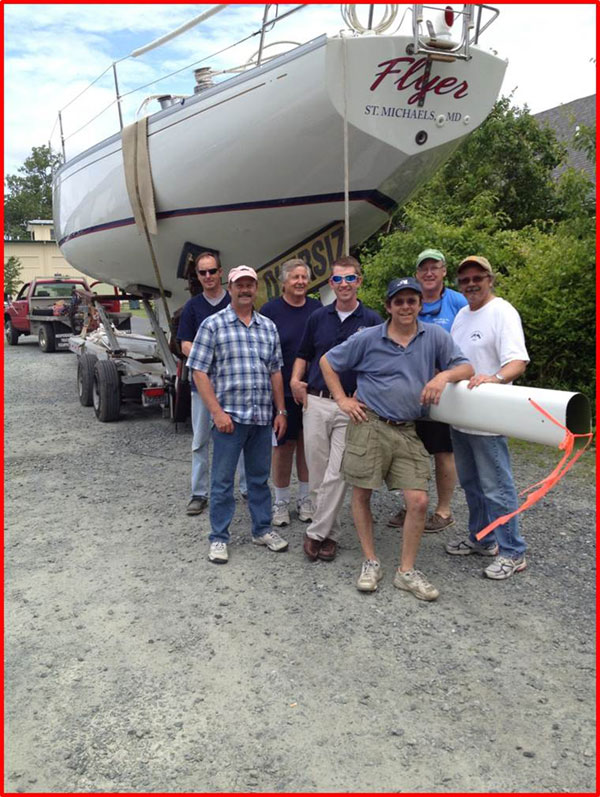 Tell us about crewmember prep.
In addition to myself, crew for 2018 are: co-skipper Jay Weaver (TAYC), navigator Eric Crawford (CCA /TAYC), Russell Stone (TAYC), Henner Gibbons-Neff (CCA/TAYC), Mike Kabler, John Hines (MRYC), and Jeff Cox (TAYC/MRYC).
We have all known each other and have been friends via sailing for about 18 years on average. Through those years, we have all sailed together on the same boat as well as competed with each other on different boats. The eight crewmembers that will be sailing on Flyer in the 2018 N2B race are the same eight that raced on Flyer in 2016, and five of the same who did the 2014 race. We have a combined total of 43 N2B Races under our belts. Our crew is ocean race savvy!
During our on-the-water tune-up exercises in the spring, the crew performs 14 different Newport Bermuda Race Safety Requirements (NBRSR) mandatory safety drills, including man overboard, dismasting, lift rafts and life jackets, pyrotechnics, DSC calling procedures, AIS/personal crew overboard beacons, storm trysail deployment, rudder/steering loss failure, communications, abandoning ship, EPIRB, fire prevention/fighting, preventer rigging, and sat phone use. As stated previously, we perform these drills, not only with the race crew (as required), but our delivery crews as well. We all know where the gear is stowed and how to properly use it.
I keep copies of the crew's Safety At Sea (SAS) and first aid certificates in our documents binder. SAS is good for five years, and First Aid/CPR are good for two years. For crew certifications expiring before the race, I remind them and send a list of resources for renewing.
This year the N2B safety regulations require, in addition to one-day SAS training, that at least two crewmembers hold a World Sailing Approved Offshore Personal Survival Course Certificate. We all have the required training in first aid and CPR, plus the race organizing committee provides an on-call physician whom we can call for guidance in an emergency via sat phone. Our medical kit is well stocked, and I rent an AED for the trip.

The Bermuda Race Organizing Committee has designated safety officials who perform extremely thorough and mandatory pre-race inspections of each boat, its equipment and crew training records. Failure on any item means you are not approved to race until the deficiencies are corrected and verified by the inspector. Competing yachts are also subject to post-race inspections at the committee's discretion. Crew safety is, by far, our number one priority. That's why we make sure everything is in order, and we welcome the rigid inspections.
Do you think AIS is the best way to go?
Without question! AIS provides a substantially higher level of safety and therefore confidence, especially during foul weather at night when visibility is poor to non-existent. When there is another vessel in the area, with radar, all you can see is a blip on the screen. AIS provides each vessel with the other's type, size, speed, heading, closing distance, and the vessel name and MMSI number, so two-way communications to establish intentions (and avoid a collision) are efficient. With the new-this-year requirement in the N2B Race for each crewmember to have a personal AIS on his inflatable harness, a man overboard can be located and picked up quickly. Of course, AIS is a must-have in the ocean, but the most appreciative I have been of AIS to date is on the nighttime Bay races, when those ships rumble up on you. AIS is peace of mind!

What would surprise people about offshore sailing?
Offshore sailing, particularly racing, requires a tremendous amount of preparation and skill because your life depends upon the boat being strong, the equipment being sound, and your crew being mentally and physically capable of working as a team in unimaginable conditions to handle anything that the ocean throws at you.
It is a totally different world in the ocean than on the Bay. The weather is worse, the wind blows harder, the waves are bigger, things can break, and there's no port to pull into for repairs. There are two inches of fiberglass between you and the abyss, and under the surface there are animals that will eat you. There is rarely anyone within reach for help, including places in the open ocean that are out of the range of a rescue helicopter. Everything you have to do comes with a much greater level of intensity and demand, and it can, in the case of the N2B Race, last for up to six days, and much longer if you are on a trans-oceanic passage. There is no break, except when you are off watch for on average four hours at a time.
All of this makes some sailors (and I'd venture to say all non-sailors) question the sanity of going offshore. The rewards are the adventure and camaraderie with your crewmates. Doing well in the race can be icing on the cake, but getting there safely and recalling the highlights of the trip, including the challenges, the race strategies, the Nat Geo moments that are unparalleled, the food you ate, and the stories shared, all give one a great sense of accomplishment and memories that will indeed last a lifetime.
For more offshore preparation advice, see part one and part three of this series.