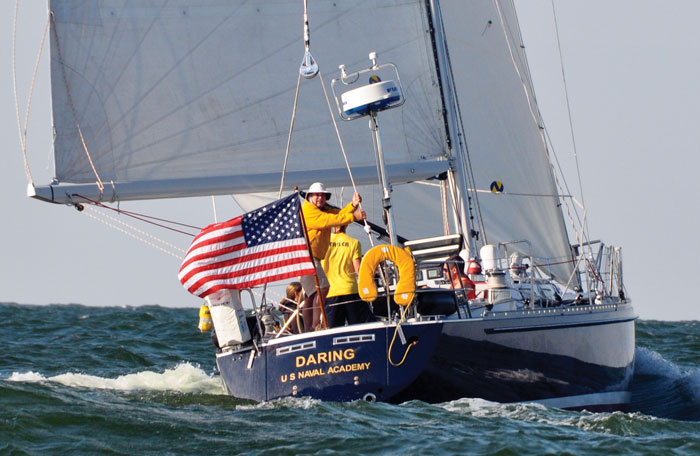 In our April issue we began a three-part series about preparing to sail offshore. We start with some basic differences between planning for a coastal trip and planning for an ocean voyage. Then we'll dig into getting the boat and crew ready to go.
For some expert advice we consulted offshore racing veterans Mike and Connie Cone, who have campaigned their Hinckley Bermuda 40 Actaea out of the Sassafras River since the early 1990s. Over the years they have developed tried and true systems for boat maintenance, crew training, and safety protocols.
We also consulted sailing coach Mike Hull, who since 2007 has helped train Midshipmen with the U.S. Naval Academy's Offshore Sail Training Squadron aboard the Academy's fleet of Navy 44s. Hull also teaches navigation seminars and multi-day cruising courses at J/World Annapolis. He and his wife Jan sail their Sabre 34 Eagle out of Annapolis's Back Creek.
Racing or cruising, offshore isn't the same as coastal sailing
The jump from coastal cruising to an offshore race or passage brings new opportunities and new challenges. "Whether you're racing or cruising, all sorts of things that might not be a big concern on the Bay can suddenly become very important when you're offshore," says Mike Cone.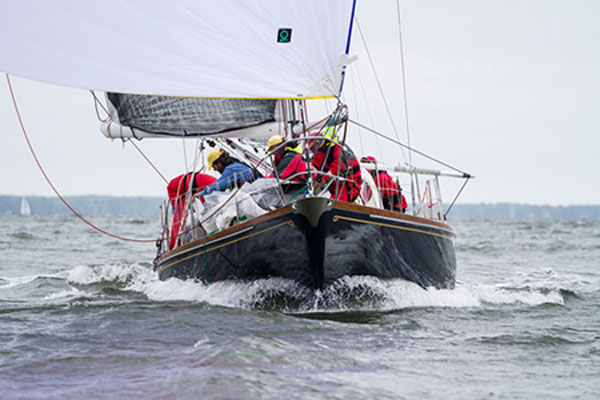 A very simple example is getting fresh water. "Nobody ever died of thirst on the Bay, but hundreds of miles offshore, where it may take more than a few hours to get help, things are different. A crewmember's minor infection or other medical emergency can become catastrophic."
"Conversely, certain things that are big issues in the Bay won't be of such great concern out on the ocean," says Cone. "For example, the potential for collisions with other vessels; in the Bay you may have very little room to maneuver between a shoal and a big vessel in its deep water channel, but in the ocean there's lots of room and far fewer boats in close proximity."
"Another thing that people often overestimate," continues Cone, "is the amount of wind offshore. More than 30 knots is not common." In fact, the Cones and Hull all say that the most frightening sailing conditions they have experienced occurred in the Bay, not too far from shore.
What should not be overlooked, however, is that the duration of strong winds may be significantly longer offshore, and a safe harbor may not be close at hand. Rounding the DelMarVa is a good example. Hull says, "Circumnavigating the DelMarVa is a common first ocean trip because you're never far from shore and you're not in the ocean for a very long time. However, there aren't a lot of places to stop during the offshore leg."
Route and contingencies
"Plan for contingencies," suggests Hull. "I believe in bringing a full set of charts of everywhere you plan to go and everywhere you might have to go, for example, if someone is sick or the weather gets too bad. So, heading north I would take charts for Cape May and Atlantic City because they both have harbors I might need to go into.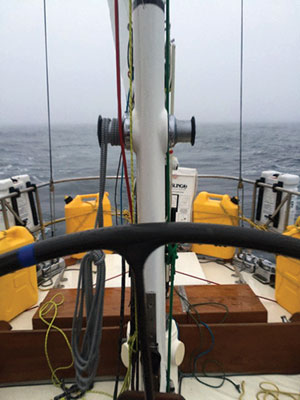 "Another difference between offshore sailing and buoy hopping is that you need to know dead reckoning," says Hull. "Plot your position regularly and write it in a log every 15 minutes in the Bay and every 30 minutes in the ocean. You must have a paper chart of some kind. I bring individual charts, but chart books are okay too; just don't rely solely on an electronic chartplotter. Three times I've had one that has not worked, and once it was at 3 a.m. in the ocean right outside the entrance to the Bay."
Crew
Select your crew carefully because the boat can get awfully small when crewmembers don't get along. Aboard Actaea most of the crew has been sailing with the Cones for years. "Compatibility of the crew is one of the most important things," says Cone. "However, we recognize that minor personality friction is unavoidable, so we try not to put people on the same watch who have a tendency to annoy one another. But it's like a marriage—sometimes you just have to look past certain things."
Connie adds that it's important to choose crew who will be team players. "On Actaea, all crew rotate through all the positions every 30 minutes, including helm and foredeck. We have found that crew who are new to sailing need to become good seahands before they become good sailors." Connie reports having had positive experiences with new crewmembers who ask questions, learn terms, pitch in (including washing the dishes), and do not panic when it gets scary.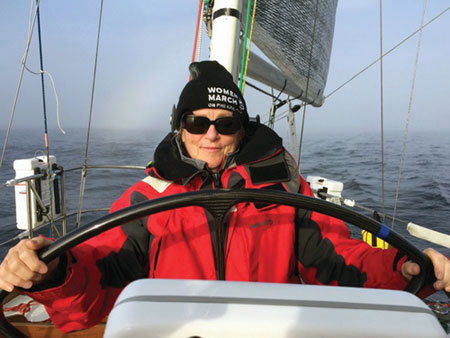 The element of apprehension
So what about when it gets scary? How should a crewmember handle the element of fear? Mike Cone likens it to driving in a bad snowstorm: sometimes you just have to do it. "If you're not apprehensive, you must be crazy," he says. "But you can't let it stop you from doing what must be done."
Connie elaborates, "It's easier to be brave when others around you are trying to solve the problem too. You might have to go up on the foredeck when it's 18 inches under water. You just have to do it. If you need it, ask for help."
Weather
Storms are often what new offshore sailors fear. On this topic Hull says, "Thunderstorms often arrive at night, when you can't see them coming. If there's any question, take the sails down, and put the jib below or furl it tightly. Turn on the engine. Plot a position. Get some sea room. Most crew can go below (where they should not touch anything metal). Everyone should put on a PFD, tether, and harness if they're not already wearing them. Do not touch the shrouds. Hopefully the boat is grounded. When I am at the helm in a thunderstorm I wear rubber lineman's gloves to steer. The helmsman should be careful not to grab the backstay."
You'll probably be maintaining communication with a weather service. When Actaea is racing, the navigator is responsible for monitoring the weather. When delivering a boat, the Cones retain Commanders' Weather. Previously Mike followed the weather himself, but he has found that using the service saves him two to three hours a day, freeing up precious time to focus on keeping the boat going fast.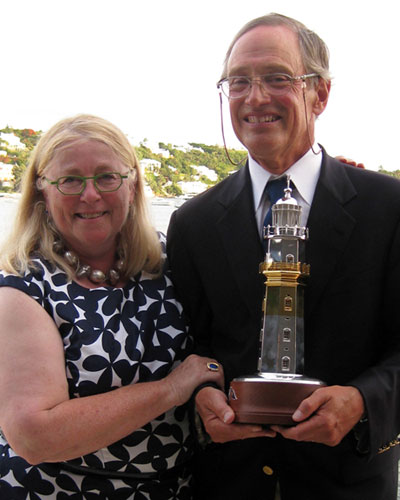 Keeping crew well fed, warm, and safe
Tasty and nutritious food is a priority for the Cones. "The average age of our crew this year is 61," says Mike. "Offshore they eat double the amount of calories they do at home. With an older crew especially, proper meals are important."
"I cook as much as I can ahead and freeze what I can using Dazey Vacuum Seal-A-Meal bags," says Connie. "But we also bring fresh food, which we prepare aboard. In theory the watch captains trade turns being responsible for meals, but in reality I do much of the cooking," she says. But just to be clear, Connie is not stuck in the galley; she's a skilled helmsman and a fully participating crewmember.
"Seasickness will happen, so plan for it," continues Mike. "When some of the crew are sick, the others are working even harder. They must eat to sleep, and they need sleep for the added work, so good food is important." Mike also points out that caffeine addictions aren't left onshore, so they must be recognized and fed while underway. Even during heavy chop, Actaea's crew has engineered creative ways to produce instant hot coffee to satisfy caffeine cravings with a warm cup of Joe.
With regard to keeping everyone warm and dry, Hull says, "It's amazing how cold it can get offshore, especially at night. Even in July I bring foulies, a watch cap, boots, and a fleece jacket and pants for under my foulies. All it takes is one splash or a sudden downpour, and you're freezing."
A final note about gear and safety from Mike Cone, who says, "I strongly believe that the captain should provide all of the crew's safety gear. I inspect all the gear, even if it's personally-owned equipment that a crewmember insists on bringing. Ultimately, the captain is responsible for everyone's safety."
Be sure to read the next chapter of this three-part series. And our final installment in the July 2018 issue.