Here are the Latest Rules on Recreational Boating in MD
From the Maryland DNR: As you know, due to the COVID-19 pandemic, Governor Hogan issued a stay-at-home order, which remains in effect. That stay-at-home order allowed for limited outdoor exercise.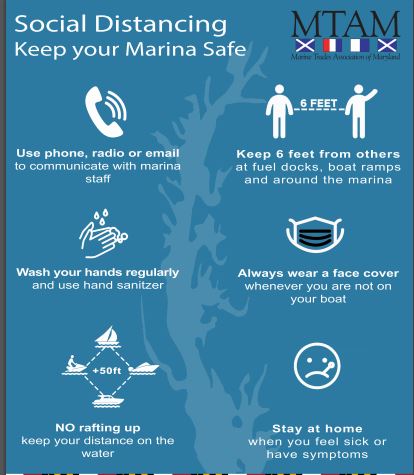 Given the announcement of the governor's Roadmap to Recovery, the state has now expanded opportunities for outdoor exercise and recreation in the state and on Maryland Department of Natural Resources (DNR) properties.
Effective Thursday, May 7, at 7 a.m., recreational boating activities, including motorized and non-motorized vessels and personal watercraft, are permitted, however:
Boaters must be with immediate family members or people with which they reside.
No more than 10 people can be on a boat at one time, including captain and crew.
Boats must be distanced from each other by at least 10 feet and are prohibited from rafting up, beaching, or having rendezvous events.
Boats are prohibited from docking at restaurants or bars.
Vessel and boat races remain prohibited.
Marinas can reopen to recreational boaters, but must adhere to the Maryland Departments of Commerce and Health guidelines.
Pump-out stations and boats may resume operations under the Departments of Commerce and Health guidelines.
Local jurisdictions may choose to open public boat ramps, but must ensure social distancing guidelines.
All normal boating rules and regulations are in effect and must be followed.