Happy 80th! Marking the founding of the U.S. Coast Guard Auxiliary
Congratulations are in order as we mark the founding of the U.S. Coast Guard Auxiliary. If you enjoy boating and appreciate the navigational aids and other resources that make the waters of the Chesapeake Bay and beyond safe, you can give much of the credit to the U.S. Coast Guard and to its unpaid, volunteer Auxiliary, which celebrated in June the 80th anniversary of its founding.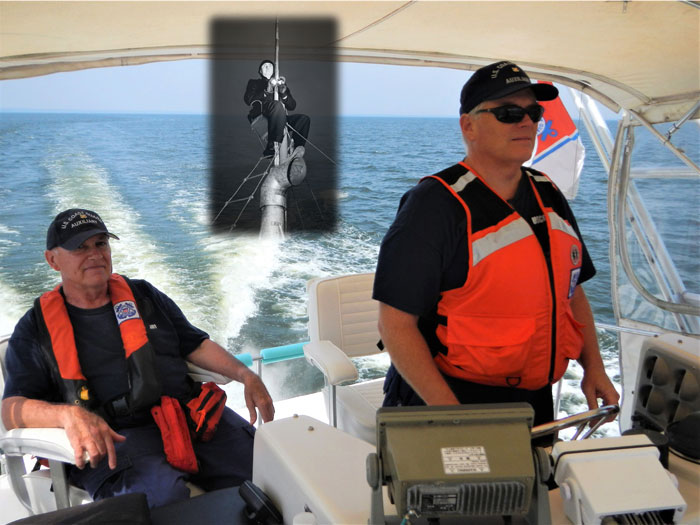 The Coast Guard Auxiliary was established by Congress on June 23, 1939 to help address an increase in boating accidents as the United States emerged from the Great Depression and more Americans could afford boats. During WW II Auxiliarists were authorized to serve as temporary Coast Guard reservists and help secure America's waters. Today, the Auxiliary's 26,000 volunteers provide nearly four million hours of service annually in all 50 States, Puerto Rico, the Virgin Islands, American Samoa, and Guam. They offer Boating Safety classes, free Vessel Safety Checks, and Safety Patrols. Modern day Auxiliarists do not have law enforcement or military responsibilities, but they do provide radio watch standers at Coast Guard stations and assist with search and rescue when called upon by the Coast Guard.
Like their active duty and reserve Coast Guard counterparts, Auxiliarists are "Semper Paratus" (always ready) and always looking for volunteers. Contact Flotilla 25-08's Vice Flotilla Commander Ted Caliga at [email protected], to learn how to join.
by John E. Stevens, Flotilla 25-08, Mount Vernon
U.S. Coast Guard Auxiliary