A Doublehanded Journey of 419 Miles on the Bay
In May, Virginia sailors Peter Patnaude and Rob Perera broke the world record for doublehanded dinghy distance sailing by sailing up the Chesapeake from Hampton to Baltimore and back and clocking 419 miles. Here are some particulars and insights that Peter shared with SpinSheet about the journey.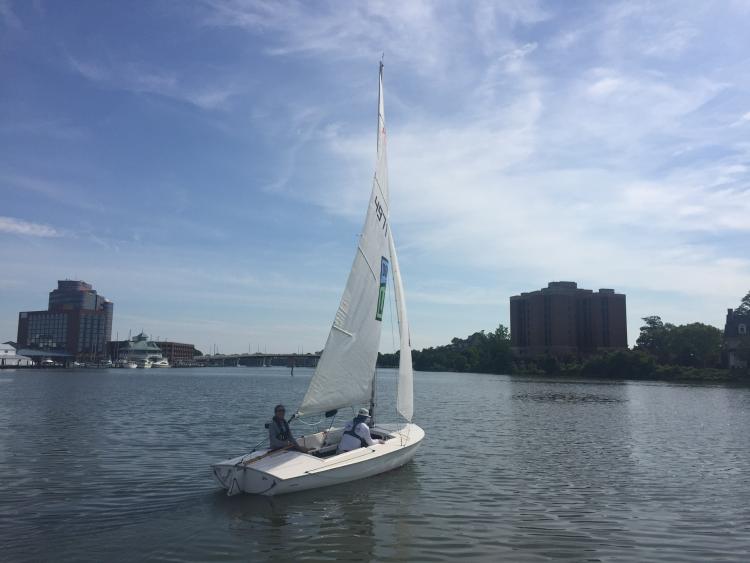 How did the idea come about?
Since starting Fathom Sailing Leadership Institute at Christopher Newport University over three years ago I have always wanted my own sailing story to share and inspire the young sailors that come through our program. I wanted to be an example of how you could use your passion for sailing to do some good in their communities.
And then maybe a little over a year ago, I saw this article about two Royal Navy Officers that broke this double-handed record. I thought I could do that and the Chesapeake has to be better conditions than the English Channel, right?
So, the idea started to form that I could use this record attempt to help raise awareness for Donate Life, organ donation registration. Organ Donation has been very close to our hearts as well as the efforts of the Tyler Patnaude Foundation. Tyler's grandfather was an organ recipient, which inspired him while in Youth in Government to write a bill for including Organ Donation education in Driver's Education in the State of Texas. Tyler was also a donor, and we are proud he made the choice to help others. (More of this story is on our foundation's website)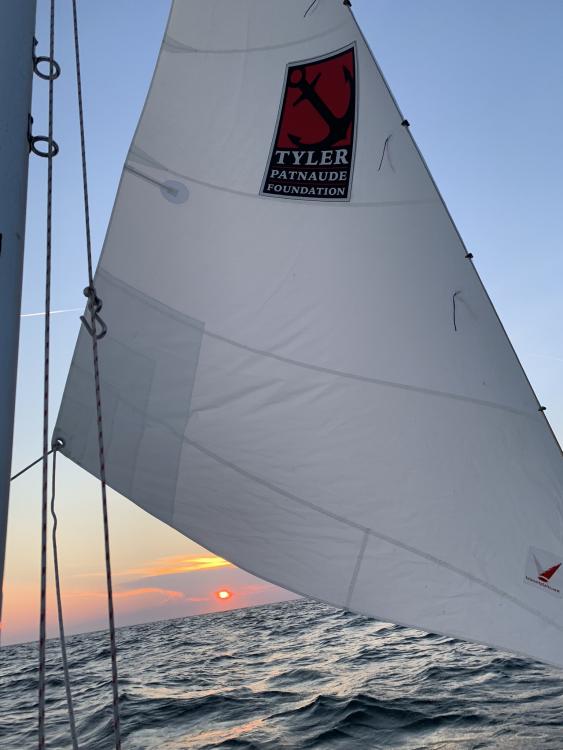 This all became a reality when I told Rob Perera about the idea. Rob often invited Tyler to sail in Thistle regattas, and Tyler looked up to him. Rob is also a lot better sailor than I am, so I knew I would need that.
We decided to submit our application for the record to the Guinness World Book of Records utilizing a Flying Scot and a nearly complete loop of the Chesapeake Bay. We selected the Scot, because of the stability and weight of our supplies.
Tell us about the ride.
We departed Hampton Yacht Club on a Saturday morning (May 18). The wind was too light at dawn, but we finally decided to push out anyways around 9:40 a.m.
We followed our plan to first follow the Chesapeake Bay Bridge-Tunnel across to the Eastern Shore and then head north. Halfway across, we decided to have a hot lunch because the wind was still light. It was the last dry and unrushed meal I ate. The wind picked up to the point we had to reef the sails.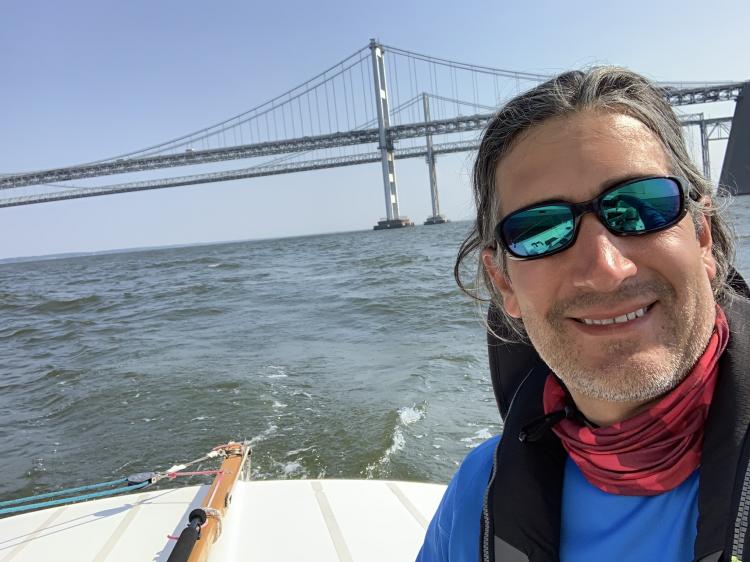 From that point on, we had maybe 4-6 hours of light wind during the entire rest of the journey. The first day and evening where fairly uneventful, but because of the speed and waves, it was difficult for one person to handle the boat, so we each got maybe two half-hour naps.
The second day was probably our most enjoyable day. We were not yet totally exhausted, and we enjoyed the beauty of the Bay and Eastern Shore. Because we still had plenty of wind, we stayed as far east as we could, without getting into some shallow water near Tangier and Smith Islands. By dinner time, we felt the excitement of hitting a big milestone as we crossed under the Bay Bridge near Annapolis.
At this point, the wind lightened some, and we put up the spinnaker for a couple of hours, before the wind pushed us up into our first near capsize and we were back to reefing the sail. We also began planning our turn-around point. We had selected a couple of options because we were unsure how much our tacking would add to our total distance, and we didn't want to be short of the record when we got back to the southern end of the Bay. Thankfully, we felt we were able to sail up the Patapsco River as planned and use a loop of Fort Carroll as the turning point.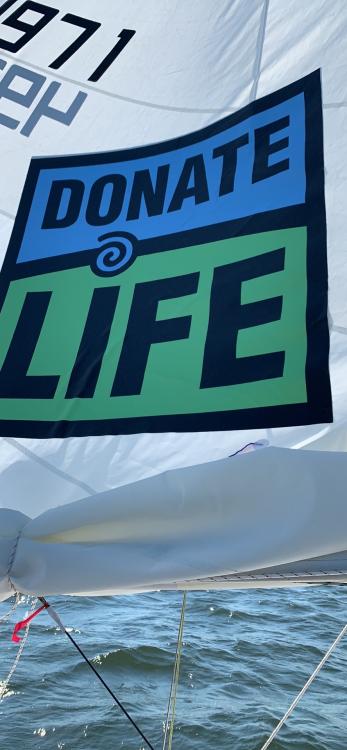 Scary clouds had gathered…
We didn't get to enjoy the skyline of Baltimore for long as very scary clouds had gathered and we were getting some ominous weather reports. The storm hit quickly. We had to reef later than we should have. From there it was "survival mode" sailing and difficult beating into the wind to get back down the river. We barely noticed the sunset as we were working very hard, but we did notice some emergency lights on shore and actually though they could be for us. The sailing for the next few hours would exhaust us for the rest of the trip.
The second night we got a couple more 15- to 20-minute naps in the wet bottom of the boat with spray hitting us. The waves were 4-7 feet (tall), and we were bailing water often. Although it was cold, we couldn't use any of our sleeping gear and slept in our foul-weather clothing the best we could. Twenty minutes of shut eye felt luxurious.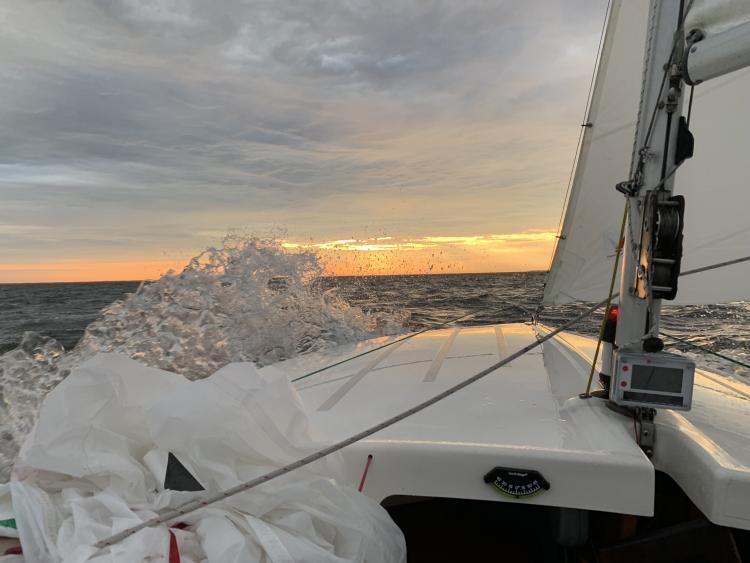 The third day brought news of another storm. We had to face the decision of racing across the mouth of the Potomac in front of the storm or stalling while it passed. Either way we were going to get hit by the line of storms. While we were very concerned about the notoriously rough water around the Potomac, we decided to try to make it south quickly.
This decision went very well at first. We even took some pictures as we celebrated. The storm was moving northeast and seemed to be sliding behind us. Then, we got knocked flat by what felt like a hair dryer.
The biggest test…
We spent what felt like the next hour with me straddling the rub rail and Rob hanging over the bottom side to keep us from capsizing. I was feathering us into the wind when the boom vang block snapped loose, and by then Rob had lost the jib sheets through the blocks while he tried to keep us upright. This was definitely our biggest test, but eventually the storm passed and we had a chance to "reset" the boat and our gear. We finished the day still moving fast.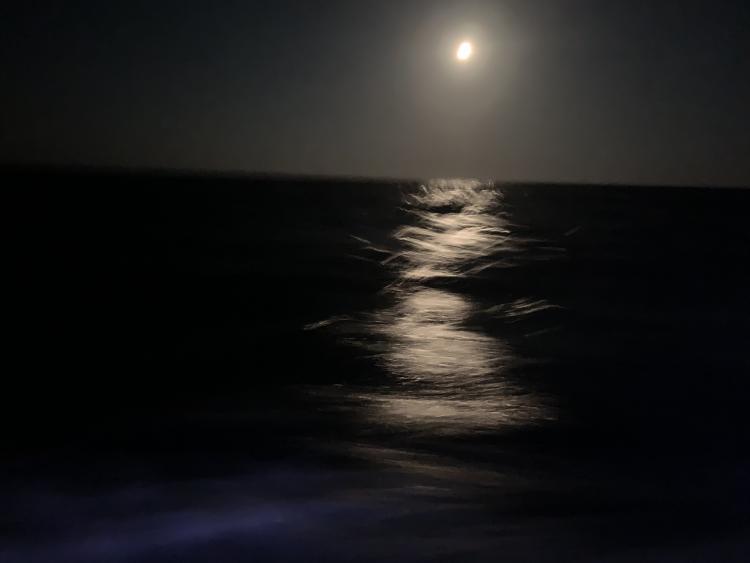 On the third night we both experienced the mental challenges that come with exhaustion and long hours of concentration. In the middle of the night we had our first real lull in wind for a couple of hours, but with us struggling to stay awake, this was a test in itself. The entire night was a blur and only the thought of finishing the next day drove us through it.
On the last day we learned to surf big waves. At different points, our electronics clocked us in between 15-22 knots as we rode down waves. We are still analyzing our data, but no matter what, we know it was fast enough to be uncomfortable. Looking down the wave while going that fast felt like more than the 5-6 feet it probably was. We spent most of the day trying not to bury ourselves into waves. However, multiple times we filled the boat with several inches of water. We bailed a lot. We tried to avoid as much wind as possible, ducking close to rivers and bays as we came south.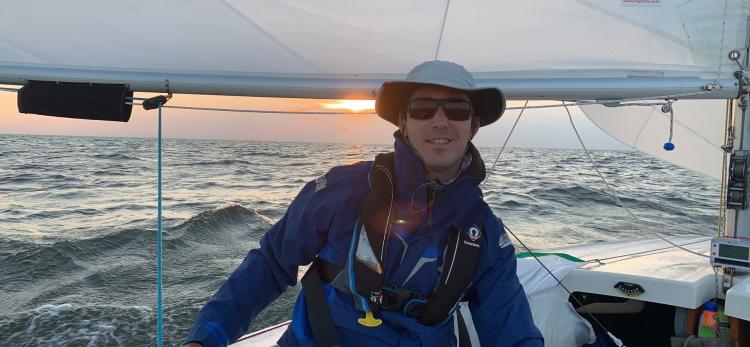 As we approached New Point, the waves were pushing us towards the beach fast, and we had a last scare of the trip when we brought the boat around quickly, risking capsizing in the waves, so that we could reach back away from the looming breakers on the beach.
Once we had more room to the shore, we realized we would probably exceed the record distance right as we pasted New Point Comfort Lighthouse. It made a fitting point to celebrate.
Energy running out….
With that excitement behind us, the tension rose to not lose the boat in the waves. Our final big decision was whether to follow the more protected shore of Mobjack or cut across Mobjack and the York in more open water. We were becoming more risk adverse, but our energy was running out and we were on our final iPhone charging cord. Of all this equipment we brought, these charging cords became our weakest link. We needed to get home soon and ideally do so with all our electronic data intact.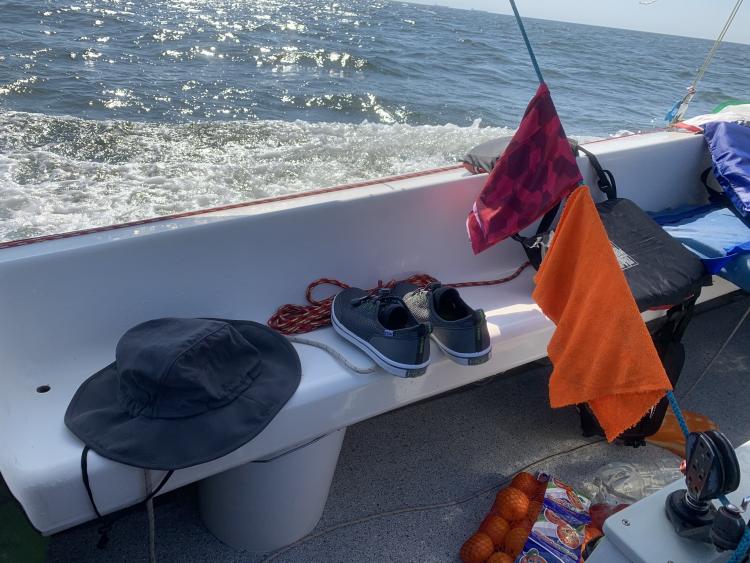 So we zipped across Mobjack, and as Hampton, Norfolk, and Virginia Beach became visible on the horizon, it seemed to take forever to put the last 20 miles in our wake. But we rounded Fort Monroe in the early afternoon of Tuesday (May 21). At a total time around three days and four hours, we were well ahead of our expectations. It was my wife Yvonne's birthday the next day, and since I had missed 5 birthdays when I was in the Navy, I hoped she would be happy we were home.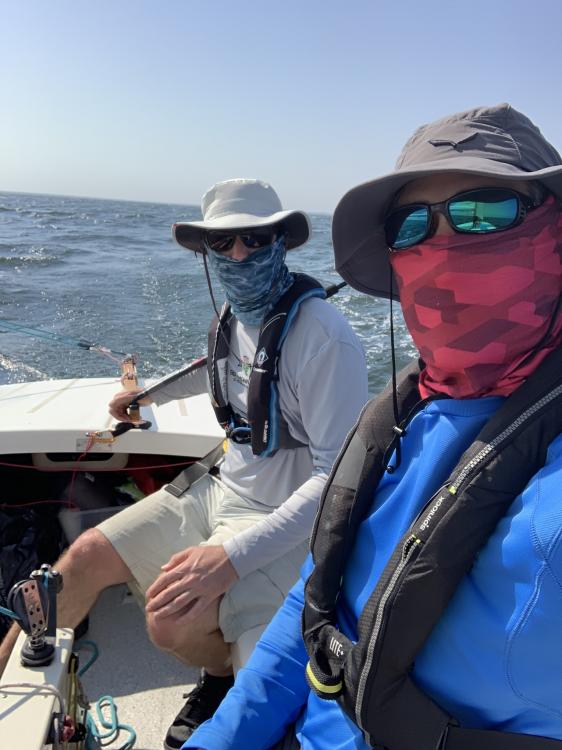 Since the sail, Rob and I have recovered physically and mentally. We are still waiting to hear if our data will be acceptable. We sailed 419 miles (and broke the previous 331.5 nm record). This weekend Rob actually got back in a boat and took 2nd place in Thistle Districts. And this week I am using our experience to teach Fathom sailors at CNU about goal-setting and how to create action plans to accomplish their dreams in sailing and life.
For us this was about a lot more than breaking a record. It was about having a story we could use to raise awareness for Donate Life and inspire youth sailors to use their passion for sailing to do good for others.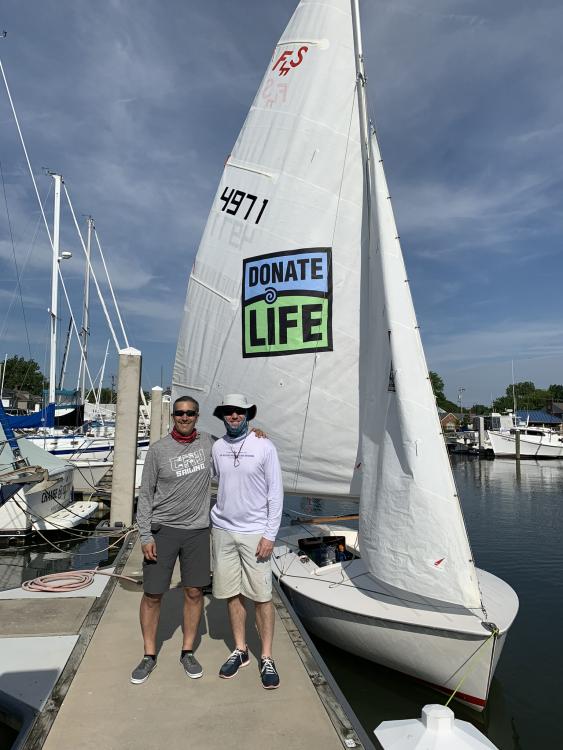 What did you learn along the way?
I am a very average sailor that only started racing because of my son Tyler's love for it. I learned a lot about sailing in big waves and wind. I have definitely learned respect for the Bay. I also learned a lot about decision making under stress and fatigue with weather reports that are the best available, but don't perfectly predict what actually develops.
This adventure, Fathom, and all we do is to carry on the legacy of our son Tyler.