505 Worlds final, Championships, and More: Here's your SpinSheet Racing Roundup for the weekend of September 29 – October 1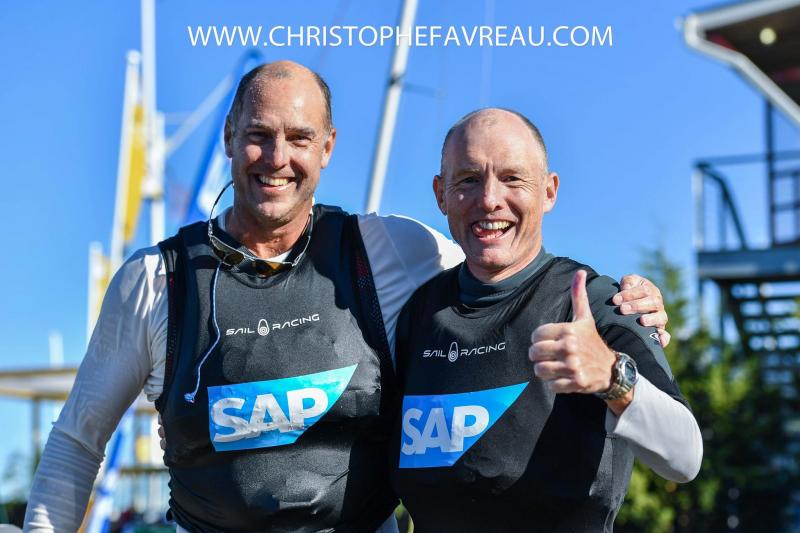 After an exciting breezy Thursday at the 2017 SAP 505 World Championship in Annapolis, Mike Holt and his Annapolis-based crew member Carl Smit proved victorious by an impressive margin.
SAP 505 Worlds Top Three results:
1. 6 USA 9072 IO Integration 505 Mike Holt / Carl Smit 2 1 15 5 3 1 3 89/DNC [89] [15] 15.0
2. 74 USA 9106 Mike's Boat 505 Mike Martin / Adam Lowry 8 21 25 6 2 6 1 3 [25] [21] 26.0
3. 34 GBR 9088 Gill Race Team 505 Andy Smith / Roger Gilbert 10 3 6 2 5 3 15 16 [16] [15] 29.0
(Find full SAP 505 Worlds results here and find the Chesapeake-biased report in the November SpinSheet.)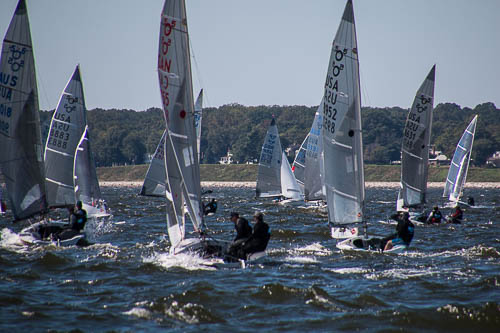 With one race to spare thanks to a dominant performance on the fourth day of the competition, Holt and Smit clinched the championship at this event hosted jointly out of Severn Sailing Association and Eastport Yacht Club.
Heavy breeze came to the Chesapeake on Thursday and the Holt-Smit tandem sailed superbly – posting an impressive score line of 3-1-3. They were able to throw out a 15th absorbed in Race 3 and mathematically secured the title as a result.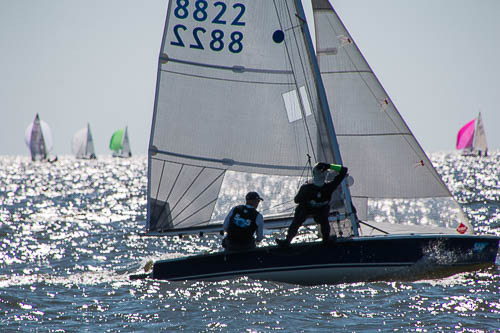 "It's amazing, just amazing. We didn't really know for sure until we came ashore. We kept running the numbers and thinking we won, but we weren't positive until we actually looked at the scoreboard," Holt said. "It's fantastic, especially here in Annapolis. This is not a venue at which we thought we could possibly win."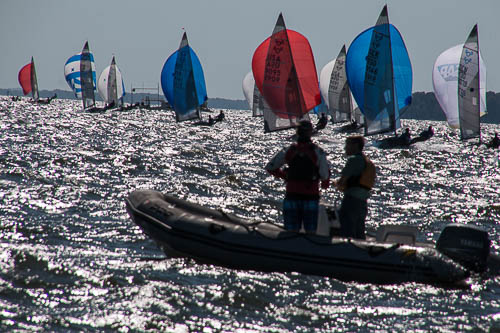 This is the second SAP 5O5 World Championship for Holt and Smit, who captured their first together in 2015 off Port Elizabeth, South Africa. They have developed a reputation as heavy air specialists who did not perform well in light to moderate conditions.
"It does make us proud, because we've always been considered heavy air sailors. To come here to Annapolis and be able to win a world championship held in a range of conditions is just brilliant," said Holt, a Santa Cruz, California resident who owns a software integration firm.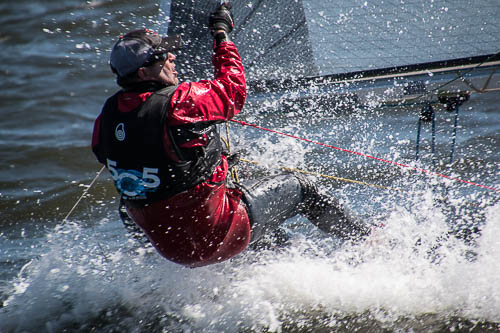 Holt-Smit placed second in Race 1 in moderate wind (10-11 knots) on Sunday then won Race 2 in relatively lighter air (7-10 knots) on Tuesday. Holt was asked why the IO Integration team fared better in those types of conditions.
"I lost a bunch of weight," Holt said. "Carl was supposed to, but he failed on that mission so I did it all by myself. Actually, today Carl's weight was good. I certainly wasn't going to complain about it today."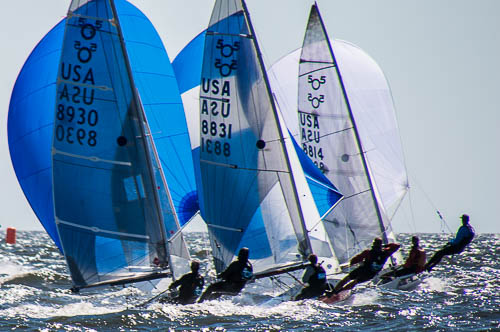 Smit mentioned that he and Holt have worked to improve their performance in light to moderate air, traveling to Europe to compete against 505 teams that are strong in those conditions.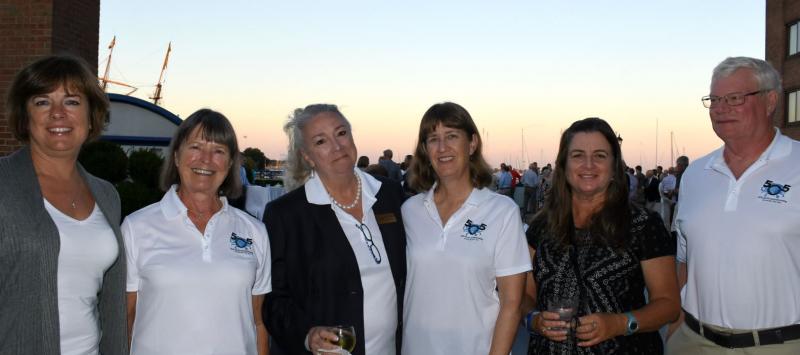 "We knew this was going to be a really tough venue because light air is generally not our favorite. That being said, we knew we had to get better in the light stuff to have any chance here," said Smit, a member of co-host Eastport Yacht Club. "We felt good going into today because we put some decent results on the board in the lighter conditions. It was tough sailing today as well because there were still some big shifts, some big puffs. We're just so psyched to win this championship. It's just a great feeling of accomplishment."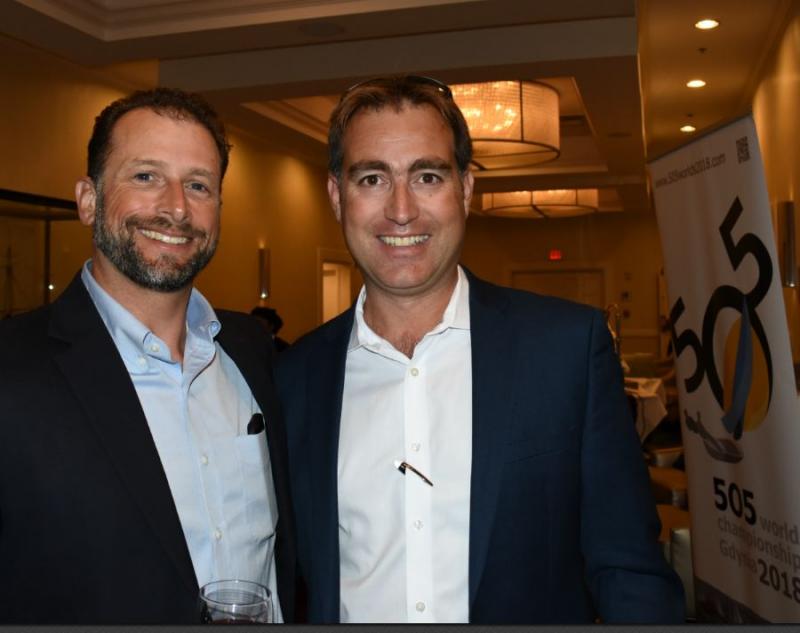 This is the third SAP 5O5 World Championship for Holt, who won in 2014 with Rob Woelfel as crew. Considering the caliber of competition in Annapolis, the British native never imagined clinching the regatta with one day of sailing remaining.
"That's just crazy, completely crazy. Our goal going into the week was to simply have a chance on the final day," Holt said. "Those last days are always scary, so to avoid having to worry about the last day is just fantastic."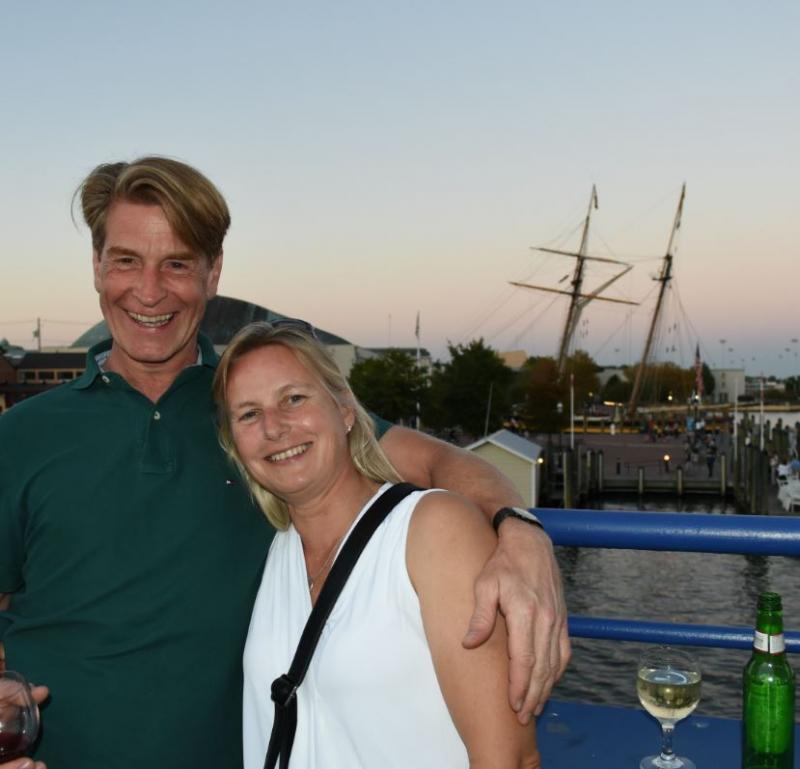 All the heavy air specialists were thrilled to wake up on Thursday morning and hear the forecast for 15-20 knot winds. That proved accurate, although significant shifts and large holes tested the 87-boat fleet.. Find the final Friday 5O5 report here
And check out this awesome 505 video from T2PTV!
FIND DOWNLOADABLE 505 racing PHOTOS HERE.
J/70 East Coast Championships
The J/70 ECCs unfolded this weekend at Fishing Bay Yacht Club September 29-October 1. Here are top three results:
1. USA 99 Nostalgia J 70 Blakely Kimbrough 1 5 2 3 2 1 1 [5] 10.0
2. USA 45 Wild Child J 70 Henry Filter 3 7 1 6 1 2 3 [7] 16.0
3. USA 380 Pied Piper J 70 Gannon Troutman 2 2 8 2 7 3 4 [8] 20.0
Find full J/70 ECC results here
AYC Fall Series
Annapolis Yacht Club hosted the first part of its fall series this weekend:
Here are the AYC Fall Series results thus far (more to come over the next two weekends)
More Southern Bay Scene
This just in from Lin McCarthy's Southern Bay Racing News You Can Use:
22nd Annual HOSPICE TURKEY SHOOT REGATTA.
Racers and friends partied, raced, and smoozed up on the Rappahannock. . . for the 22nd time in 22 years. They've got it perfected!
First overall - Jim Engle, Grey Fox.
Second overall - Charles Shaffner, Dolcefariente.
Third overall - Bill Dickinson, Victorious.
The John and Carole Jean McConnicoTrophy for the winning yacht club or marina was won by Fishing Bay Yacht Club.
Ten (10) Division Winners: Tim Scheid, L'eaudanse; William Morgan, Skylark; Wayland Rennie, Trilogy; Lew Thatcher, Catitude; Joran Gendell, Elixir; Jim Engle, Grey Fox; Jim Harding, Sea Gal; Mike Chesser, Scuba Kat; Charles Shaffner, Dolcefariente; and, Roger Lawson, Sweet Pea. Of the 80 boats entered 70-some started one or both of the races of the regatta.
NEPTUNE ATLANTIC REGATTA.
Racing on Saturday was a challenge, but exhilarating, especially on the ocean leg. Twenty-two (22) boats started the race off Little Creek and only three (3) did not finish. A total of 30 had entered the race. Many have tales to tell which indicate that seamanship was required. Wind was out of the NNW at 20+ knots and the conditions made for the fastest race in recent memory.
Carey Hardesty, LONA, winner of the PHRF C class, sent a message during the race, saying, "It's blowing dogs off chains. 'We are sailing with the storm jib and full main moving up wind about 4knts." Turns out that what was great for sailboats was not so great for kayaking. This is a second-hand report from Scott Almond about how ". . .
Chris Whately, skipper of KALEIDOSCOPE, picked up someone out of the water in the area of Cape Henry near the mouth of the Bay during the race. This person had fallen out of his kayak and had been afloat for a while when the Atlantic Regatta fleet was sailing by and the crew of KALEIDOSCOPE rescued him. They then proceeded to finish the race with the patient on board and were second overall to cross the finish line, only 39 seconds behind the First to Finish (DANGER PAWS)."
Several racers are said to believe that ". . .this person would not have survived had it not been for the crew of Kaleidoscope and, obviously, the fact that there was a sailboat race happening, which was about the only reason for all of these boats to be out in those not so hospitable conditions which included a pretty respectable ebb current at the time".
The post-race party was held on the grounds of the Old Coast Guard Station.
RESULTS:
PHRF A (5 boats) 1.Neil and Lis Biondi Ford, Danger Paws (Melges 24); 2.Dixon Wilde, Kingfisher (C&C 99); 3.Ian Hill, Sitella (XP 44).
PHRF B (3 boats) – Gade, Girardin, Copeland, Black Widow (Irwin 38); 2.Guy Sorensen, Blue Ghost (Pearson Flyer).
PHRF C (3 boats) – 1.Carey Hardesty, Lona (S2 7.9); 2.Ben Cuker, Callinectes (Cal 3-30).
PHRF Non-Spin (3 boats) – 1. John Wandling, Pisces (J28); 2.Jay Thompson, Restless(Irwin 38).
Cruising (14 boats) – 1.Chris Whately, Kaleidoscope (Hunter 30-2); 2.Dave Bettis, Surely Boo (Pearson 39); 3.Keith Midgette, Luna Blu (Bristol 39).
Principal Race Officer: Scott Almond.
Farr 40 North Americans
The Farr 40 North Americans took place out of Chicago YC last weekend. Helmut and Evan Jahn's Flash Gordon won with Annapolis pro Geoff Ewenson as tactician. Find full Farr 40 NA results here.
HOW CAN I GET MY RACE INTO THE SPINSHEET RACING ROUNDUP? Send us a note to [email protected], preferably with results and photos by 9 a.m. on Monday morning. We'll do our best to get it into the roundup. If we miss it (and we do miss a few as readers remind us), we will get it into the magazine next month. Thanks!