Posted September 25, 2017
505 Worlds, J/35 NAs, Recovering Warriors and More Racing Roundup: The wind may not have shown up in force this past weekend, September 22-24, on the Chesapeake, but the sailors did. Here's your weekly SpinSheet racing roundup: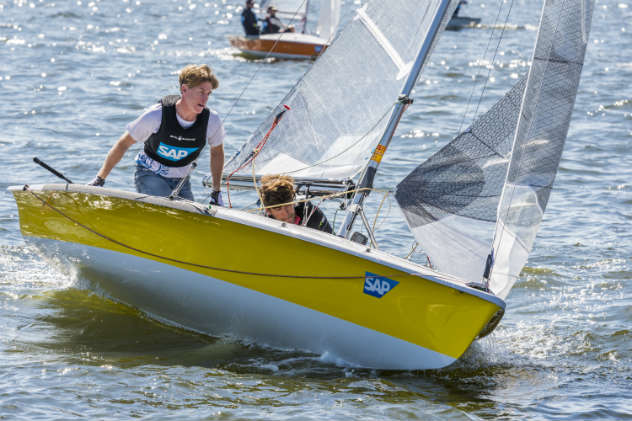 SAP 505 World Championships
There was a collective groan from the sailors when principal race officer Sandy Grosvenor announced from the deck of Severn Sailing Association that she was sending the fleet out on Day 1 of the SAP 5O5 World Championship, hosted jointly by SSA and Eastport Yacht Club.
Some of the competitors felt the forecast looked shaky, but Grosvenor thought there was a window to get in some racing. Grosvenor is a respected World Sailing race officer and it turns out she was right.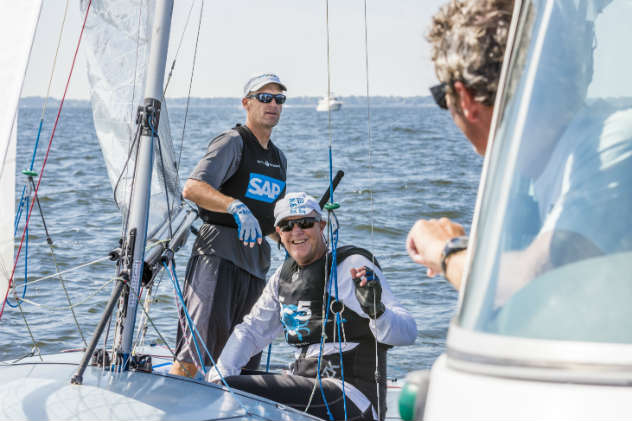 "I was delighted when we got out there and found the wind we did," Grosvenor said.
A northeast wind was blowing about 10-11 knots when the mark boat dropped anchor. That enabled Grosvenor to set the TL3 course that is standard for the International 5O5 class. It features a reaching leg thrown in after the first downwind leg and creates a triangle.
FIND DOWNLOADABLE PHOTOS HERE.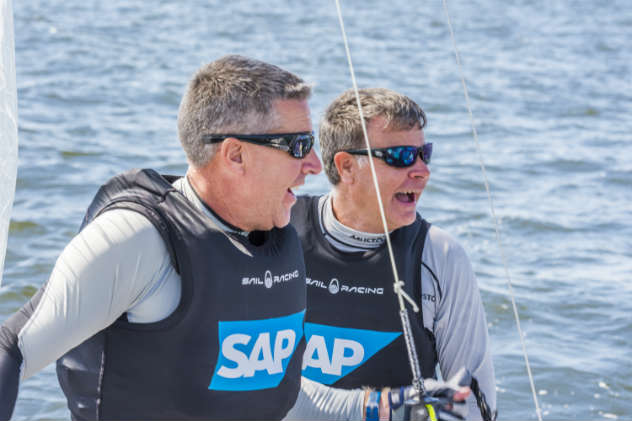 Californians Howie Hamlin and Andy Zinn drew first blood at the 2017 SAP 5O5 World Championship – snatching the lead just after rounding the leeward mark and holding it the rest of the way to win Race 1, which was seven legs and approximately five miles with a downwind finish.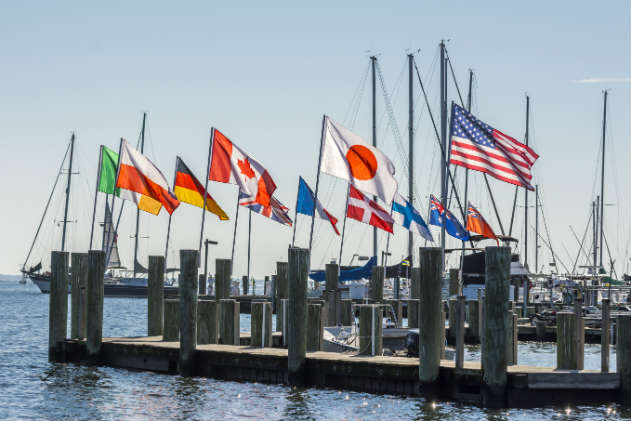 "We got a good start in the middle of the line, which is where we wanted to be," said Hamlin, a Long Beach resident. "Andy set us up in a good spot and we knew right away that we looked good."
Mike Holt and Carl Smit, the 2015 world champs, were first around the initial windward mark and held the lead on the run. However, Holt-Smit and Hamlin-Zinn split gates and that would ultimately prove decisive.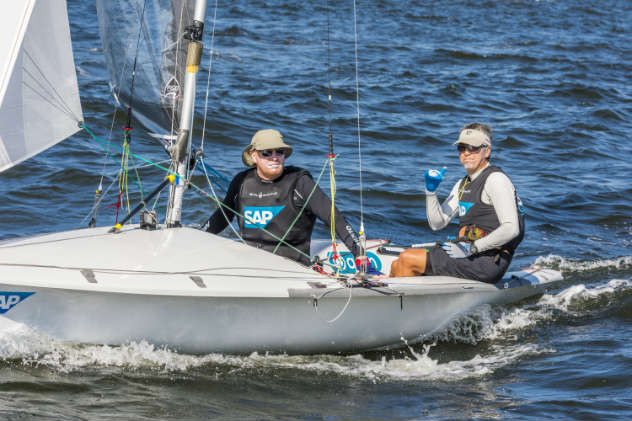 "We gybed just before they did and went for the left gate. They went around the right one and it looked like they had more traffic," said Zinn, who has teamed with Hamlin to capture three North American Championships.
Holt confirmed that version of events and said a little hitch he and Smit had to take on the second upwind leg allowed Hamlin and Zinn to pass.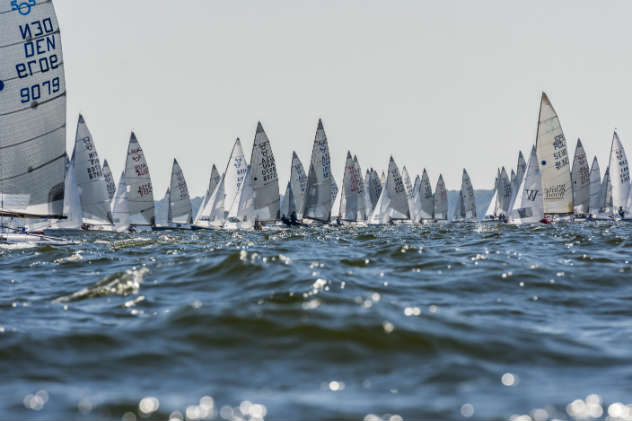 "I felt like we had a good start and good speed on the beat. We wanted to work our way left then take what opportunities we could to come back right, which is what we did," said Holt, world champion in 2014 and 2015 with different crew. "It was a surprisingly steady breeze, no shifts to speak of. So there were no real opportunities to find a passing lane or take them on. All in all, we were quite happy to come in second."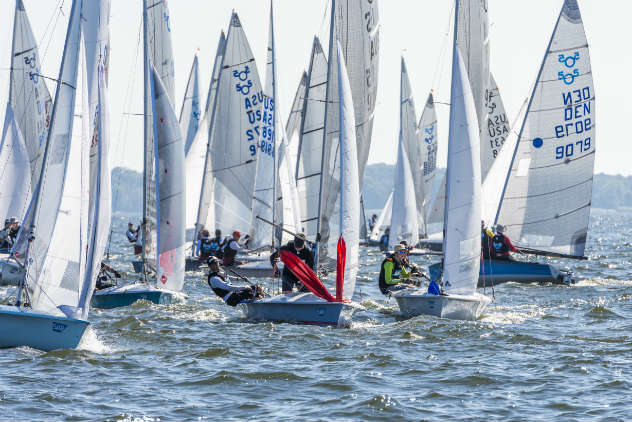 When it was over, most of the usual suspects were in the Top 10 with Chesapeake Bay locals Tyler Moore and Rob Woelfel taking third, just ahead of the British tandem of Ian Pinnell and Dave Shelton. Defending world champions Mike Martin and Adam Lowry finished eighth.
Grosvenor said the pressure steadily dropped during the race and was barely above the class cutoff of five knots when she went into sequence for Race 2. She got the fleet started, but very quickly abandoned, due in part to a strong ebb current that was sweeping boats down the bay.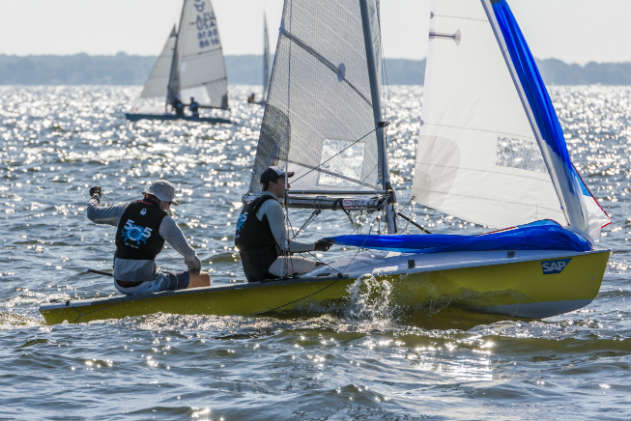 Doug Hagan is an Annapolis native who competed in the Club 420 World Championship out of Severn Sailing Association way back in 1984. Hagan, who now lives in Maui, has returned to his hometown for the 2017 SAP World Championship and got off to a good start by placing sixth in Race 1.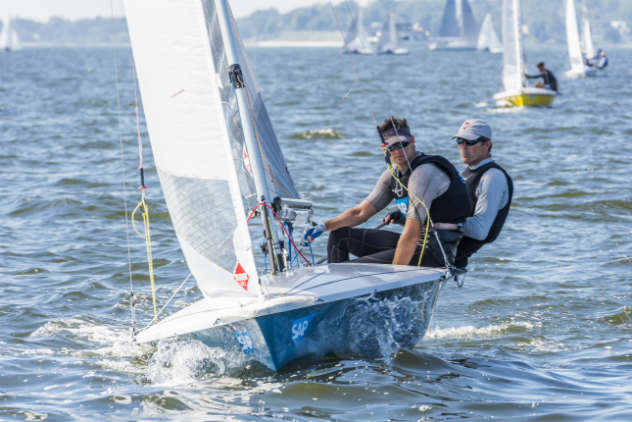 "We wanted to start with as few boats as possible and noticed there was a gap in the line near the pin end. So we were able to get off and get away clean," said Hagan, who has Shane Illidge aboard as crew. "We had good speed and Shane pushed me hard to keep the boat rolling. It was kind of typical Chesapeake Bay sailing and definitely a nice finish for us."
One among many great things about this regatta is that it's a Sailors for the Sea Clean Regatta making a real effort to keep our local waters clean. Thank you EYC for this effort!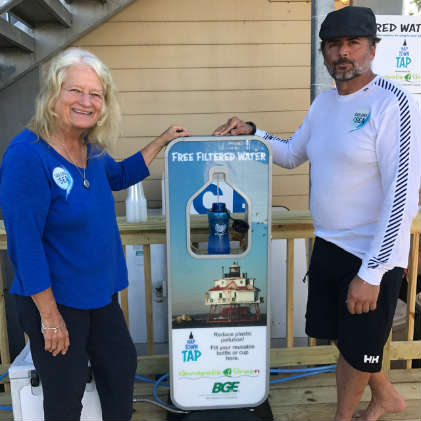 For complete results of Race 1 and the full scoreboard for the 2017 SAP 505 World Championship click here.
Please click this link to check out the SAP Race Analytics
FIND PHOTOS FOR PURCHASE HERE.
J/35 North Americans
At the J/35 North American Championships at Annapolis Yacht Club last weekend, two Michigan skippers took podium finishes, including the top spot by William Wildner on Mr. Bill's Wild Ride.
J 35 (One Design - 10 Boats)
1. Mr Bill's Wild Ride, USA42968, William Wildner - 1 -1 -1 -3 -1 ; 7
2. Abientot, USA42979, Roger Lant - 5 -2 -3 -2 -2 ; 14
3. Major Detail, USA42763, William Vogan - 3 -4 -4 -1 -5 ; 17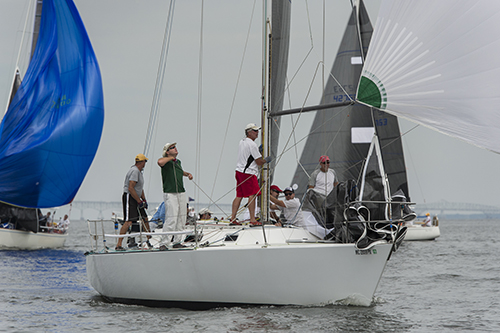 4. Aunt Jean, USA53408, James Sagerholm / Jerry Christofel - 2 -3 -2 -7 -4 ; 18
5. T-Bone, USA41870, Bruce Artman - 7 -5 -5 -4 -6 ; 27
6. Medicine Man, USA73000, Chuck Kohlerman - 4 -7 -6 -8 -3 ; 28
7. BZing, USA33751, Benjamin Travis - 8 -6 -7 -5 -9 ; 35
8. Uncle Joe, USA41463, Steve Carton - 6 -8 -8 -6 -8 ; 36
9. Eighth Deadly Sin, USA73027, Mike Mullarky - 9 -9 -9 -9 -7 ; 43
10. Maggie, USA40738, James McNeely - 10 -10 -10 -10 -10 ; 50
J/24 World Championships
Annapolis sailor Tony Parker and team on the J/24 Bangor Packet placed second BY ONE POINT in the J/24 Worlds in Ontario last weekend. When you place second by one point in any regatta, that's some tremendous competition—let alone in a 63-boat world championship. Congratulations to the Team for a well-sailed regatta!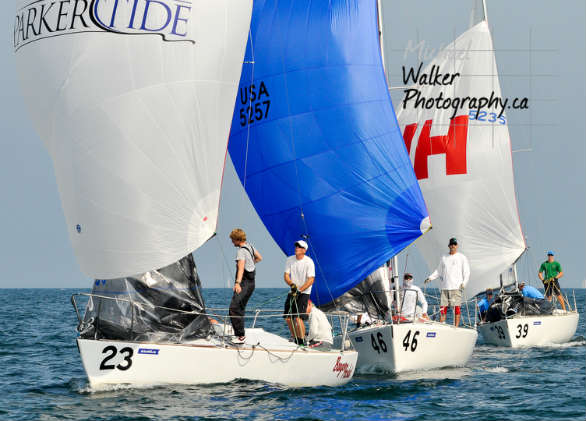 Find final J/24 World championship results here.
Recovering Warriors Regatta
The 11th Recovering Warrior Sailing Regatta Saturday, September 23 unfolded in Annapolis. The regatta is sponsored by Chesapeake Region Accessible Boating and the National Sailing Hall of Fame, with support from the US Naval Academy.Warrior Events and Valhalla Sailing Project also supported the recruitment of warriors in the region to join the recovering warriors from Walter Reed National Military Medical Center. Here are some photos courtesy of Ben Cushwa/ CRAB.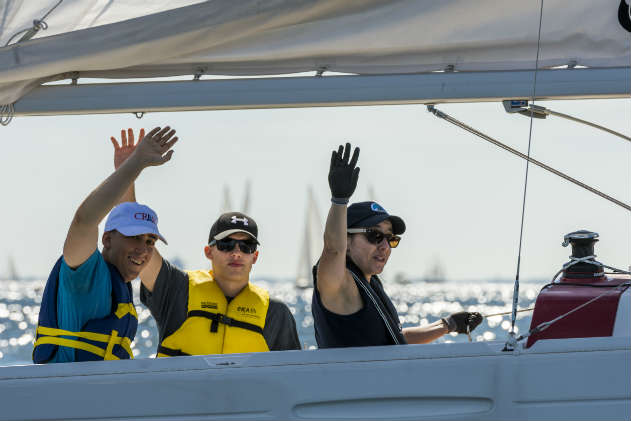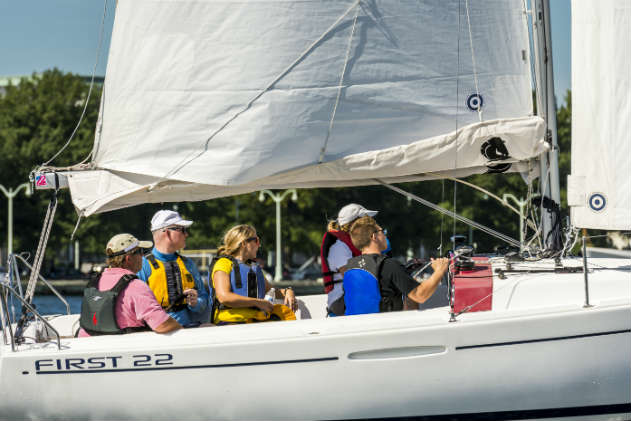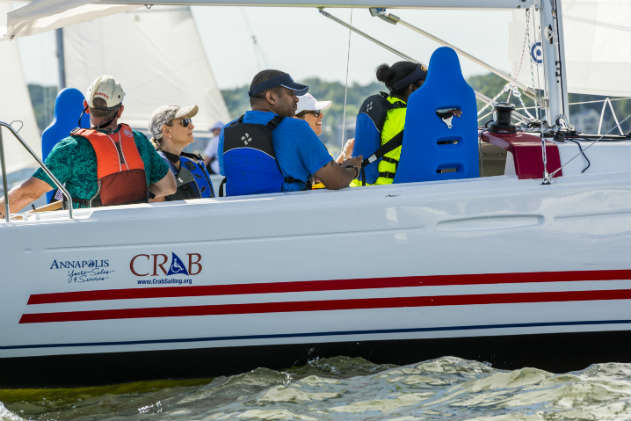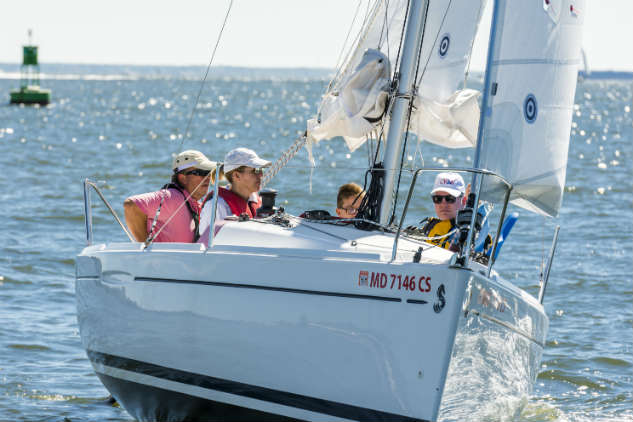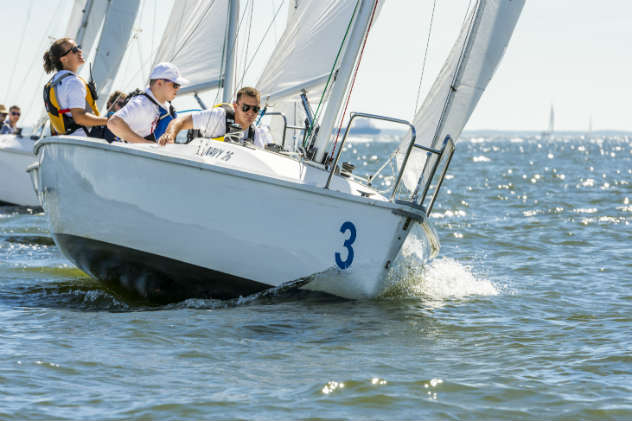 U.S. Sailing Offshore Championships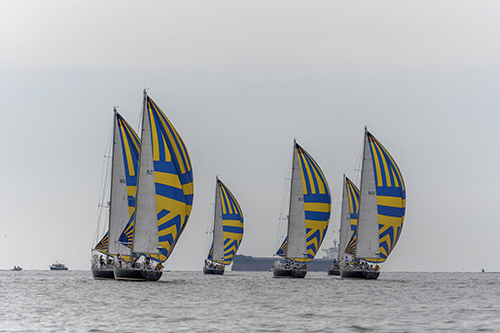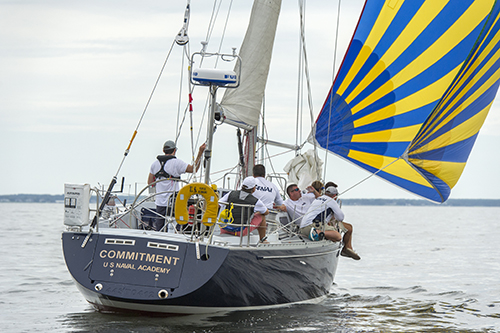 Here are the results for the U.S.Sailing Offshore Championships Sept 21-24.
Southern Bay Scene
News from Lin McCarthy's Southern Bay Racing News You Can Use this morning:
CCV Fall Series 2 (Race #3):
DANGER PAWS, COOL CHANGE, ROUNDABOUT, and BLACK WIDOW won their fleets yesterday in the middle distance race of the CCV Fall Series.
RESULTS:
PHRF A (9 boats) – 1.Neil and Lis Ford, Danger Paws; 2.Jim Bordeaux, Solstice; 3.Ian Hill, Sitella
PHRF B (9boats) – 1.Rusty Burshell, Cool Change; 2.Ben Weeks and Michele Cochran, Rumble; 3.Bob Archer, Bad Habit.
PHRF C (5 boats) – 1.Alan Bomar, roundabout; 2.Louie Lewis, Incentive III; 3.Ben Cuker, Callinectes.
PHRF Non-Spin (4 boats) – 1.Ken Copeland, Black Widow; 2.Bob Howell, Pegasus; 3.Alan Johnson, Seeker.
Principal Race Officer – John McCarthy; Signal Boat, Bare Footin, Brian Deibler; Official Scorer – John Ritter.
Fall Series skips a weekend and then comes back on Sunday, October 8 for Day 3, two races in the harbor, drop mark courses.
MOVIN' ON moved off the hard and on to the York River Cup Regatta race course Saturday. Mike Austin pulled the tarp off his Beneteau FC8, Movin' On, three weeks ago and began to get her ready for a run at the 2017 York River Cup. The boat had been high and dry and under wraps for the past three years. Mike and his crew, including Carey Hardesty (skipper of Lona B), won both races and the York River Cup. Welcome back, Movin' On!
RESULTS:
Spinnaker Class: 1. Mike Austin, Movin' On; 2.Jim Bordeux, Solstice; 3.Brian Gregory, Hornet.
Non-Spinnaker Class: 1.Phil Horbert, Steadfast; 2.Joran Gendall, Elixir; 3.Steve Knight, Constellations.
Flying Scot Atlantic Coast Championships. Thirty (30) boats competed in two divisions, Championship and Challenger, at Fishing Bay Yacht Club this past weekend. Saturday the wind was between 4 - 7 and Sunday was slightly higher with 8 -10. Sailors raced comfortably in the 5 prescribed races.
The team of David Neff and Jason Hair from Selby Bay won three of the five races to take overall honors as the ACC Champions and Capital District Champions. Second place in the Championship Division went to Rob Whittemore and Kevin Clark (FBYC). Len Guenther and Ron Thompson (FBYC) finished 3rd overall and Charlie Clifton sailing with his son, Chip from the Sarasota Sailing Squadron finished fourth.
Event Chair – Debbie Cycotte; Principal Race Officer – John Berry.
__________________________________________________________________
HOW DO I GET MY REGATTA INTO THE SPINSHEET RACING ROUNDUP? Easy! Just send us a link to results and preferably a photo or two (party photos work!) by Monday morning at 9 a.m. for that week's roundup to [email protected]. Don't worry--if you miss the online roundup, we are still open to printing news in the magazine. Send it to [email protected] by the 10th of the month.