Posted September 10, 2020
America's Cup Boat Patriot Arrives Amid Covid Concerns
No one really knows what form the 36th edition of the America's Cup will take when the foiling 75-foot monohulls take to the water in competition later this year.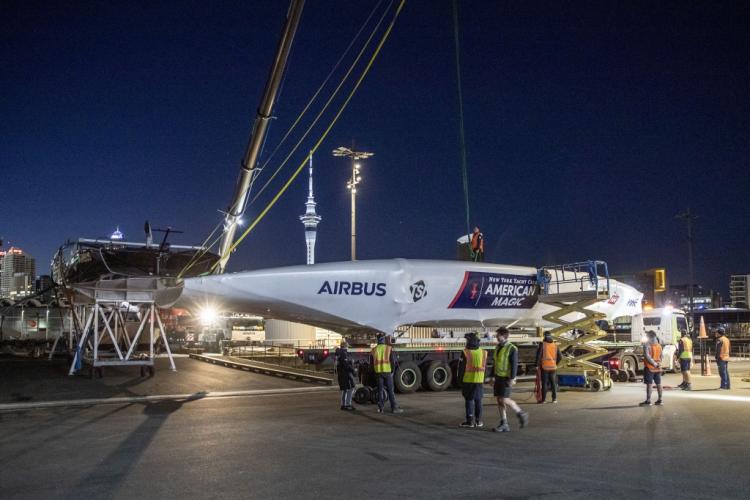 New Zealand has recently come off a very restrictive Stage 4 lockdown which saw Covid-19 cases nationwide fall to miniscule levels. The country currently has just over 100 active cases and is in Phase 2 of restrictions, which prohibit international travel as well as placing large-scale gatherings, restaurants, and bars off limits until at least the middle of September.
Earlier this summer, the New Zealand government granted America's Cup teams a special exemption which allowed the United States, Great Britain, and Italy to bring team members, AC- 75 boats and gear, and some support personnel into the country. American Magic was the only challenger boat to take advantage of this offer by landing its first boat, Defiant, and 200 team members in New Zealand in late July.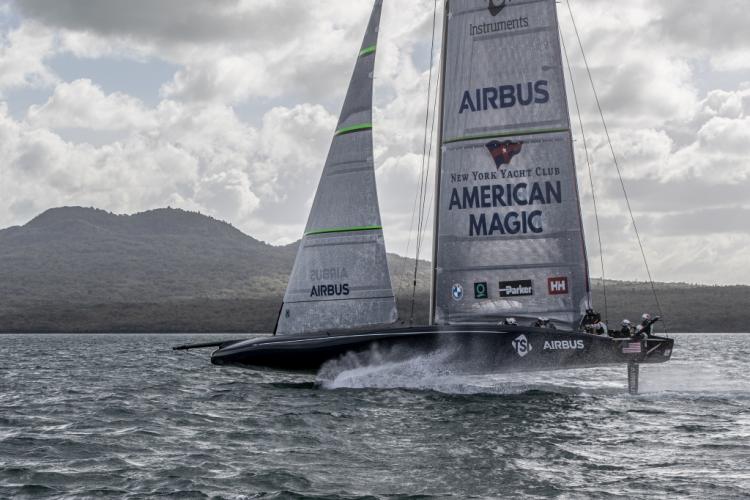 Terry Hutchinson and his American Magic team members have been out of quarantine for about a month and have been making full use of their time on the water sailing Defiant as often as possible. They even managed a brief capsize last week with no ill effects to boat or crew.
Defender Emerites Team New Zealand has recently launched its first AC-75. Both Defiant and the New Zealand boat have been seen out on the water at the same time, although Cup rules prohibit any racing among competitors prior to the December World Series events.
Comparisons have been made between the two boats with the US boat getting the early nod for its aerodynamics and the Kiwi boat receiving high marks for its upwind characteristics. All that, however, is but prelude to the second generation of AC-75 boats soon to be taking to the water.
American Magic's boat, Patriot, has incorporated a number of design changes from its predecessor. Most observers say the second generation of both team's boats will look and sail much differently than the present iterations.
"We are incredibly grateful to our production team in Bristol [Rhode Island], which includes over 50 people and is led by Brandon Linton, Tim Hacket and Silvio Arrivabene," said Terry Hutchinson, skipper and executive director of American Magic. "That group built 188 combined feet of foiling monohulls over the past three years, which is pretty staggering. And they did it to the highest possible standard. In simple terms, our production team has put us in position to succeed over the next seven months."
While the US and Kiwi boats have been getting up to speed on sailing conditions on Auckland's Waitemata Harbor, neither the Italian nor the Great Britain boats have yet to arrive in Auckland. Both teams are expected to get out on the water in mid-October.
The first time all four boats will get to see how well their revolutionary designs match up with one another will be the Christmas World Series races, scheduled for mid-December.
Details regarding this regatta and, in fact, the America's Cup Prada elimination series in January and February and the Cup itself due to be contested March, are a little sketchy at this time.
With international arrivals suspended for the foreseeable future, it is conceivable that the Cup and its runup events could be contested without all the hoopla of a vibrant America's Cup Village or a large and raucous spectator fleet. Just last week, the Youth America's Cup events which were to take place during lay days during the race itself were cancelled. There is even some talk of reducing or eliminating the traditional international press corps which has been a mainstay of Cup news during previous contests.
"The ultimate decision on the America's Cup lies with the Defender Team New Zealand, as the America's Cup rights holder and ACE—the event management arm continues to look at all event scenarios at all levels and will adapt as required," Team New Zealand said in a statement.
A statement from Auckland Mayor Phil Goff said the situation was highly changeable, and any decision on the event could only be confirmed if and when the government confirmed any potential further lockdowns.
"While we hope that major events will be able to go ahead, that will only happen if it is safe to do so," a spokesperson for the Mayor said.
The call to open the Cup up to international crowds will be made later in the year. It will be a difficult decision regardless of the verdict.
In the meantime, Hutchinson and his crew have plenty of work to do getting Patriot into the water and getting the crew up-to-speed on the refinements the American Magic design team has built into the new boat.
"We are in as good a position as we can be," Hutchinson says, "given all the curves the Covid-19 lockdowns have thrown our way. We are grateful to the New Zealand government for the help they have given us and look forward to a productive 6-months of sailing that will hopefully see Team American Magic successfully challenging for the Cup in March."
~By Craig Ligibel