American Magic Vows To Come Out Swinging Tonight and Tomorrow
American Magic skipper and Annapolis native Terry Hutchinson vows to "come out swinging" in remaining Prada America's Cup do or die matches scheduled for tonight and Saturday.
The mood at the American Magic base yesterday afternoon was optimistic. The team had accomplished the near impossible in getting the severely damaged America's Cup AC 75 Patriot repaired and ready to compete against Italy's Luna Rossa in the first day of the Prada Cup Semi Finals.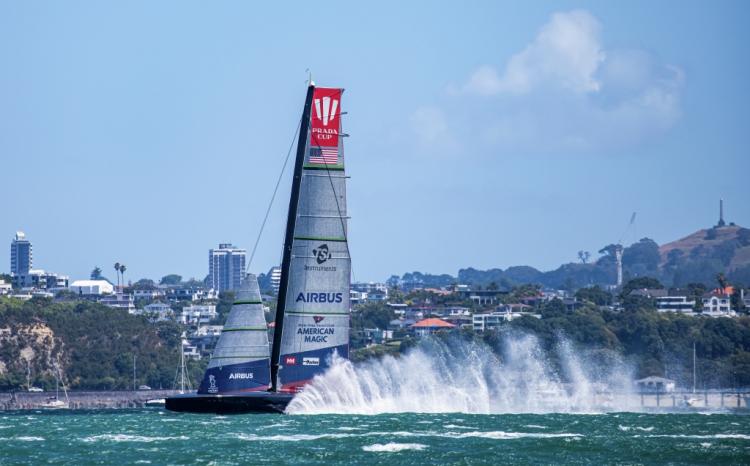 American country western star Caroline Jones belted out an acapella version of the "Star-Spangled Banner." A huge American flag fluttered in the stiffening breeze. Well-wishers and family crowed the basin at Wynyard Quarter.
"It was an emotional high for the team that has been through so much," said Hutchinson.
Fast forward six hours and the team's return to the base carried with it another emotion: disappointment. The team had been thoroughly beaten by a much-improved Team Luna Rossa, losing both races and facing elimination from the series if their performance didn't improve dramatically.
"We need to take a look at what we did out on the water today and do better tomorrow," a determined Hutchinson said. "Personally, I'm PO'd. I hate losing. There's nothing like getting your teeth kicked in to get you going. As for the team, if you need any more motivation than winning, you're in the wrong spot."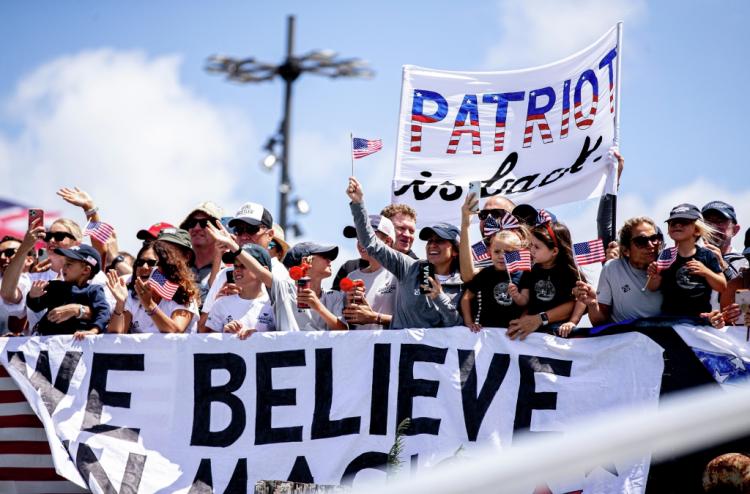 Hutchinson would not lay blame on either his team or the boat. "It was a combination of things. We are going to come back tomorrow and not change a thing. Today the wind, sea state, and a couple of issues with the boat made the difference."
Luna Rossa's helmsman Jimmy Spithill outdueled American Magic's Dean Barker to take a narrow lead in both starts. "Once you give a boat like Luna Rossa an opening, they will take advantage of it straight away. We were playing catchup the entire race. We were left with chicken scraps following them around the course," said Hutchinson.
American Magic lost both races by a total of almost six minutes. The boat experienced at least two bone-jarring splashdowns that limited its ability to remain competitive. This, despite the fact that Patriot set a new Prada record with a recorded speed of 53.3 knots.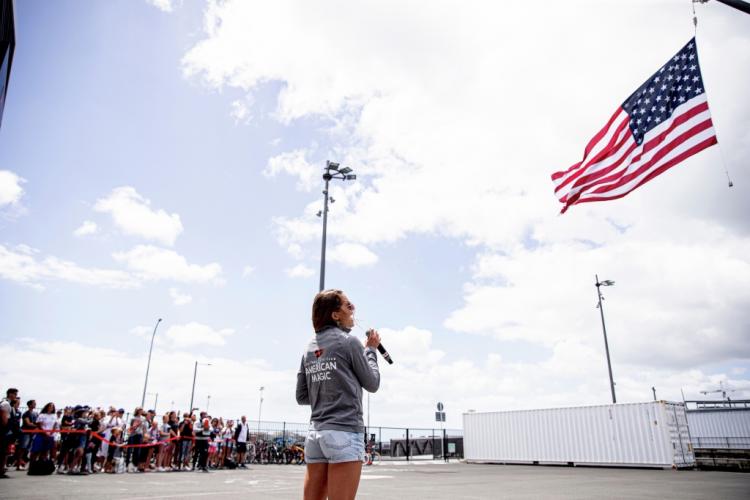 "When you are going that fast and things begin to go, you need to look for a safe place to set the boat down," said Hutchinson.
The next two Prada Cup Semi Finals races will start tonight at 9 p.m. East Coast time. You can listen to the action here. If the Americans win at least one race, the series will continue with more racing on Saturday.
The Prada Semi Finals are a first-to-four-wins format. The American boat must win four out of the next five races to advance to the Finals against Ineos Team UK.
The United States is no stranger to come-from-behind America's Cup victories. It was in 2013 in San Francisco Bay that the American entry Oracle skippered by Jimmy Spithill (now one of Luna Rossa's two helmsmen) pulled off what has been called the "greatest comeback in the history of sport" when it won eight races in a row to defeat Emirates Team New Zealand 9-8. The New Zealand boat was skippered by Dean Barker who now is American Magic's helmsman.
And so, it now comes down to this: two battle-hardened helmsmen fighting it out in high-speed foiling sailboats with the eyes of the world on the performance of each. Many sailing pundits project that Spithill's aggressive starts will carry the day in light of what they say is Barker's hesitancy to push Patriot at the start.
Hutchinson disputes that saying, "Dean has ice in his veins. He's the right man to be driving the boat." By 11 pm tonight Annapolis time, we'll know the answer.
You can tell from the tone of his voice, the set of his jaw and the salt and pepper two-day stubble on his face that Hutchinson is somebody to be reckoned with as he leads Team USA in what could be the syndicate's last races in New Zealand.
"Overcoming being down two races with five to go is not too big of a mountain for us to overcome. Our plan is to debrief what happened on the water today and come back tomorrow and Sunday and do a better job on the racecourse," says Hutchinson.
Hutchinson grew up sailing with the West River Sailing Club. The club has produced a three- by five-foot burgee with a message of support for Terry that reads, in part, Chesapeake Proud. Anyone wanting to sign the burgee and express sentiments of encouragement, win or lose, is invited to visit the WRSC clubhouse at 4800 Riverside Dr, Galesville, between noon and 6 p.m. on this Saturday, Sunday, and Monday. The plan is for your reporter to deliver the burgee in person to Terry and his team in New Zealand next month.
** New Zealand is 18 hours ahead of Annapolis. The Semi-Finals are scheduled for 3-5 pm January 30 and 31 in New Zealand which translates to this Friday and Saturday night at 9-11 pm here in Annapolis.
By Craig Ligibel