Posted September 22, 2023
American Magic Comes From Behind for the Win of the First Prelim America's Cup Regatta in Spain
Although a hard fought victory by the New York Yacht Club's American Magic team of helmsmen Tom Slingsby and Paul Goodison and flight controllers Riley Gibb, and Michael Menninger in the first "official" America's Cup Regatta last weekend in Vilanova i La Geltrú, Spain, won't count for any points in the race to see who will take on Emirates New Zealand when the 37th America's Cup kicks off in earnest next September, the quartet did throw down the gauntlet to rest of the America's Cup fleet, serving notice to all comers that theirs was a team to reckon with in the coming 13 months of testing, trialing, training and competing.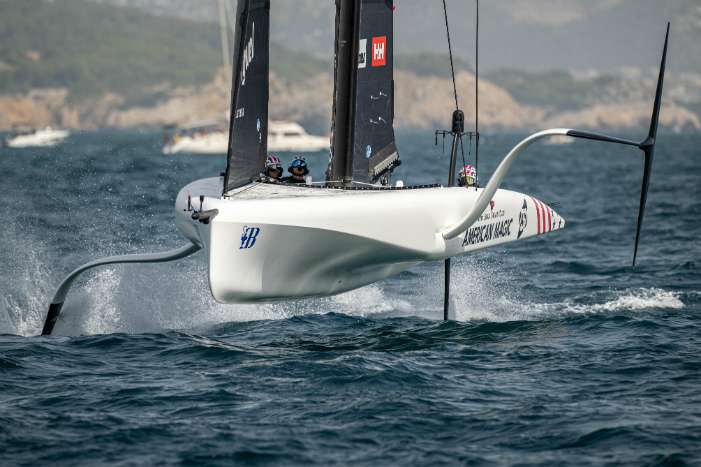 "We started out the second day of the Regatta well back in the pack," said an elated Aussie master of foiling Tom Slingsby. "We went back after our first disappointing day on the water, talked it over, came up with a strategy, and worked as a team to execute at the highest level."
Fighting fluky winds and choppy seas, the American Magic crew managed two going away victories on the final day of racing. The American Team finished the fleet racing portion of the regatta one point ahead of Emirates Team New Zealand. The two boats squared off for a final match race, but it was called off after the boats failed to reach the first mark in the time allotted.
American Magic President of Sailing Operations and skipper Terry Hutchinson praised the teamwork exhibited by his 170-person crew.
"We've spent a lot of time getting to know the boat," he said (a high flying AC40 monohull which can reach speeds of up to 40 knots). "And we've spent a lot of time getting to know each other. This was the first time we had raced against the other boats. It was a learning experience all around. We will take a minute to savor the victory then get back at it tomorrow. Thirteen months seems like a long time away, but we have lots of work to do to accomplish our Number One Goal of winning the America's Cup."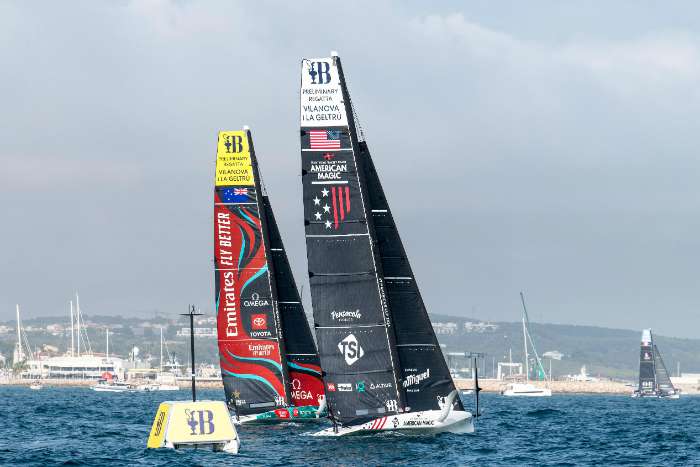 The run-up to next Fall's 37th America's Cup now moves to Jeddah, Saudi Arabia, where another Preliminary regatta featuring the AC40's will be held November 29 – December 2. The final Preliminary regatta, this time featuring the AC75's, will be contested in August in Barcelona.
The Challenger Selection Series starts immediately following. Click to the America's Cup website to learn more.
By Craig Ligibel