To all competitors in the 2017 Helly Hansen Annapolis NOOD Regatta, welcome to Annapolis! 155+ competitors in 16 one-design classes and two PHRF (North Sails Rally) classes were registered for the three-day regatta, May 5-7, presented by Sailing World and hosted at the Annapolis Yacht Club (AYC). For those not in the know, racing was canceled on day one due to forecast storms but we'll start up again today and keep you posted. Find today's weather report here.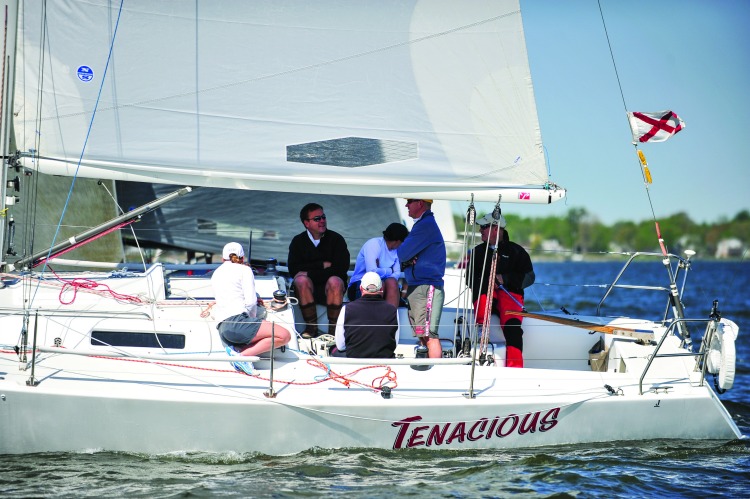 As always at this time of year, the natives are restless. Pete Kassal and his crew on the J/24 Spaceman Spiff are excited to get back on the race course. "I've raced the NOOD probably 10 times as a J/24 owner/driver and six or seven more as a crew," he says. "I first came to Annapolis to race in the NOOD Regatta when I lived in Newport, RI, in the late 1990s." He moved to Annapolis and bought his J/24 13 years ago.
"We've only won the NOOD once: 2016. We've won other events, but victory at the NOOD was especially sweet. We always have some stiff competition—other teams in the J/24 fleet have been racing at a national level for quite a while—so it's nice to prevail on occasion!"
Kassal's crew, who will be racing together for the first time, will be made up of Aaron Zankel, Kent Bartlett, Chase Wood, and Duy Huynh.
"The J/24, while being a 40-year old design, still brings out great competitors, and the boat is technical; we really have to work to get a fraction of a knot of boat speed advantage over our peers," says Kassal.
"I really enjoy one-design racing because all the boats are the same: it takes away all the other variables… It boils down to who consistently sails well—strategy, tactics, boat speed, and boat handling. It really is a great combination of a game of chess on the water while being a team sport."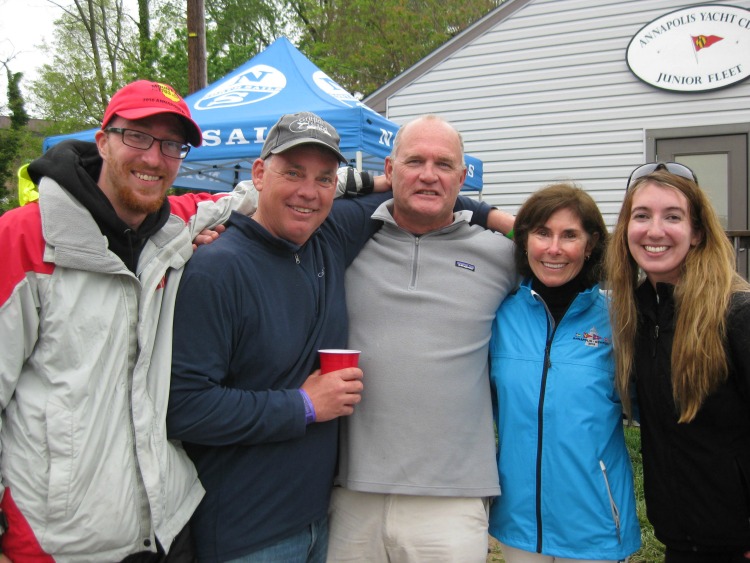 Aunt Jean, Aunt Jean, Aunt Jean… Chesapeake sailors might get tired of hearing about this Annapolis-based J/35 team, but they sure do win a lot of races, including the 2016 NOOD. Skipper Jim Sagerholm says, "Aunt Jean has competed in every Annapolis NOOD regatta except 2002. We've won over 10 times... not really sure how many."
Sagerholm's crew—Jerry and Joanne Christofel, Jim and Deb Sagerholm, Tim and Kristen Mangus, Doug Smith, and Merlin "Bubba" Suggs—will only do one weeknight race tune-up before getting back into the saddle this year. Lack of practice hasn't hurt them yet.
Carl Gitchell, who along with brother Scott owns the J/105 Tenacious, placed second in 2016 (Jim Konigsberg on Inigo took first). The brothers will be on the race course with Shannon Wilkins on bow, Scott Kirwin at the mast, and a few other as yet unconfirmed crew. This will be the Gitchells' 15th NOOD in Annapolis, and although they've had many top five finishes, they've only won once, in 2015.
"We really enjoy one-design racing because it emphasizes the combination of boat handling, crew work, and tactics," says Carl. "To win in this fleet, your boat handling has to be impeccable. Sail trim has to be adjusted in the puffs and lulls as well, as when the wind velocity changes three to four knots. Crew work at the mark roundings and gybes has to be flawless. The tactician has to put you in the right spots (starts, favored side of the leg, approaching marks, etc.) to capitalize on the wind shifts and current."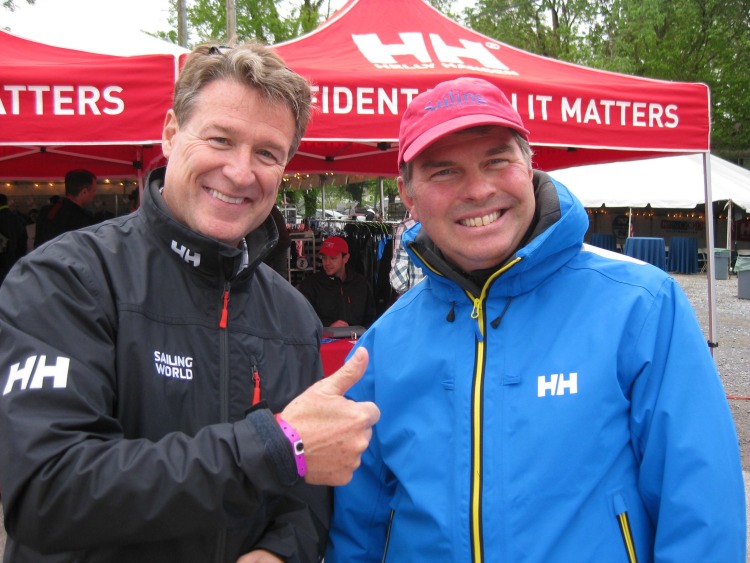 Good onboard crew communication is key, says Carl, "from the crew calling puffs, lulls, waves, and approaching boats, to the tactician letting everyone know the changing game plan, to the driver letting them know how the boat feels and is performing."
Prior to the NOOD, you'll see the Tenacious crew warming up by competing in the AYC Spring One Design Regatta and first two AYC Wednesday Night Races.
For J/22 sailor Todd Hiller, who's won three NOOD Regattas (one in St. Petersburg) on various boats as crew and skipper, Navy duty will keep him from tuning up in advance of the regatta; although he hopes to get "some roller time" starting with the AYC Wednesday Night Races. At the NOOD, he will sail with his wife Lynda, Quinn Schwenker, and Casey Williams.
Hiller enjoys the level of competition of one-design racing at this event. He says, "It's all about how your team connects the dots and prioritizes all the variables… It's great that one of the NOOD series circuit is held right in our own waters."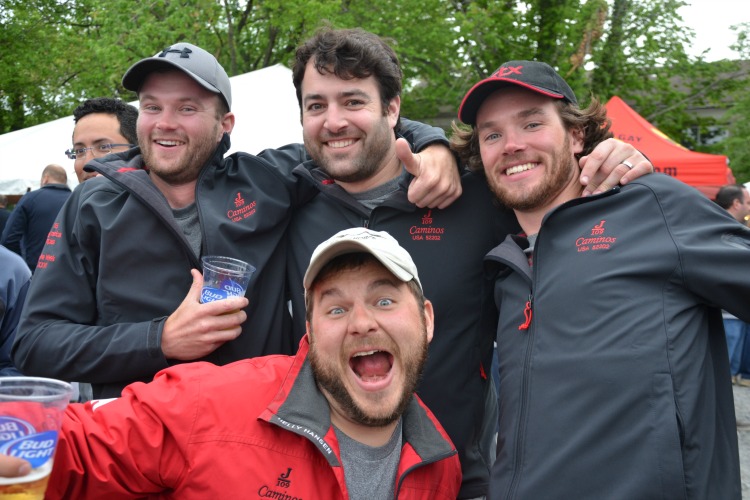 He looks forward to "catching up with buddies" and says, "Hopefully, Mother Nature will cast 13- to 18-knot southerlies for the event." (Don't we all?!)
Kassal also looks forward to "see [his] sailing buddies from all over the East Coast and elsewhere hanging out in Naptown… The regatta organization, race committees, PROs, and judges are always top notch, and the sailing conditions in early May are usually superb. Oh, and the après-sailing parties are pretty good, too!"
Carl Gitchell says, "Besides having a lot of boats on the starting line, we also enjoy the visiting boats that come. We [J/105s] currently have two boats from Canada, one from Bermuda, and one from Texas signed up."
Thanks in advance to AYC for hosting this event, to Helly Hansen for its continued sponsorship, to North Sails for sponsoring the May 6 rally, and to Sailing World for welcoming SpinSheet into the post-racing parties to take pictures. See you on the water!
Click to spinsheet.com for photos and more and to sailingworld.com/nood-regattas/annapolis for event details.
Stay tuned to spinsheet.com for periodic updates over the weekend and a full report on Monday by noon. Best of luck to all competitors!