Annapolis Welcomes the SAP International 505 World Championships 2017: The sailing community in Annapolis is thrilled to welcome 505 sailors to the SAP 505 World Championships September 20-29. Neighboring clubs, the Severn Sailing Association (SSA) and Eastport Yacht Club (EYC), have partnered to make this event a success. At print time, 89 boats were registered, and organizers anticipate another handful of registrants by start time.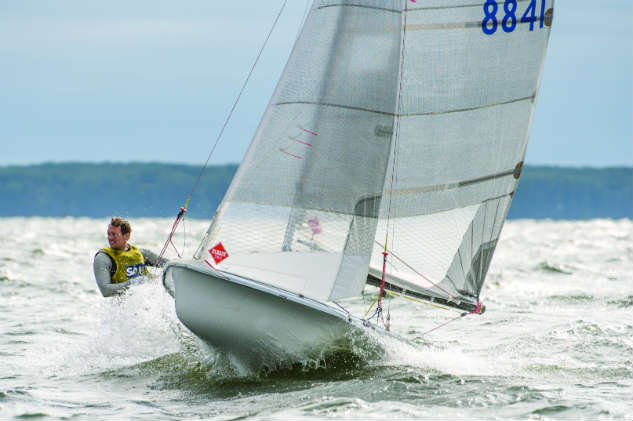 Commodore Kim Couranz says, "SSA is delighted to cohost the 2017 SAP 505 World Championships with EYC. SSA loves small-boat one-design racing. 505s are fantastic boats; the race committee is outstanding, and the Chesapeake Bay is a great venue."
It's been a long time coming for regatta chair Jesse Falsone, who's been working on this event for four years. The process involved making an initial pitch to the American section of the class. Once that was voted upon, he could move toward international approval. "We jumped through those hoops (over the course of three years) and worked on building our organization."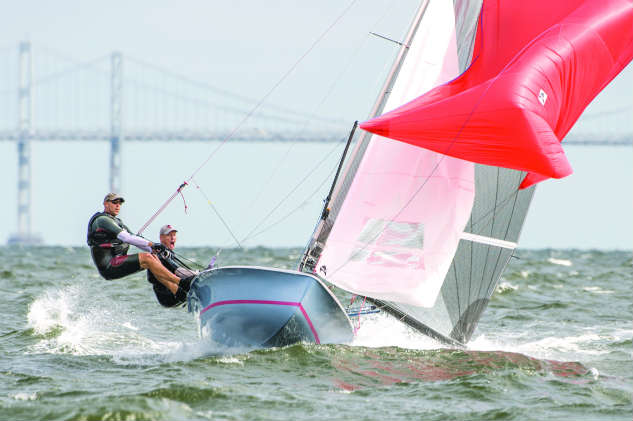 Falsone's role has been to secure the bids, enlist EYC as a partner, work closely with EYC race chair Keith Jacobs, and foster the ongoing relationship with primary partner, SAP, a multinational software corporation. Along the way, SSA hosted the 505 Nationals in 2015 and the 505 East Coast Championships in 2014 and 2016 (Falsone placed first of 34 boats).
According to Falsone, SAP prefers not to be called title sponsors—they are true partners. "They are a game-changing partner for the 505 class but also for a lot of sports. They come in and actively meet with organizers. They have this sailors' lounge, prefabricated, built on site (at EYC). Part of it is air conditioned. It's got tables and chairs, internet, hard-wired iPads to look at sailing analytics on sailing software, a bar, a podium and stage, and big screen monitors inside. Sailing will be broadcast live during the event in the tent and on YouTube."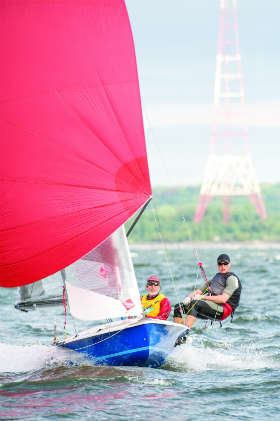 Every boat will carry a GPS tracking device, so spectators can watch how the race is evolving in real time. "It's got proprietary analytics. It's pretty extraordinary and gives you the power to analyze your performance," says Falsone. "Go online to check it out (sapsailing.com). They are not an ordinary technology company; they are visionaries."
Among Chesapeake competitors to keep your eyes on are Curtis Hartmann (Kensington, MD) and Michael Quirk, Mike Holt (Soquel, California) and Carl Smit (Annapolis), Stewart Park (Moraga, CA) and Ryan Cox (USNA grad), and Tyler Moore (Hampton, VA) and Rob Woelfel (pictured on this month's cover).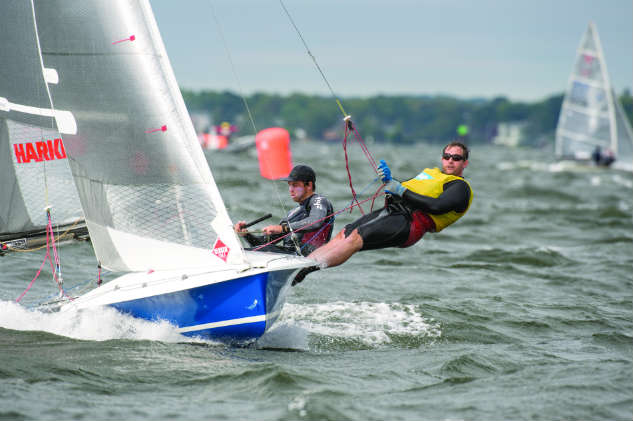 Falsone may wear himself out with the details up until this event begins, but to bring 505 sailors from around the world to Annapolis will be worth it. "This town really loves and cares about sailing. It's unique in that way. When you come to Annapolis to go sailing, it's quickly evident that this is a sailing town. You're among folks who really understand the sport and want you there. I'm proud to be running it in Annapolis."
"I'm extraordinarily grateful to be with my teammates on the organizing committee. I'm grateful for their efforts and their ownership of this event. They keep me going. I'm blown away by how great they are. There are so many pieces of the puzzle—clubs, the class, competing interests—you have to compromise at times, and it's not easy."
Couranz says, "It's going to be a great event, and SSA looks forward to welcoming sailing friends old and new from around the world!"
To learn more about the event, visit 505worlds2017.com. To volunteer for the 505 Worlds, click here. Find updates at spinsheet.com.
To provide funding to help organize the event, CBYRA has signed on with a Regatta Support Grant. Jeanneau will provide the VIP boat. Ronstan will be the official hardware supplier.