Posted September 25, 2019
Team members split $1 million prize
In the end, it was just like the beginning: Australian Tom Slingsby slugging it out with his countryman Nathan Outteridge as Team Australia just nosed out Team Japan in the final head-to-head match race of the inaugural Sail GP five-city season before a capacity crowd in Marseille, France, last weekend.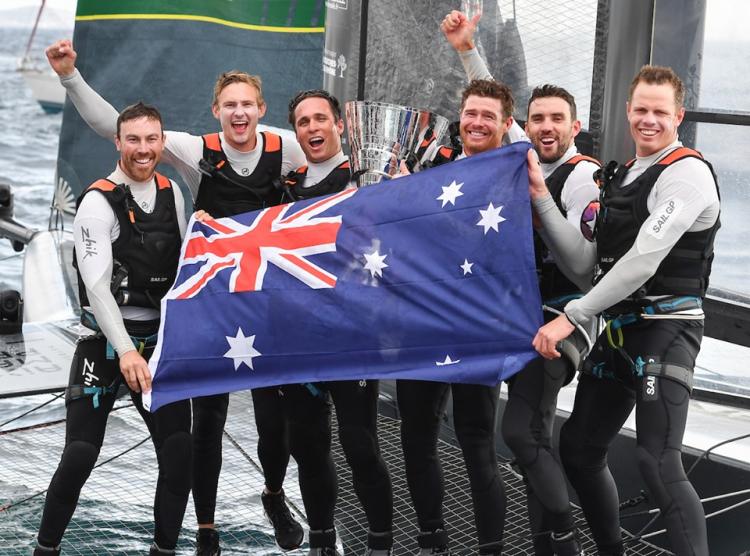 On-board video captured the raw emotions of the two teams as they crossed the finish line mere second apart.
"That's bloody awesome," someone on the victorious Aussie boat was heard to say.
"It's okay," Outteridge told his crew on the runner-up vessel.
"Not a million dollars' worth of okay…" was the onboard rejoinder.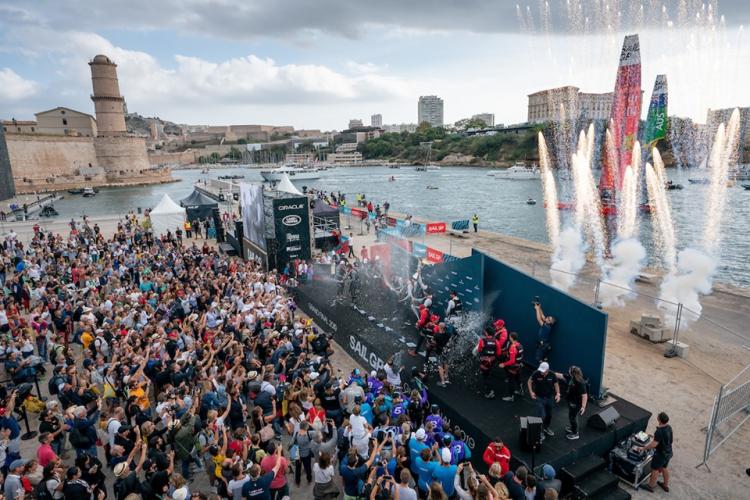 All in all, a pretty good show for the fans who were able to catch the action in person.
In more formal comments, Slingsby told the assembled multitudes:
"It feels amazing. We deserved it, and I'm so happy for our whole team as the amount of work they put in was huge. We said going into today we were going to win as a team or lose as a team. I feel for Nathan and his team. They have put in an amazing effort all year, and it is just the way it is. One team has to win, and one team has got to lose. I am happy with the way it went, but those guys were unbelievable competition all year and it was such a close battle."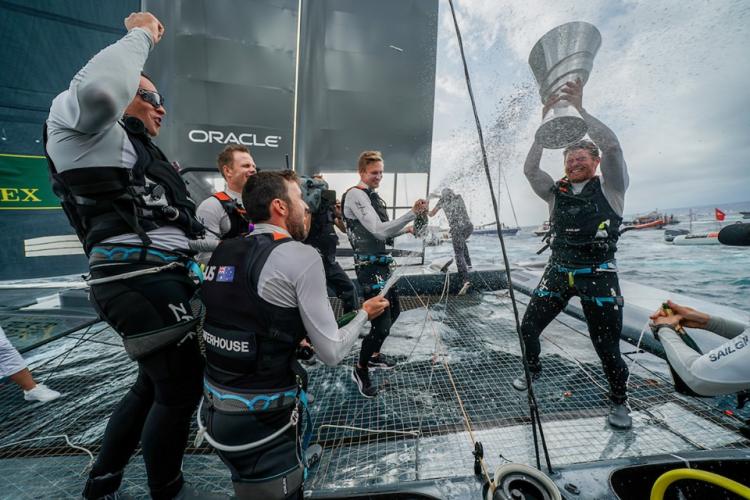 The US Team, skippered by Rome Kirby, ended the season as they started it: in a disappointing last place.
The team was beset with mechanical issues during the Marseille event, having capsized dramatically in the Cowes leg of the series last month.
Nevertheless, Kirby vows to do better next year: "Next year, our goal is to win. Not just be a podium team, but to win. A lot of things didn't go our way here in Marseille, but I'm not going to make excuses; we have plenty of work to do in the off season and will come out sailing hard in Sydney."
Sail GP CEO New Zealand's Sir Russel Coutts called the SailGP debut a success.
"In the beginning, the idea was to create a multi-city, high-octane sailboat racing experience akin to Grand Prix Auto Racing. We managed to do that in style… with incredible athletes sailing incredibly fast boats faster than anybody has ever gone before. Next year will see some improvements… and some new teams added."
This reporter's take on it is a little jaded. Having spent a week following the boats and crews around Sydney Harbour last February, my take on the series was that if it came down to two Australians at the top of the leaderboard all year long, the series was doomed to a lack of international interest.
And indeed, such was the case, with Slingsby and Outteridge outclassing the rest of the fleet consistently in venue after venue.
Organizers estimated fewer than 200,000 people attended the events in person and a search of YouTube and Facebook viewers/followers showed a less than impressive online following.
Which leaves one to wonder: if a sailboat race boasting a million dollars in prize money is contested and nobody except the participants really cares about the results, did the race really happen? A jaded view, perhaps.
Sir Russell and the Sail GP marketing team need to do a better job of leveling the playing field; building more across-the-board interest in the sailing community; and attracting more big-time media partners if the next iteration of SailSP is to come anywhere close to the vision Coutts and Larry Ellison had when they conceived of the series two years ago.
Stay tuned.
SailGP will take to the water again in Sydney, Australia. in late February 2020.
~By Craig Ligibel