Going the Distance Shorthanded to Bermuda and Back
We at SpinSheet recently reported on a rough 475-mile-long Annapolis to Newport (A2N) Race and how regional teams bonded together and finished well despite the challenges. A couple of weeks after the A2N, 28 competing boats departed for the 635-mile-long Bermuda 1-2 Race from Newport to Bermuda for an equally rough ride with winds on the nose… yet these "teams" consisted of one sailor per boat.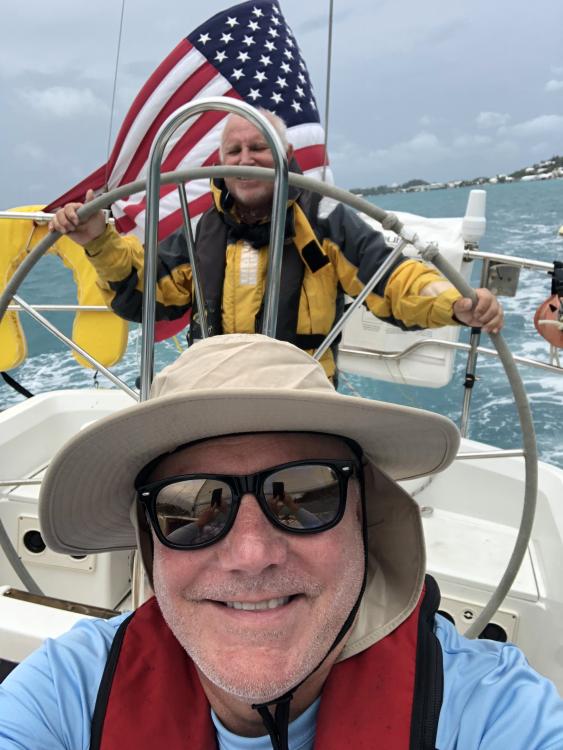 Annapolis sailor Eric Johnson has participated a half dozen times in the Bermuda 1-2 aboard his C&C 41 Dirigo and has won his class. This year he placed second in his class in the "1," aka solo leg to Bermuda. For the "2," aka doublehanded leg back to Newport, he placed second again with crew member Lee Maynard of Eastport Yacht Club. This was Lee's first ocean race.
Why would a serious doublehander like Eric compete in the 1-2 with a bluewater racing newcomer? "I believe in giving people a chance," he says. "Being friends is the big thing. I don't want to be stuck on a boat for six days with someone I don't like. It's very important to have chemistry."
"And trust," says Lee. "You have to have 100 percent trust in the other guy to do this. Eric and I couldn't be more different (he mentions politics and laughs), but we sail beautifully together."
It's a good thing they like each other. Not only did Eric face being close-hauled and getting thrown around on the way to Bermuda, but he and Lee experienced similar conditions going back to Newport.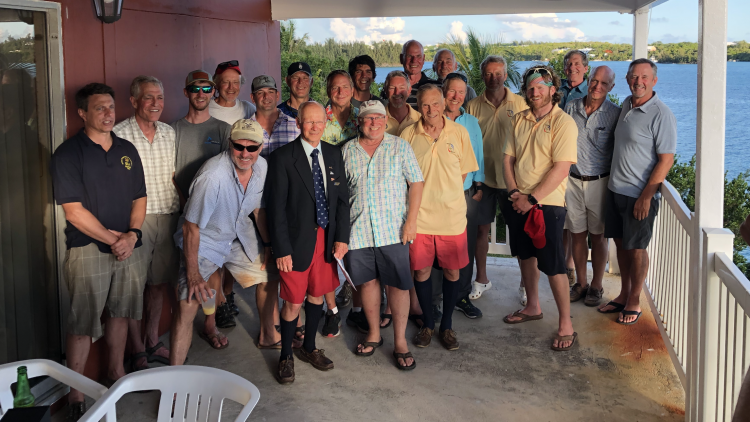 "We started in a squall and sailed into nine to 12-foot waves with 25-35 knots on the nose for four and a half days," he says.
"I thought I'd at least see one great sunset or experience the Milky Way at sea," says Lee. "There was none of that."
They both smiled as they told me about their rough ride, showed me "boat bite" photos, and talked about how they'd never do the race again.
"I always say that," Eric says.
Lee admits that he said "never again" right after the race, but now that it's a month in the rear view mirror, he says (with a grin) he'd try again, too.
What's with these guys?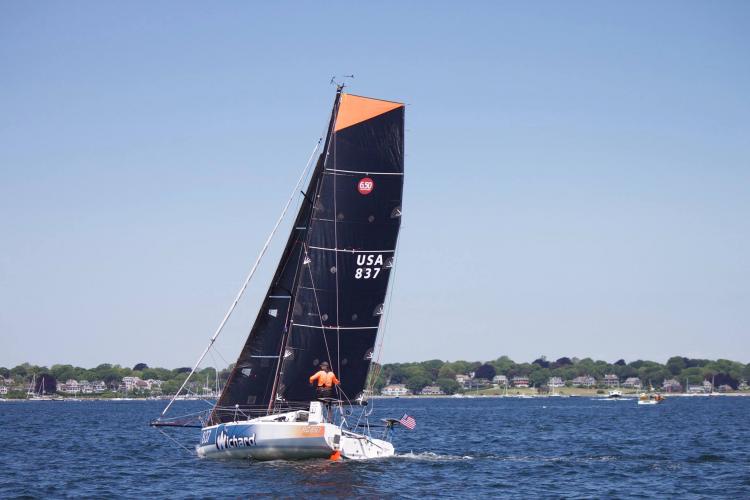 Bermuda 1-2 Origins
The Bermuda 1-2 was conceived and founded in 1977 by the Society of Lone Offshore Sailors (SOLOS) under the direction of OSTAR competitor Jerry Cartwright. In 1979, it became the sole management responsibility of Goat Island Yacht Club, Ltd. Until 1992 when a joint agreement with the Newport (RI) Yacht Club was enacted, making both clubs co-organizers of the race. The St. George's Dingy & Sports Club has been the host club in Bermuda for the event's entire history.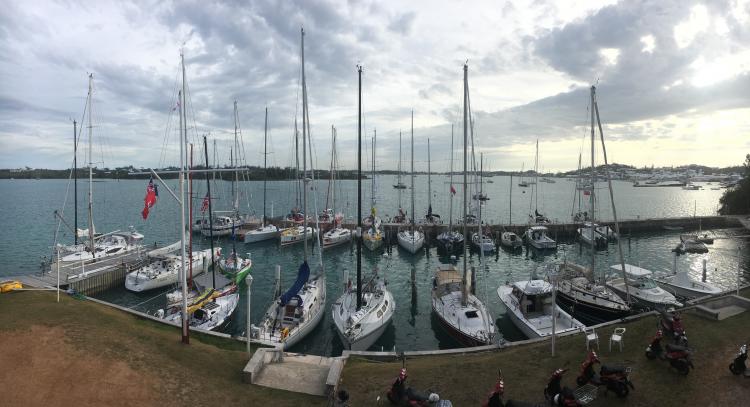 The objective of this particular race is and remains the making of a single-handed/shorthanded passage, which encourages safety, good seamanship, communication, and on-going gear and technique development and testing. It is an event designed to accommodate and challenge both singlehanded cruisers and racers—from the "rock star" to the Corinthian "every man."
The original intent of event organizers was to formulate a race that would be attractive to racing and cruising sailors who seek the adventure, camaraderie, and experience of singlehandedly undertaking a 635-mile bluewater passage.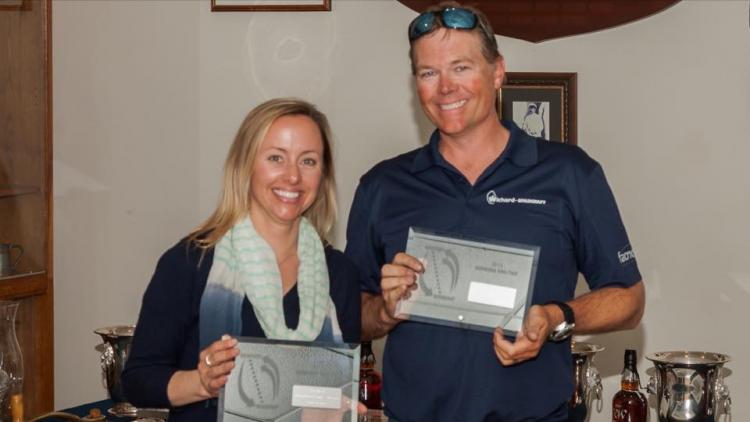 Experience levels
Eric has been sailing since he was a kid in Maine but only got into racing as an adult. "As a little guy (and in my younger years fit), everyone wanted me on the bow."
Lee learned to sail 25 years ago in San Francisco, CA, owned a powerboat when he lived in Florida, and has owned a Hunter in Annapolis for four years. Prior to the 1-2 his only offshore experience was a delivery to Newport (also rough—he says the motto on the boat is "It's never like this.")
As we were discussing the Bermuda 1-2, we were joined by Eric's longtime sailing buddies and Bermuda 1-2 sailors Vernon Hultzer (who's sailed at all levels up to superyachts) and his wife Heather who've competed in the 1-2 in a MiniTransat; Buck Downes, who's been Eric's doublehanded crew several times in the 1-2; and Brian Gray, another MiniTransat sailor who's relatively new to offshore sailing and hooked.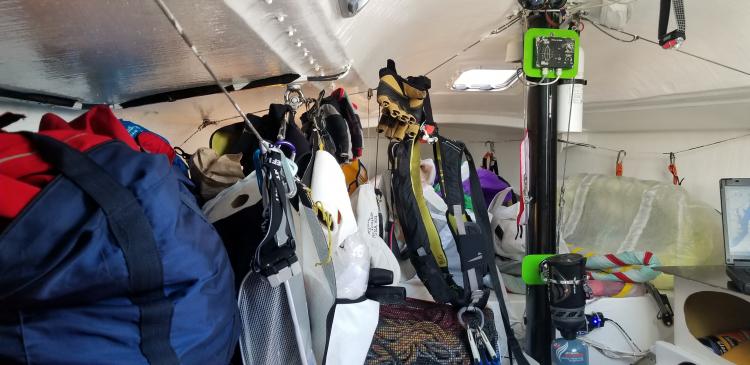 Skills needed
When you're sailing on your own, "You have to be a jack of all trades, a MacGyver," says Eric.
"You don't have seven or eight people to help you fix a situation," adds Lee (which is no exaggeration—this would be the standard number of crew for a C&C 41 in a regular offshore race).
Examples of mechanical issues the Dirigo crew had to fix: wireless, refrigeration, AIS, starter, and bilge pump.
"You have to be a great navigator, a weatherman, a tactician," says Eric, who was beating himself up a little for not being able to figure out the tricky current at the end of this year's doublehanded leg back to Newport.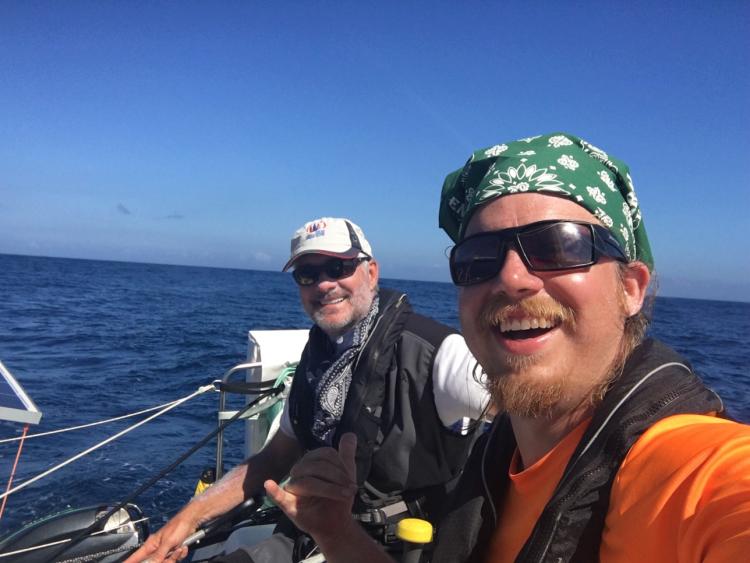 Communications under way
Having two daily radio check-ins with other competitors is a unique aspect of the Bermuda 1-2.
From the NOR: "Communication on open radio channels with other competitors is strongly encouraged, and may consist of information such as current position and both weather and sea conditions. Also, it is requested that contestants attempt to report their positions(s) twice daily. Such communication should also be recorded in the vessel's running log."
Not only does the radio connect shorthanded sailors with humanity and some good information, it's also a reality check, says Lee. He gave an example of another boat that had an injured woman on deck. Although the situation ended up okay, as it was happening, it was a scary reminder of how alone the team of two really was and how perilous an emergency situation could become.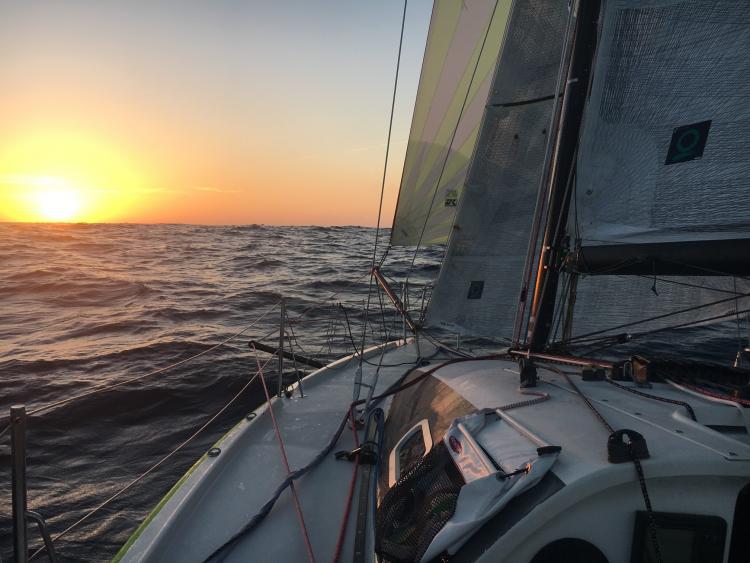 Joys of soloing... and friends forever
For a bunch of sailors who thrive on alone time, Bermuda 1-2 competitors also cherish the camaraderie both on the radio check-in and on shore. Here's what they had to say when asked "Why would one embark on such an adventure?"
"There's a particular joy to being out there by yourself," says Vernon. "It's such a special thing being self-sufficent on this boat you've prepared to the best of your ability."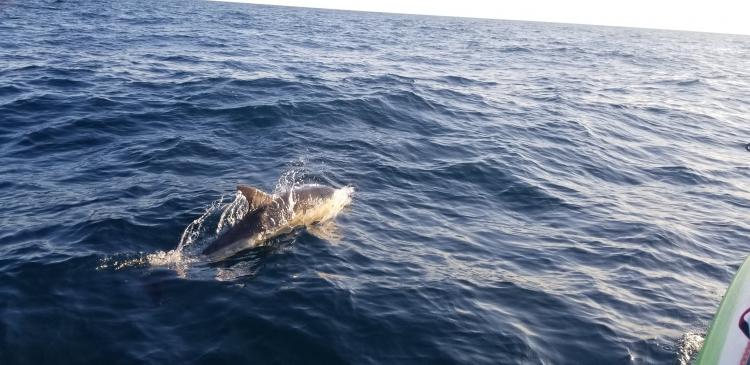 "I'm a thrill seeker," says Brian. "You have these challenges you have to figure out yourself. Working out solutions to problems is the best part. I would do this race again in a heartbeat. I wouldn't trade it for the world. Every time is a learning experience."
Eric says, "Whether I come in last or first, I get choked up when I finish."
And when this race does end, the bonding between fellow Bermuda 1-2 sailors is memorable and lasting.
"It's an amazing group of people," says Lee, who was impressed with the variety on the teams in various age ranges: married couples, a father-daughter team, brothers.
"It's like a fraternity," adds Eric. "Once you're in it, you're in for a lifetime."
"The 1-2 is an amazing experience—it's the people who make it great." Vernon
"The 1-2 is different than other races," says Brian. "You're a friend of everyone. You're sailing in a group of sailors. You're accepted the very first day as if you've done it forever."
Is the Bermuda 1-2 for you?