Smart Questions To Ask Your Sailmaker This Spring
2021 is here, and while it may not be everything we could have hoped for, at least there is light at the end of the tunnel. A return to a regular schedule of major international sailboat racing events is still a ways out, but there are hopeful signs and the aspirations are certainly there on the part of sailors and regatta organizers. One of the upsides of pandemic sailing has been the resurgence of local events. We can't travel, but any sailboat racing is still better than nothing. Everybody has rediscovered the simple pleasures of the weeknight night race.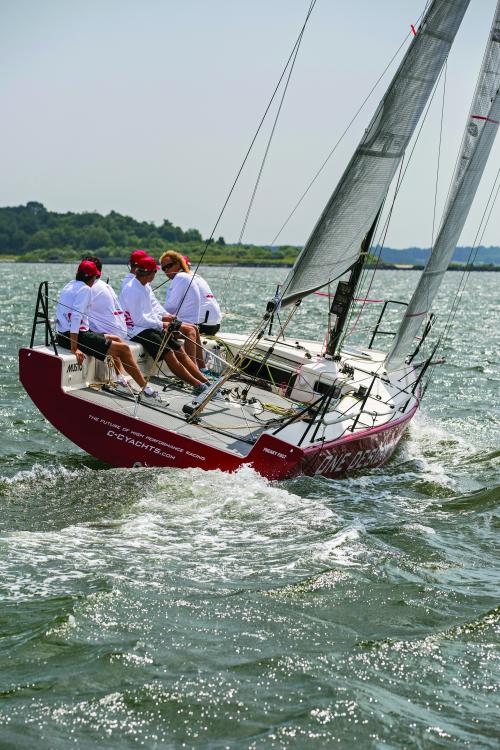 We thought this would be a good time to talk about getting the most out one of the potential key players in your racing experience: your sailmaker. You may be in search of a national championship or just want to not embarrass yourself in a beer can race. No matter. They help provide the right tools whatever your goals. They are also an important source of expertise and are typically passionate and knowledgeable. I always found it annoying, but the mid-70s Hood ad featuring a sailmaker in a sailbag (coming with your new sail) actually has a lot of truth to it. So, how do you talk to your sailmaker to get the most out of your relationship?
One-Design Racing
This group of sailors actually has it easier. In established one-design classes sailmakers with a significant body of work have done their best to distill and simplify the whole process of making a boat go fast. There are tuning guides with every detail of setup: rake, mast bend, jib lead position, rig tension for conditions, etc.; all clearly spelled out. Find out who the class guru is (the person who has been spending time sailing in the class and developing those tuning guides).
Ask to go over tuning and trim system for your boat.
Ask to compare to competitors' setups.
Ask for the latest designs. Some sailmakers do special design iterations for top competitors that may not be available to you. Don't let that happen.
Ask to compare competitors' sail designs (shapes) and construction options (if any).
Ask if they will do a sail check and make sure your boat is setup correctly and the sails fit as designed. It will also be a chance to see firsthand how a pro trims so that you can get a visual reference of how things should look. At the very least, ask to have them take a look at your rig tune at the dock and confirm that you have the proper "base" setup.
Ask about coaching. There is not a lot of profit especially in smaller one design sails. I know; they are still stupidly expensive. Your sailmaker cannot afford to sail with you all the time (if they want to make a living). Consider hiring them. This is probably one of the best investments you can make, if you want to get better fast. Think about sharing the cost with others in your fleet. A two- or three-boat session is even better.
Handicap Racing
This gets complicated. There are a lot of variables and moving parts. First you need to describe just what kind of racing you have in mind. Sail selection, construction options, and prioritizing (which sails come first) against your budget need to be discussed relative to your goals. Are these pure racing sails, or are you trying to use them for daysailing and cruising as well?
Have a realistic budget to share with your sailmaker. In sailboat racing it's not about how much boat you can afford; it's about how much boat you can afford to campaign at a level that meets your goals.
There is a bewildering array of construction options, sizing considerations, and more. Ask to have them go over the options and talk about the tradeoffs. Remember, there is no free lunch.
Talk about the handicap rules you are sailing under. There might be penalties or credits for different sail types, sizing, materials.
Ask to have your sailmaker evaluate your existing inventory. You may only be able to pull the sails out in the loft, but this will not tell you what the flying shapes are like. The best way is to go for a sail so they can be seen under load and trimmed the way you would normally set them up.
Make sure they are going to look at your boat. At some point an onboard firsthand look will be a requirement. A handicap boat needs to be measured and evaluated. How is the rig setup? Rake? Mast bend? Systems to trim sails? Make sure that this is all part of the package.
Ask about a sailcheck. Even if it's just a quick spin to make sure everything fits and works.
Check in after races to discuss specific issues, such as "I had trouble pointing in light air" or "struggled to control heel upwind." Get the most out of your discussion with photographs. A picture is truly worth 1000 words. A proper photo from mid-foot up to head accompanied by a note on wind strength can help diagnose the problem or at least confirm that you are doing it right. If you can get a friend or a drone and get a shot from directly behind the boat, that can be extremely helpful.
See note above on the value of coaching. As my old friend Bill Gladstone (director of North U and my original partner in Flynn/Stone Sailing Services back in the day) once said: "There is no place like your own boat."
Questions? Reach out to David Flynn at Quantum Sails: [email protected]