It's More Than Just the Brew That Keeps the Crew Happy
A crew who drinks home brew? That's just a piece of the puzzle for Harald Mangold, skipper of the Cape Fear 38 Xiberger, who won PHRF 1 in the second Annapolis Yacht Club Wednesday Night Race (WNR) Series in 2018 and is ready to race in this year's competition, which starts tomorrow, April 24 off Annapolis. Here's what he had to say…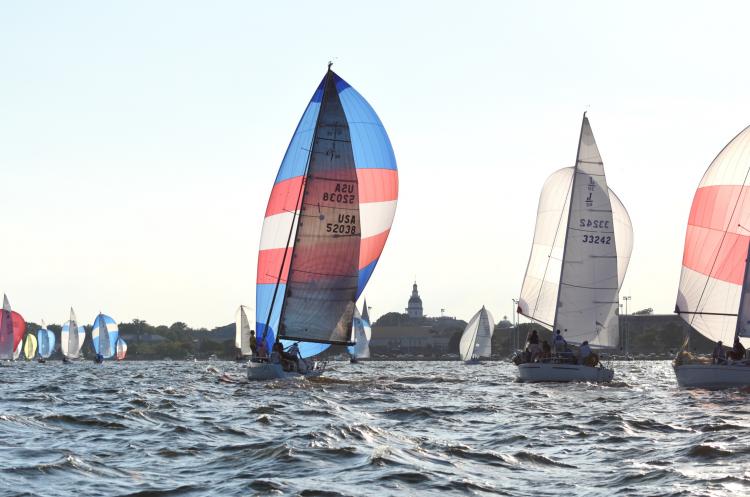 How long have you been racing on weeknights?
I have been racing WNR in Annapolis since 2005—first as crew on Catspaw, a J/44 owned and skippered by Dr. Bill White. Following my purchase of Xiberger in 2004, Bill and others from his crew switched over to racing my Cape Fear 38, starting with the 2005 WNR Series instead. So all in all, I have been going to my Wednesday Night "Church Service" as I call it religiously for 29 years now even though my office is in Old Town Alexandria.
Do you have a core group of crew members who come out every week?
I have between 7-10 of the same crew join me every week and consider myself the luckiest skipper in town. Bill White, Jay Marques (former SpinSheet employee), his brother Julian Marques, Judah Nyden, Michael Jewell, Andy Mueller, Malinda Lawrence, David Eisemann, and Jim Telep are all there 95 percent of the time, and we have one to two extras as well as a short wait list. My crew is super dedicated, and they are all really good sailors. Many have their own yachts they cruise or race many weekends during the year. In fact, eight of us raced Judah's Sabre 38 in the Annapolis to Bermuda 2018.
It is because of their dedication and commitment that the Xiberger program has become as successful as we are after starting in the lower third in PHRF 2 for a few years. Initially, Airmail was the boat to be near, later Contraire, and mostly Monkey Dust, just to name a few. We love our competitors, and the entire fleet has great camaraderie.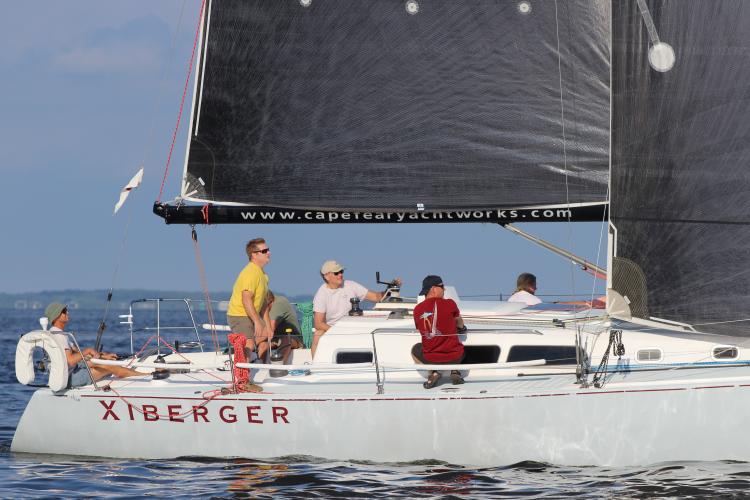 What challenges get in the way or might make it hard get to the race course on time after work?
I used to be able to leave as late as 4:45 p.m. and make the 5:30 p.m. dock time at Clement Creek off the Severn. Later on, I started to leave at 4 p.m. to take the stress from being late out of the equation. Now, I try to work from home and simply walk to the boat!
My crew comes from as far as the Navy Yard in D.C. or Baltimore. Yes, there is for sure changing from work suit to sailing suit going on either during the commute or as we motor out to the line. I have had guys get screwed by the open Eastport Bridge, but the worst is the Wednesday the Blue Angels Fly for the USNA graduation.
Share a standout memory from last year's season?
A2B Race during a storm that churned up 20-plus foot nasty waves in the Gulf Stream on Shiloh. There isn't just one standout as so many blur together.
What's the best thing about weeknight racing for you and your crew?
You get to break up the week, reduce stress, have a blast with your best friends, have a few beers and usually dinner with most of us and even spouses, kids . . . Seeing the entire crew enjoy every moment and trying and rescue the race after sailing in a wind hole or into someone's bad air still trying to squeeze out a good placing or even bullet.
What does it take to do this well?
Amazing crew skills and the choreography of it all! Some luck, knowing the currents, where the wind may fill in first from, and for us, years of tinkering with the rig setting, the right sails, and sail trim. The beauty of sailboat racing is that it is a continuous learning.
What's your crew's tradition after the race? Any fun rituals?
Jim Telep is our Brew Master with several batches of amazing homemade beer. The rest of the answer is already above. . . and once in a while, on a drifter night, we may have been found alongside Pusser's with a painkiller in hand.
Advice for new skippers?
Go out there and have fun. Play hard… but keep it light and don't forget that a nice gesture one day will likely pay handsomely on another!
~interview by Patricia Dempsey
Find more such interviews in the May issue of SpinSheet to come out next week!