AC World Series and Christmas Race
America's Cup World Series and Christmas Race December 17-20 provide first glimpse of new foiling AC 75s.
"It's been a challenging year to say the least," America's Cup skipper and Annapolis native Terry Hutchinson told SpinSheet. Covid derailed the planned three-city World Series events this Summer. The American Magic team, along with teams from Italy and the UK, underwent quarantine in New Zealand. New AC 75s arrived every couple of weeks, replacing first generation boats with new technology. And the first-time boats were able to line up against each other for a little friendly competition was just last week.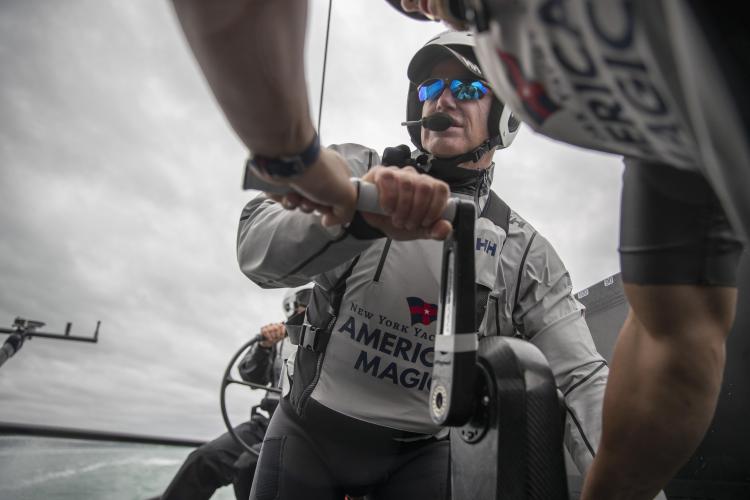 Hutchinson went on: "This is such a unique regatta, and it's such a unique time. Because of the world and the environment we've been living in, all the teams are going to face the challenge of not really having raced in the last 12 months. Yet we're on the eve of something we've been preparing for for the last three years. I'm excited by that. I'm confident in the team, and I'm confident in the trajectory that we're on."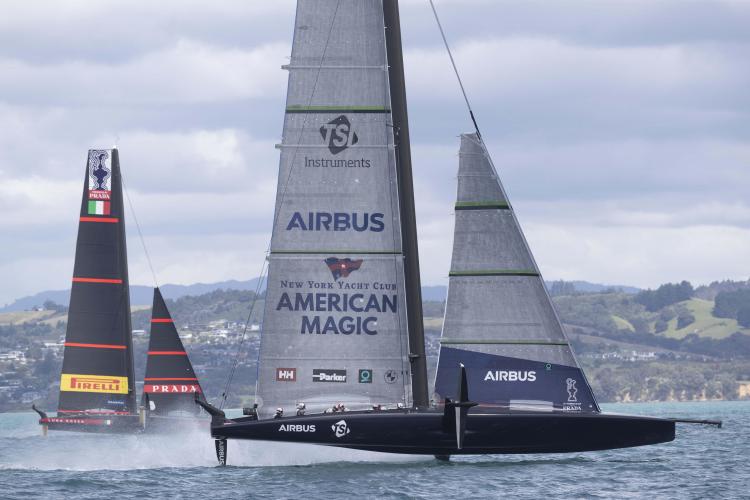 The December double round robin races on Auckland's Waitemata Harbor are a precursor to the do-or-die Challenger Series scheduled to run January 15 to February 21. There, teams from the United States and the UK will battle it out with the Challenger of Record Italy's Luna Rosa for the right to contest for the oldest trophy in international sport, the America's Cup. The Cup itself will be run March 6-21, 2021.
Emirates Team New Zealand is the defender, having wrested the Cup from the Americans in Bermuda in 2017. Led by the intense CEO Grant Dalton, the Kiwis have won the Cup twice before in 1995 and 2000. They have spent the past three and a half years building a program to ensure the Cup stays in New Zealand.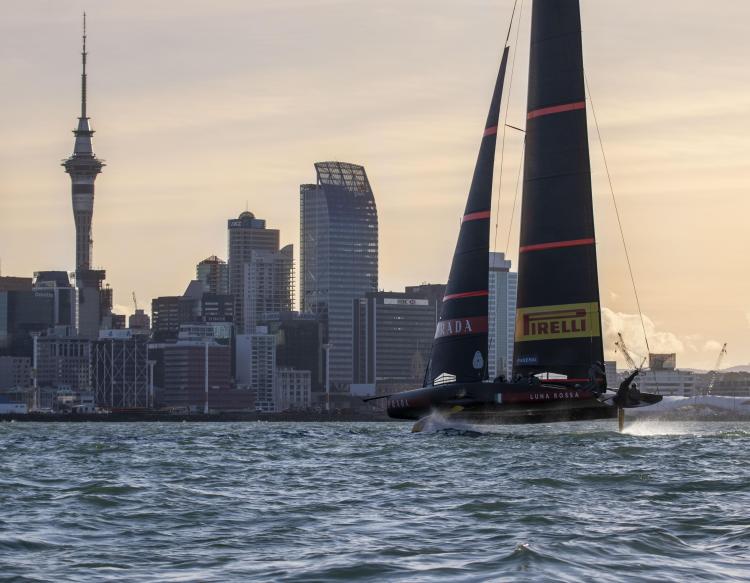 New Zealand's Peter Burling is the helmsman of the New Zealand boat, named 'Te Rehutai. Born in New Zealand in 1991, Burling (then aged 21) was the youngest 49er sailor at the 2012 London Olympics and won the silver medal. Burling who was the skipper of the winning boat in the 2013 Red Bull Youth Americas Cup, joined Emirates Team New Zealand in 2014.
In 2017, at the age of 26, Burling got another record by being the youngest ever helmsman to win an America's Cup, sailing for Emirates Team New Zealand. He is a force to be reckoned with on the water, combining an insatiable drive with youthful energy and a keen competitive spirit.
The New Zealand boat was the last of the AC 75s to be launched. The team base has been off limits and under wraps since the boat was unveiled in mid-November.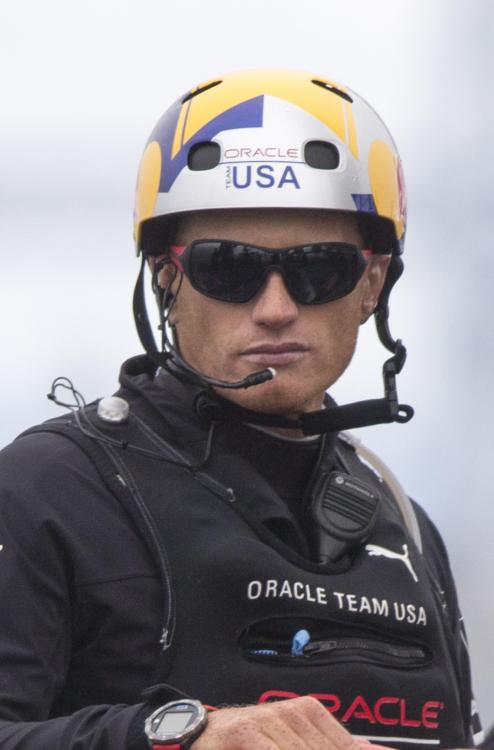 Battling Burling will be a who's who of international sailing royalty. These skippers/helmsmen have raced with and against each other more times than they can count. American Magic's team of Hutchinson and Barker faced each other most recently in Bermuda. "I think we're about even over the years," joked Hutchinson. "Glad to have Dean on my team this year."
Challenger teams and their helmsmen include:
*******BULLETED LIST OF THREE
Ineos Team UK is led by skipper Sir Ben Ainslie, England's most decorated yachtsman. Ainsley is the most successful Olympic sailor of all time. He has competed and medaled at five Olympic games. In 2013, Ainsley served as tactician on Oracle Team USA's miraculous come-from-behind victory at the 34th America's Cup in San Francisco. He is the first Briton in over 110 years to be part of a winning America's Cup team.
Aussie Jimmy Spithill will be at the helm of the Challenger of Record, Italy's Luna Rosa. Spithill is the youngest sailor to win the America's Cup, which he won consecutively in 2010 and 2013. His 2017 campaign with Oracle Team USA ended when Peter Burling & Company soundly defeated the American boat in Bermuda. Always a force to be reckoned with, punters are not discounting Spithill's competitive spirt and his knowledge of racing tactics.
At the helm of American Magic's AC 75 Patriot will be New Zealander Dean Barker. Barker, it should be noted, moved with his family to Rhode Island in order to qualify under the rules of racing as having resided in the country for whom he is sailing for 365 days.
Barker made his name in the Cup's old monohulls but successfully transferred his skills to the deadly fast foiling catamarans used in San Francisco and Bermuda. Now he's on the wheel of a boat that combines a bit of everything but is also a huge step into the future, a 75-foot foiling monohull that all four heavyweight syndicates are still trying to find the secrets of.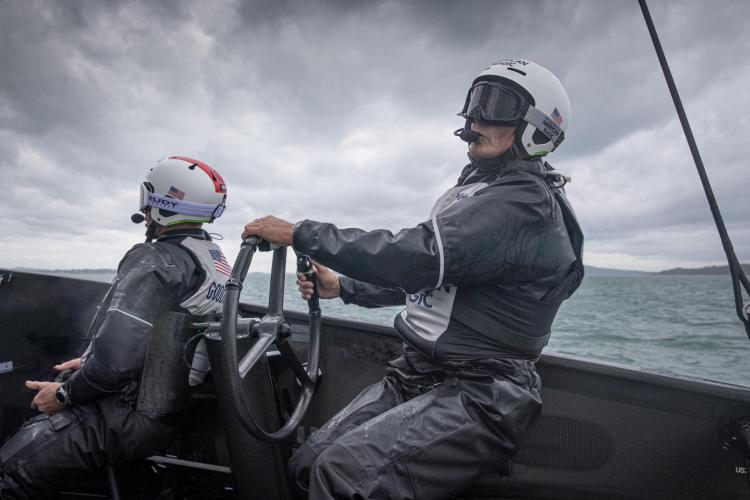 "The boats are challenging," Barker recounts." They are high performance. In a bit of breeze they go well. Where they get a bit tricky is when they are in the bottom end of the wind range. When they are not up and ripping, they are a little bit of a challenge to sail."
At press time, Terry Hutchinson's presence on the boat has not be announced. "We'll have to see," he says. "I'll put the sailors on the boat that give us the best chance to win."
The 2021 editions of the America's Cup boats are engineering marvels. It has been no less than a Herculean undertaking for the four teams to design and build a totally new type of sailing craft that adheres to rigid class rules while giving designers sufficient leeway to tweak designs to make their boats more competitive.
In the case of American Magic, the design team actually produced three boats: The "Mule" was a scaled down version used for concept testing not only in Rhode Island but also in Pensacola. Then, there was Defiant, the U.S.'s first foiling AC 75. Hutchinson made the decision to ship Defiant in a container ship with arrival this fall. Patriot, the second-generation U.S. boat, was launched in September. There are significant differences between the two American boats. Team American Magic has spent the past two months getting to know how the new boat handles. The upcoming December matches will be the American Magic team's first chance to see how their boat stacks up against the competition. (very cool video here!)
It's anybody's guess which AC team will come out ahead in two weeks. Once thing is certain, however, Hutchinson's crew refuses to be outworked.
"Our mentality is that each day is a race day," says Hutchinson. "When you practice like you race, and make your practice days harder than race days, the racing tends to get easier."
When New Zealand began planning for the 36th America's Cup, the current pandemic was nowhere in sight. Plans were for a big, free-spending international crowd; a spectacular Race Village packed with spectators; events galore for big ticket donors and regular sailors alike.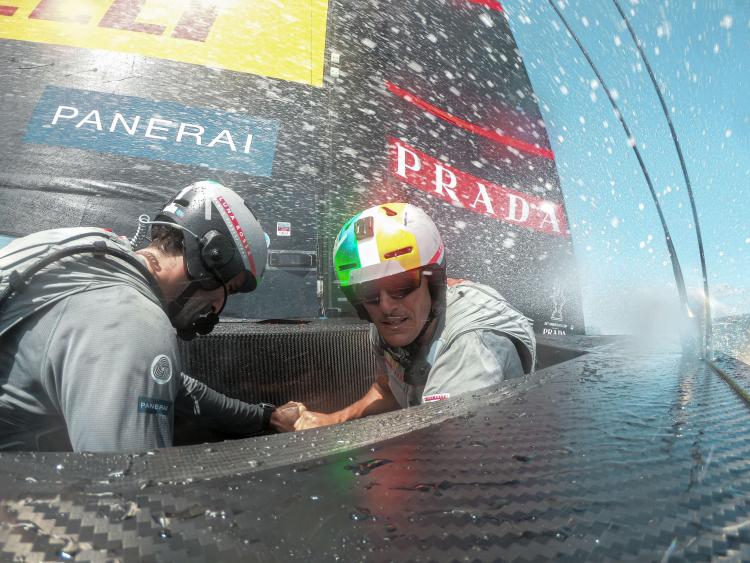 As of today, New Zealand borders are closed to all international visitors, including most international press. Spectators will be of the home-grown New Zealand variety. The government has yet to establish crowd limits for race day viewing, but attendance in the Race Village will be strictly controlled. The venue, however, lends itself to on-water excursions, so expect the racecourse to be rimmed with friendly Kiwi spectators. (Your reporter was scheduled to attend the Christmas races, but the pandemic threw a wrench into that plan. He has applied for entry into New Zeland to cover the Prada Cup under a special exemption for critical workers. America's Cup and New Zealand officials are not optimistic. fingers crossed!)
Every America's race will be streamed live on YouTube, Facebook, and the official event website, americascup.com, in almost every country around the world. The event website will provide all the live content including onboard camera footage, Virtual Eye graphics, behind-the-scenes storytelling, and more. Fans will be able to follow the action in real time on their computer, mobile, or tablet without the need to download an app. Please note:
Auckland, New Zealand is 18 hours ahead of U.S. East Coast time.
*****
The America's Cup AC 75s
The leeward foil provides lift; the windward foil provides righting moment.
Hull length: 67.9 feet
Bowsprit: 6.5 feet
Maximum beam: 16.4 feet
Weight: 6.5 tons
Mast height from deck: 87 feet
Sail area: Main: 1453-1560 square feet, Jib: 968 square feet
Maximum draft: 11.5 feet
Foil maximum draft: 16.4 feet
Foil wing pan: 13.1 feet
Number of sailors: 11
Maximum weight of sailors: 2116-2182 lbs.


~By Craig Ligibel