Keith Mayes and Emily Manders, owners of the Beneteau 36.7 Jubilee, have crew members who've been racing with them since 2003. Among the highlights of their successes are winning CBYRA High Point in Beneteau First 36.7 One Design and PHRF A2 as well as winning CBYRA Race Week in Beneteau First 36.7 OD in 2009. The team has topped Herrington Harbour Sailing Association's High Point results for 10 consecutive years.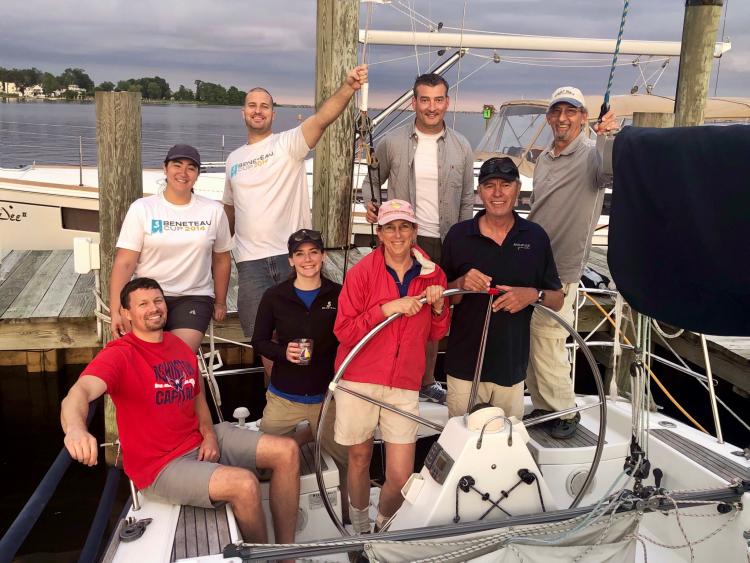 To keep his crew working together, Mayes says, "I try to make sure everyone is having fun, and when possible challenge them to try a new position. I try to put people in positions where they will be successful. Those who have been with me the longest get to choose what jobs they want—the best are those who are comfortable doing more than one job well, and who will take time to teach others and put their egos aside to let someone else have a go."
Manders adds, "I think every member of the crew comes to the boat with three things in mind: having fun, learning something, and winning."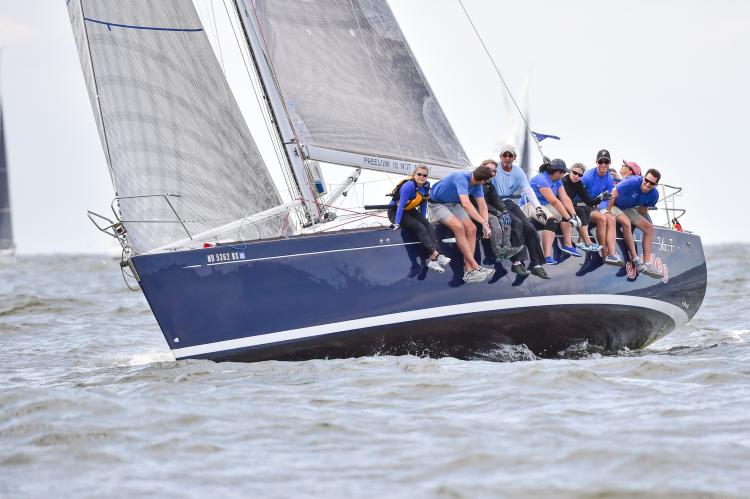 What does the Jubilee crew do exceptionally well? Mayes says, "They back each other up, and they don't criticize each other. Winning and having fun are more likely when crew are comfortable and competent in more than one position. I encourage new crew to arrive early and help rig the boat; that way they see where lines start and end. I tell them that if they are pulling on something they should know where the other end is and be looking at that!"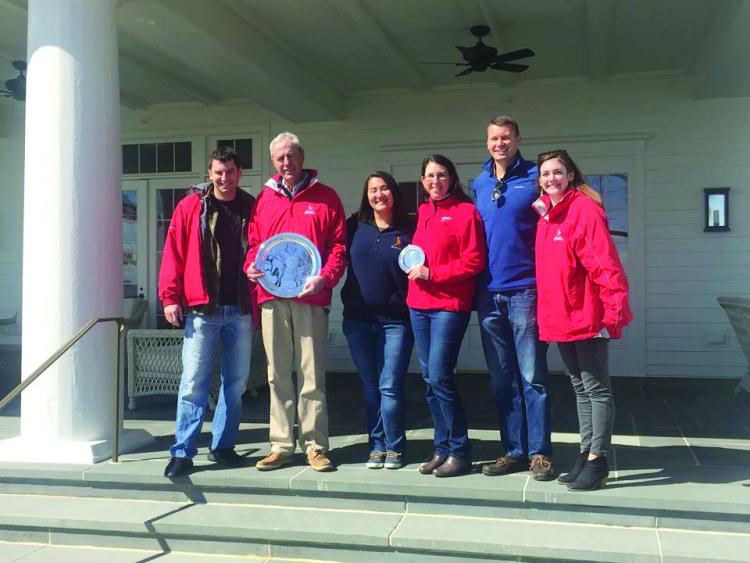 Mayes says the mistakes he's made over the years are too numerous to list. "Staying between the competition and the next mark is a mistake that I often make. Also, putting too much faith in the forecast has led to not having the right sails on the boat a couple of times—I always have a heavy air jib on the boat now, even in August!"
What would Jubilee's skipper recommend to a skipper who's new to racing and/or seeking advice on retaining crew? "The key to developing a good team is being very clear about everyone's role, and being very clear about what we need to do to get the boat around the track. The best skippers are those that can do each position on the boat themselves, and then teach the crew to do each job the 'right way.' I call it 'the dance.' We try to do the same thing every time with as little talking as possible. If the new skipper is not confident of pulling this off, he or she should get a coach on the boat to train the skipper and the crew."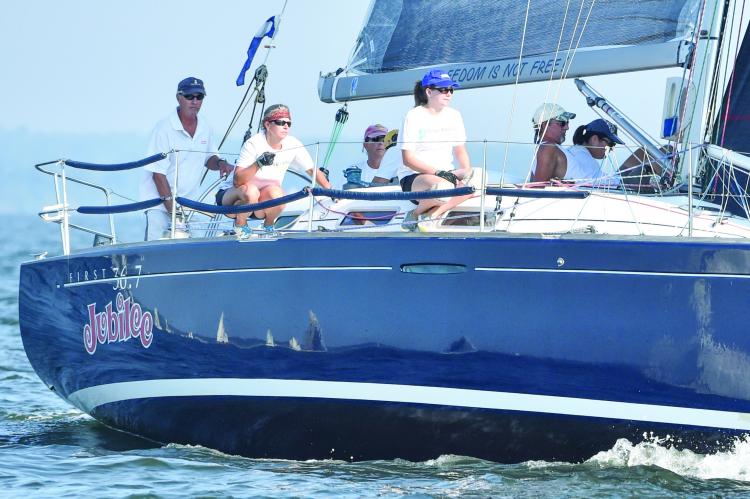 Mayes and Manders host crew gatherings over the holidays and in the spring. They also provide all the food and drink during racing season. Mayes says, "When they ask what to bring, I say 'Bring a smile.'"
Regular teammates include Manders (main), Sharon Griffing (bow), Spencer Disque (mast, spin trim, jib trim), Lauren Mahoney (pit), Aaron Seligson (jib trim and everything), Bruce Kissal (spin trim and everything), Michael Housley (jib tail and guy trim), Joe Collinson (jib tail and floater), and Mischelle Wilbricht (jib tail and squirrel). There are others, such as Amanda Laughlin (injured) and Shannon Hibberd (occasional crew).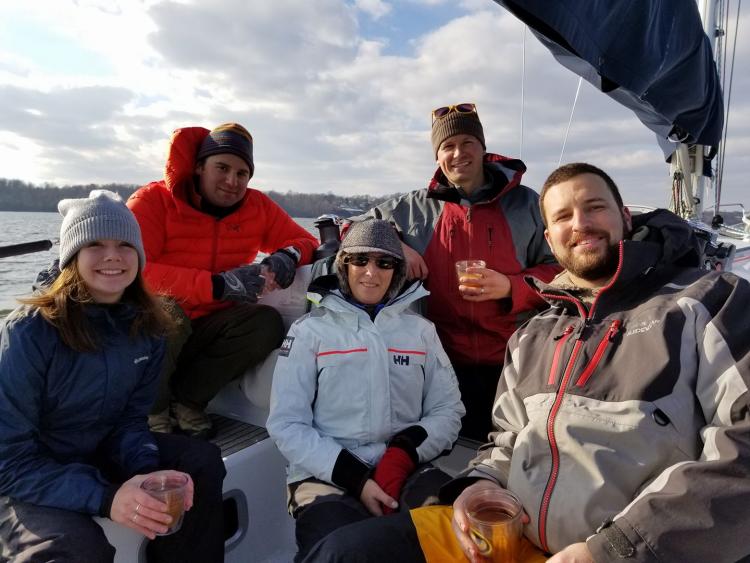 Manders says that the vibe on the boat is critical. "When the captain is happy, the vibes are better! So, someone should be in tune with how the captain is feeling. All of us are in this thing together, all invested, positive, respectful, and supportive of each other… We work as a team, and as a team we back each other up, starting with rigging the boat (at the dock), and having someone else checking the rigging and communicating when something isn't right. Mast and bow back each other up; jib trimmer and jib tailer have each others' backs; main trimmer and skipper work together; spin trim and guy trimmer are a team; and pit is looking out for everyone."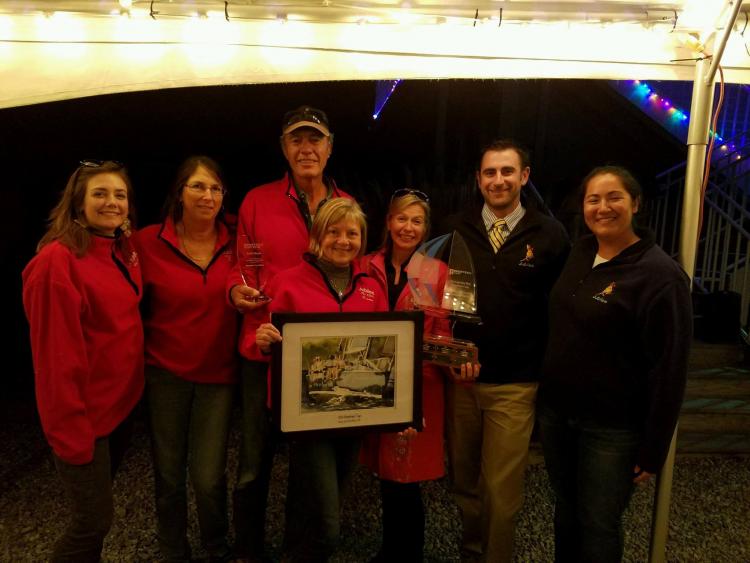 Griffing, who has sailed with the team for 15 years, says, "We do work well together on Jubilee and it's great when we are all in sync during a race… I have always been the 'bow girl' since I'm small and not afraid to get tossed around… Strength is sometimes an issue for me in heavy air, but someone in the cockpit (Fantasyland as we call it) is watching my back on the bow (Adventureland) and will come up to help."
Keith and Emily "handle boat and crew management seamlessly," says Seligson. "They are both great at communication which makes things easy for crew." Wilbricht notes, "As one of the newer crew members, I will say that Keith and Emily both keep an atmosphere of respect by listening to everyone on the crew and by not yelling."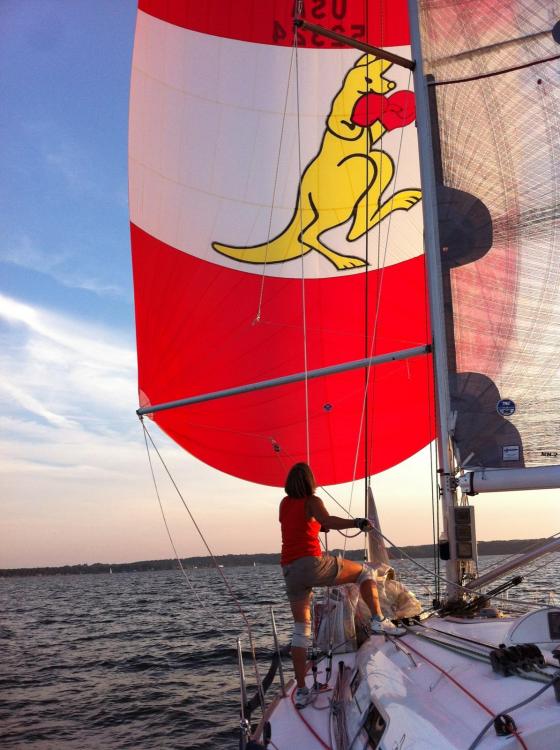 New crew member Lauren Mahoney adds, "I had never stepped foot on a sailboat when Keith asked me to join his crew, and I am so glad I said 'yes.' The Jubilee crew is very competitive, but we don't take ourselves too seriously and we all get along. Keith and Emily set the tone for the boat right from the start so the crew knows what to expect every single time."
"I think Keith and Emily have found the right balance of competitiveness and fun to create a really strong bond with the crew," says Hibberd. "Jubilee crew feels like family! You know you are going to have a strong race with Keith and Emily leading, and you'll also have a blast. The crew has tremendous respect for them, which motivates us to do well. And they treat us with respect and help us grow and learn as sailors."
---
If you are looking for crew, be sure to join us at the annual SpinSheet Crew Party this Spring. Click here for more information.