Double-Handed Sailboat Racing
Are you interested in double-handed sailing? You're not the only one!
World Sailing has added a new mixed double-handed offshore event to the 2024 Summer Olympics, and on the Chesapeake, Annapolis Yacht Club (AYC) will host a new Bay-based double-handed distance race September 28-29.
Seminar at Annapolis Yacht Club
Now AYC presents an opportunity to learn more about double-handed sailing at both the Olympic and local levels. AYC will offer a seminar June 25, featuring sailing pro Gary Jobson, who will be joined by local expert Tom Weaver. The event is free and open-to-the-public and will include a panel discussion followed by a question and answer session.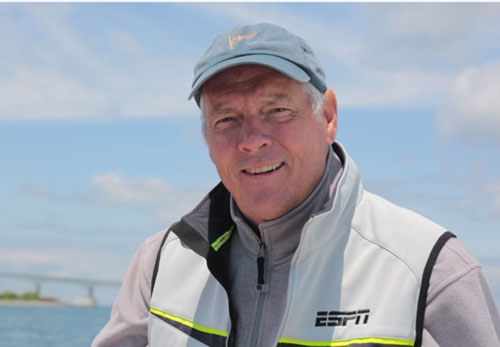 Jobson will provide information and background on the new Olympic format, and he will also cover the new double-handed distance race offered by AYC. Jobson has served on the boards of World Sailing, U.S. Sailing, the Olympic Sailing Committee, and the National Sailing Hall of Fame, and he is currently a member of AYC's committee for its new double handed race.
The Notice of Race for the new AYC event has been posted on the AYC calendar and online entry can be found on the event's Yachtscoring page.
Tom Weaver will talk about what it's like to compete in shorthanded races and his experience as a two-time Worrell 1000 (beach cat) competitor in the double-handed 1000-mile Miami to Virginia Beach race. Weaver, a naval architect and U.S. Coast Guard captain with 30 years in the marine industry, including stints as a yacht designer, boatbuilder, and pro sailor, will also talk about his experiences in the America's Cup, racing around the world, and breaking speed records on the 125-foot catamaran Playstation.
The evening will kick off at 6:30 with a cash bar, followed by the seminar at 7 p.m. The venue will be AYC's new Sailing Center, 510 Severn Avenue, Annapolis. Everyone interested in learning more about mixed couble handed racing at either the Olympic or local level is encouraged to attend this free event. Please call AYC's front desk at (410) 263-9279 to make a reservation.
To reserve your seats, please call AYC's front desk at (410) 263-9279.