That awesome experience of overnight sailing on the Chesapeake Bay
With the Governor's Cup coming up soon (August 4-5), and the Boomerang Race just behind us (July 7-8), sailors are thinking about that rare and awesome experience of sailing down—and in the case of the Boomerang back up—the Chesapeake Bay. Over the years we've interviewed regional racing sailors about why they love these races so much. Here are five reasons they give us over and over again.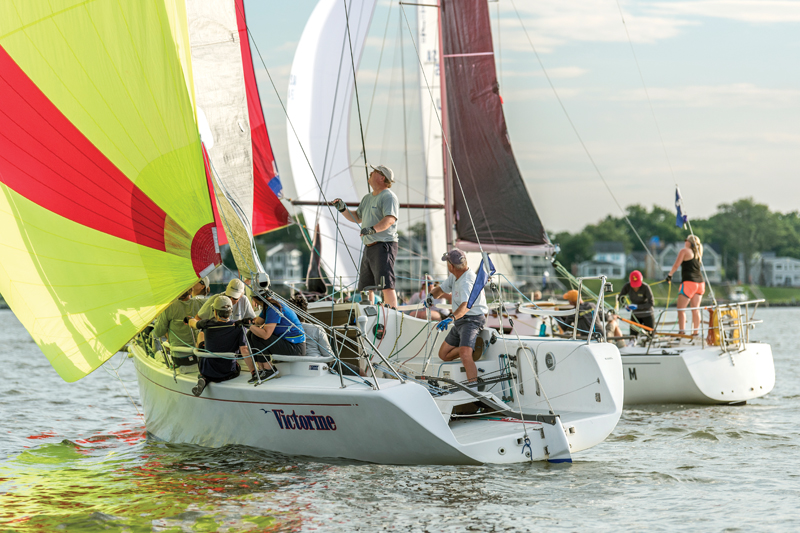 Sunset on the Bay. Even if they're working hard to trim or change sails and stay ahead of the competition, racing sailors appreciate sailing during sunset. Few things rival the gorgeous light of a Chesapeake summer sunset while sailing.
The range of conditions. When we ask about sailing conditions, the expression "mixed bag" comes up all year long from racing sailors on the Bay, but it's almost a guarantee on a long overnight race. Going from light air to heavy air, to no air (anchoring, anyone?) to a squall, all in one race, keeps things interesting. Constant sail trim tweaking and sail changes keep the crew engaged.
Layering in summer is fun. It's quite common on a long overnight race to go from tee shirt to sweatshirt to full foul weather gear to back to tee shirt. When the summertime gets hot, hot, hot, feeling a little chilly on the rail of a racing boat in the night is a welcome sensation.
The stars and moon. Ask any overnight racer about the stars and moon and watch their faces light up. If you do enough overnight events, you'll eventually have a starry night to remember, see a few shooting stars, and maybe get lucky enough to sail by the light of a full moon. This year's Governor's Cup will be under the light of a waning full sturgeon moon, but only three days after the full moon, it will still shine brightly.
The sense of accomplishment. Of course, it's gratifying to win, but even the slower boats express satisfaction in the very act of finishing a long, overnight race. Teammates feel bonded, as if the battle is over, and now it's time to celebrate—and sleep.
Why do you race in overnighters? Share your thoughts with us.