Click to FB Live Tuesday, March 24, for the first event
For years, Quantum has been working to continuously make it easier for sailors everywhere to connect with its experts, including David Flynn's "Racer's Edge" series. More recently, the company has ramped up its video and started experimenting with live video formats... and it appears not a moment too soon.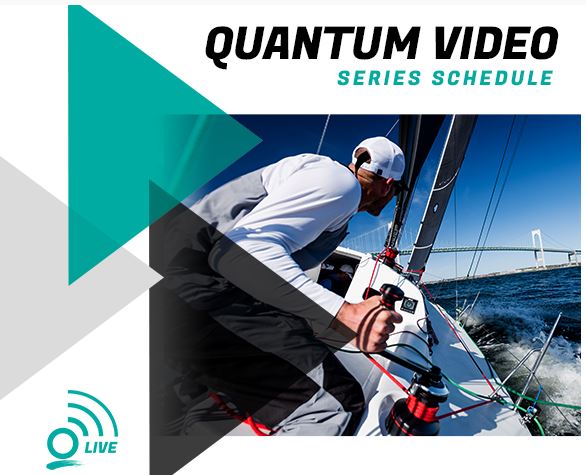 The pros at Quantum launches its weekly live video series giving you access to not only experts and the Quantum Racing team, but also some of the top names in the sport. Sign up for emails, and check your inbox and social media at the beginning of each week for the line up. Tune in when you can or check back to access replays.
To get things rolling, the series will start with Facebook Live and Premiere. But don't worry, you don't need an account to join. Simply navigate to this link when it's time.
The fun starts today, March 24, at 5:30 PM ET. Here's the full schedule for this week:
TUESDAY - TODAY!
FIVE COMMON QUESTIONS MOST SAILORS HAVE WANTED TO ASK, 5:30 PM ET
WALLY CROSS Quantum Detroit
Almost every sailor has a nagging question they've been meaning to ask and haven't for one reason or another. Wally put together the top five most common ones he's come across in his 50+ years as a sailmaker. If you've got a question, send it to us beforehand or feel free to ask during the session. Click here
WEDNESDAY, MARCH 25
A STEP-BY-STEP GUIDE TO AT-HOME SAIL CHECKS, 12:00 PM ET
ANDREW LAPLANT Quantum San Diego
Knowing what to look for and paying attention are a big part of avoiding costly surprises and taking good care of your sails. Andrew will take you step-by-step through the quick sail check you should be doing a few times a year in between their annual professional sail inspection.
THURSDAY MARCH 26
PERFECTING YOUR MAINSAIL TRIM, 12:00 PM ET
SVEN KRAUSE Quantum Germany
When going gets tough and your trim is off, it's time to go back to the basics. Sven will share his approach to achieving fast and efficient mainsail trim and how to troubleshoot when something isn't right.
Find great racing articles here.