Fall brings championship sailboat racing to the Chesapeake Bay
While northern sailing towns may batten down the hatches for the season this month, racing sailors on the Chesapeake gear up for some of the best on-water competition of the year in a series of championship regattas. Autumn brings great breeze, yet the water remains warm, making the conditions ideal for sailboat racing from early-month short-sleeve days through Halloween warmer jacket days.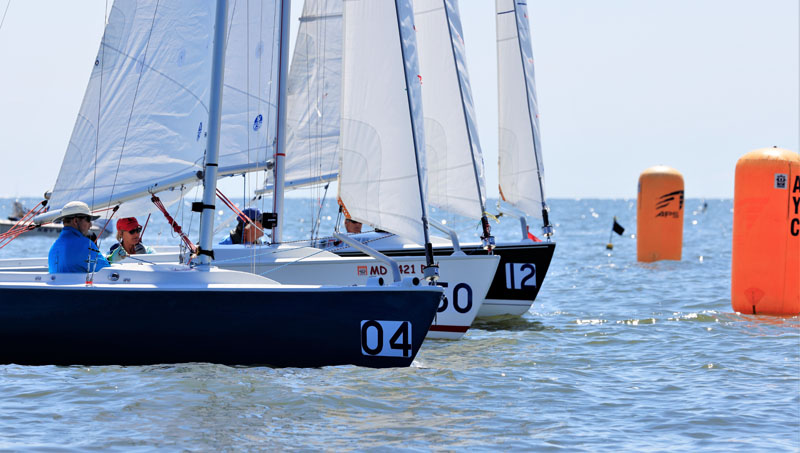 Of course, several significant events have already taken place earlier in the season, including the Star North Americans back in June. The Harbor 20 Class Championship and the J/30 North Americans were both held in September, which weather-wise can go either way on the Chesapeake (that fickle month may bring a fresh fall breeze or continued full-on summer).
.
Much more racing takes place in October: Annapolis sailors look forward to the J/35 North Americans at Annapolis Yacht Club (October 21-23), J/105 East Coasts at AYC (October 22-23), and the Soling North Americans at Severn Sailing Association (October 20-23). The J/24 North American Championship runs concurrently with the J/22 East Coast Championship at SSA (October 28-30).
In addition to these big regattas, we have a full slate of popular annual events, such as the AYC Fall Series (October 1-2 and 8-9), the Baltimore City Yacht Association Harbor Cup (October 15), and the Eastport Yacht Club Fall Brawl (October 28-30). Another crowd favorite is the ILCA Chesapeake Bay Masters Championship Regatta at Fishing Bay Yacht Club in Deltaville, VA (November 5-6, rescheduled from October 1-2 due to Hurricane Ian).
Find a more complete list in our calendar. Find race results and analysis in the November and December issues of SpinSheet and photos of the action in the magazine and at spinsheet.com/photos. Check out spinsheet.com/racing for more great racing articles.