Sailboat racing with the "keep it simple" approach
Sailboat racing has roared back in the Potomac and Anacostia Rivers. Daingerfield Island Sailing Club (DISC), out of the Washington Sailing Marina, hosts a Tuesday Night Keep It Simple Series (KISS) for boats ranging from 18 to 40 feet.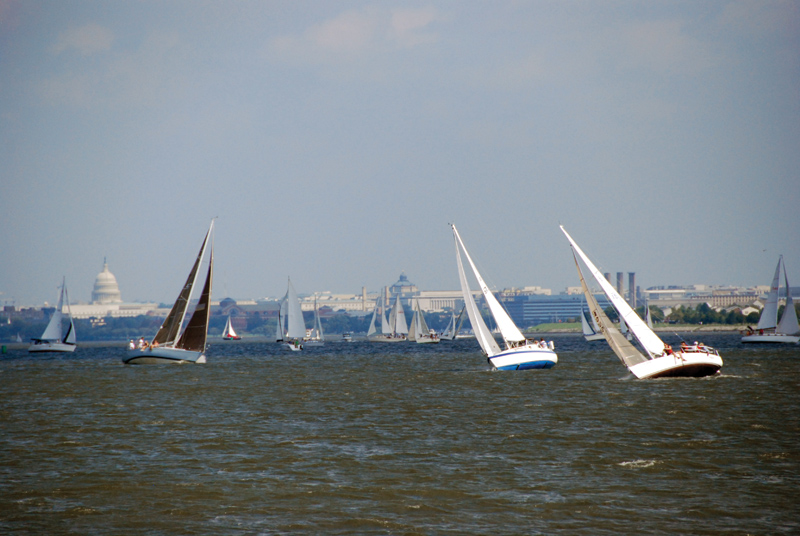 The series had only a few boats and no race committee during Covid two years ago, but now has almost 30 boats registered in spinnaker and non-spinnaker classes, with the numbers growing every day.
Racing between the Alexandria waterfront and Haines Point across from National Airport, the venue is both beautiful and challenging. Every evening the Washington Monument towers over the racers and the sunsets are often stunningly beautiful.
From the office to the sailboat
Before racing starts it is normal to see men and women in suits and business wear carrying sailing duffels rushing to change as the DC traffic and last-minute business meetings can make the race to the parking lot almost as challenging as racing in the river.
When the racing starts, the river looks deceptively wide and peaceful. However, racing in a river current with an overriding tidal flow is a constant challenge. The experienced hands know that winning boats must continuously be aware of the mixing of river currents and tidal flows, and how each of these flows moves through the shallows and the deeper channels. A few feet of lateral separation can mean half a knot of speed difference between boats.
Try sailboat racing: the only way to start is to start!
Envision a wide array of boats that all round government marks in close competition and you will understand sailboat racing in the National Capitol Region. The volunteer organizers at DISC are always looking to bring new boats into local racing. The trick to growing the racing numbers is to convince day sailing skippers that racing is not primarily organized insanity and chaos.
Many of the current winning skippers in the fleet started in Catalinas, O'Days, and similar boats and are more than willing to help new racers! The only way to start is to start. Skippers interested in racing in the Washington, DC, area should visit discsailing.org or email the fleet officers.