A sailing crew that clicks: the J/30 Shamrock Team
It's tough to sail when you can't see. That's the situation Bruce Irvin's J/30 Shamrock's crew was in one day of last year's Helly Hansen Sailing World Regatta Series. A no-visibility fog set in over the Bay. But clear communication and adaptability are the crew's strengths, says Efe Brock (jib and spinnaker trim). The crew pulled out their phones and pinged the finish line, helping them decide to gybe quietly through the mist at the end of the race. While the lead boat sailed into the mist and got lost far below the finish, Shamrock crossed first. Brock says the victory is "one I'll never forget."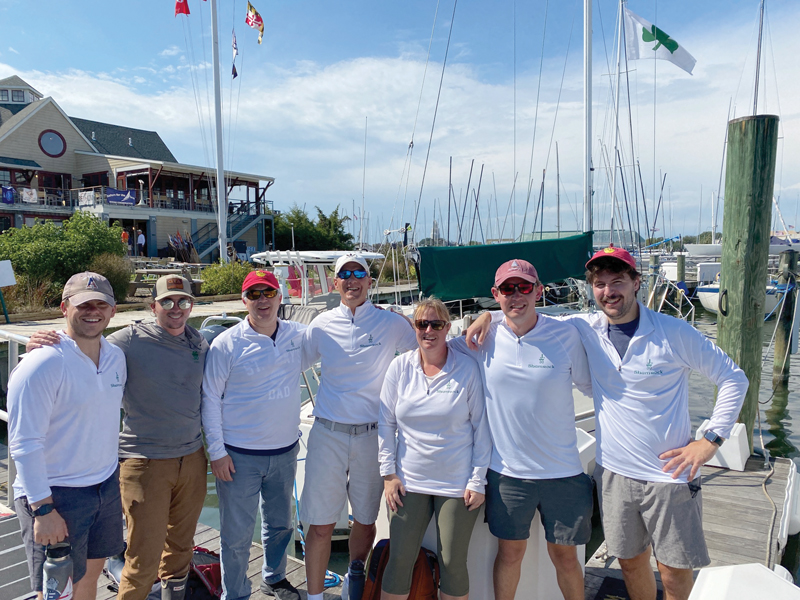 The core of Shamrock's crew joined around 2018, supplemented by some off-and-on and newer crew members. Most of the crew connected in collegiate racing or through coaching at Annapolis Sailing School. Bowman Nathan Thompson, who Irvin says is "a key member of the team," sailed collegiately in Maryland, as did Rachel Weitman (jib and spinnaker trim).
Weitman grew up around boating on Long Island. After an injury and in search of a lower-impact sport, she joined her college's sailing team, which she captained for three years. Weitman has 10 years of experience on Shamrock.
"After sailing with Bruce for so many years, I've seen a lot of crew members and have rotated through almost all the roles," she says.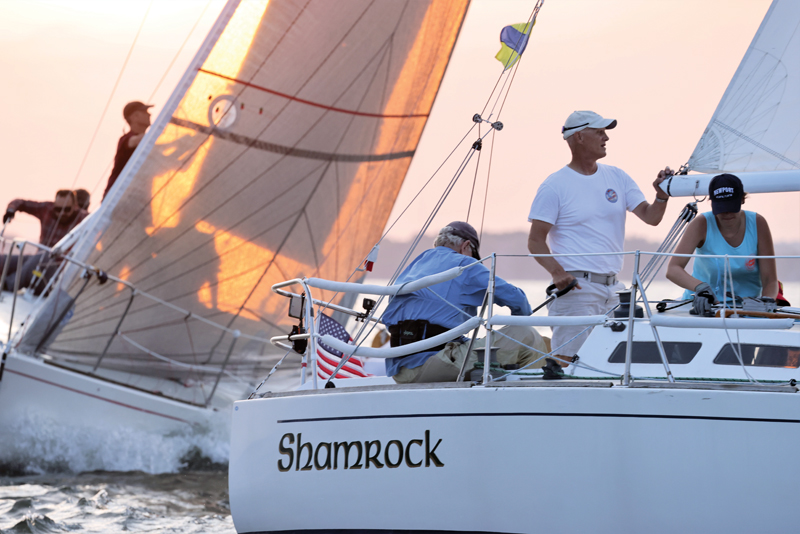 While coaching a regatta for her alma mater, Weitman met Charlie Carpenter (main trim), another member of the team. Brock also raced against a future crew member in college. Amy Kuhl (pit), another collegiate sailor, started crewing for Shamrock after moving to Annapolis.
Kuhl advises aspiring crew to "start going to places that have a lot of boats and sailing" and to try online crew lists (such as spinsheet.com/crew-finder). She emphasizes that crew should "be open to learning" from their position on the boat and from the skipper.
My uncle Bruce Irvin, Shamrock's owner and skipper, chose the 1984 J/30 on a friend's recommendation for its combination of "great one-design racing" and cruising capacity. Irvin has been refurbishing the 39-year-old keelboat for six years to bring it up to design specs, including fairing back the fin keel and rudder.
"With those repairs completed two years ago, we had our top gear," he says.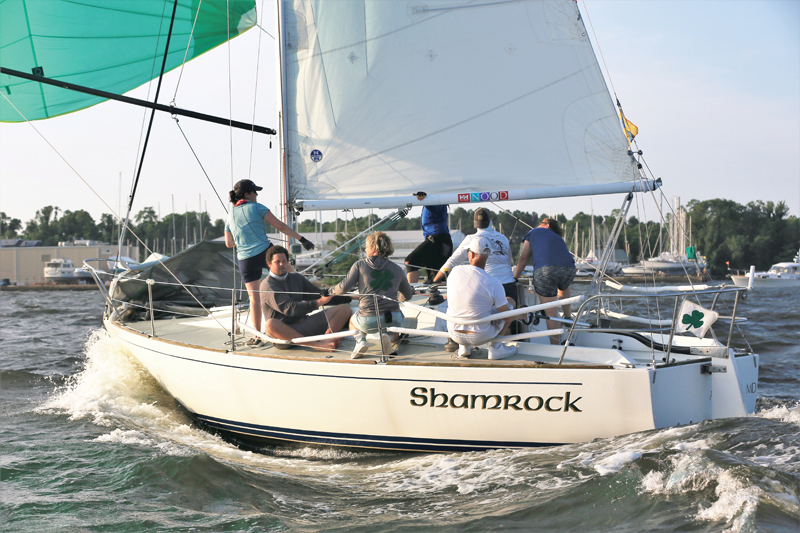 Irvin advises new skippers to seek crew through friends, neighbors, and SpinSheet Crew Parties (in spring) and to "take out anyone who is interested and has a good attitude regardless of experience." He adds that "racing together will develop comradery and your teamwork will grow."
Shamrock has used that growing team synergy to accrue victories and lots of experience over a decade on the Chesapeake racing circuit. Kuhl says that the crew's strengths are communication and knowledge: "Most of us have been sailing long enough now that [Irvin] trusts us to do our position and that trust allows him to focus on being the skipper and tactics… versus when that trust was not there."
The team climbed the CBYRA High Point table from seventh in 2016 to second in 2020 and a first-place ranking last year, when the team took third in the J/30 North American Championship. This year, Shamrock raced to another high, winning the J/30 class at the 2023 Helly Hansen Sailing World Regatta Series Annapolis. The crew also won a drawing to compete in the Caribbean Championship.
"We haven't always been the winning boat out there, but we've always managed to have fun together, learn, and grow as a team," Weitman says. "I think everyone is very good at keeping the vibe fun and just serious enough."
The team has weathered some dramatic racing moments. In the early evening hours of the 2016 Eastport Yacht Club Boomerang Race, some of the crew sat on the starboard rail. They saw the boat behind them go over, with only enough time to let Irvin know before Shamrock's spinnaker hit the water. My then-10-year-old sister, who was onboard, described a "big puff" and a "lot of commotion" as the boat and its mast flipped completely on its side in a knock-down.
Luckily, Irvin's son Jack was able to retrieve the spinnaker from his position on the bow. No one went overboard. The hull's weight helped right the boat, and the team raced on to a second-place finish.
Next fall, Irvin hopes to compete again in the J/30 North American Championship. This October, the Shamrock team will travel to the British Virgin Islands for the Caribbean Championship, where the winner gets to return to defend the following year. The crew will also race for the CBYRA High Point award this season.
Alongside the four-leaf clover on its spinnaker, Shamrock relies on one other talisman: Irvin always brings peanut M&Ms aboard as a snack. But more likely it is the crew's commitment that accounts for Shamrock's rise to the top of the Annapolis J/30 fleet.
Irvin says, "Attitude is vastly more important than skills, as skill can be easily learned."
By Storrie Kulynych-Irvin