What's it take to put together a sailing crew that really clicks? One team's tips based on years of experience.
Tim Polk and Ed Tracey's Omega 36 Incommunicado (aka Inc) team shares a few secrets to success after sailing together for many years—some of them for more than 27 years.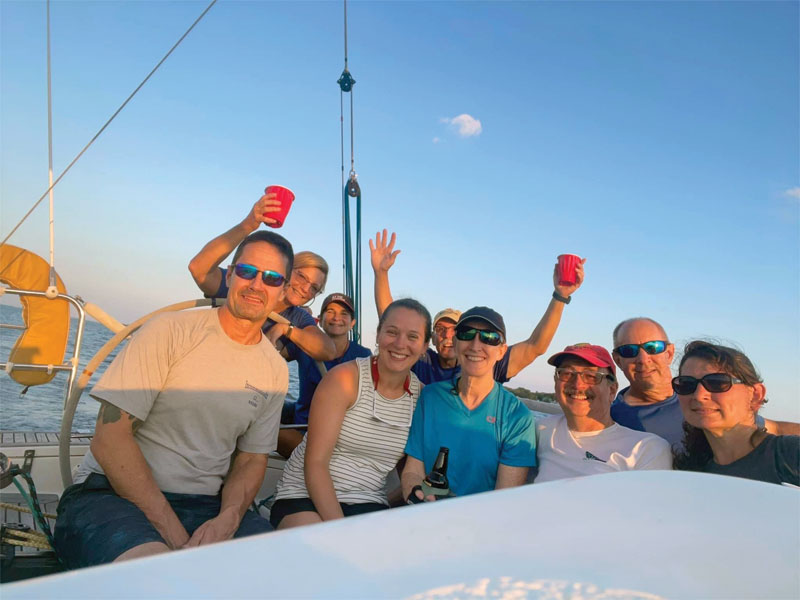 These responses were a group effort, gathered by Angela Ward from teammates Tim Polk, Ed Tracey, Yvonne Dedrickson, Janet Hoffman, Heather Lentz, Chuck Shoenfelt, Angela Ward, Tim Ford, Joe Lavia, Madeline, Lynn Sheeler, Eddie, and Bob Harmon. In case you wondered, generally the Inc crew connects via Team Snap for availability and assignments, and email for other communication.
Name a few things you do to keep your crew working together.
We encourage each other, have fun, and work together. We all genuinely enjoy our time together. We talk through roles/responsibilities before a rounding/maneuver and how to improve it the next time after the maneuver. Communicate, don't panic, keep a calm head.
What does your crew do exceptionally well?
Flexibility—most crew members are able to do multiple positions, giving us flexibility depending on who is available to race. Post-race—the skipper initiates an email thread about what went well and what didn't. Thinking and planning ahead.
Can you name a mistake you've made and learned from?
Hanging the spinnaker sideways. I had no idea how to fix it, but another crew member, Joe, jumped in. (Heather)
Crossing over the companionway when the hatch wasn't closed. I won't ever do that again! (Lynn)
Running lines incorrectly, dropping the spinnaker too fast, and shrimping. (Angela)
Don't order kamikazes by the pitcher. (Chuck)
What do you recommend to a skipper new to racing seeking advice on retaining crew?
Don't yell at your crew with anger. Yelling to help hearing is okay... Give crew gifts every year, such as the MVP Gosling Rum trophy award based on some convoluted participation and performance formula nobody understands, food and beverage assignment coordination, race planning, boat delivery and ride coordination for longer races, and great overall communication.
Get out as much as possible; don't take it too seriously. Be willing to share your knowledge, answer questions, and develop a friendship. The Inc crew was so welcoming when I was new. The time spent on the rail getting to know all of them and picking their brains was and continues to be invaluable.
Any other secrets?
Our skippers are so dedicated. They pour so many hours into making our races fun and successful. They keep up with organizing the crew, boat maintenance, upgrading sails, racing education, registration, and prep. We have great crew dynamics and friendships that we've built over the many years we've sailed together.
I've raced on 40 different OPBs (other people's boats)… none have been as fun, rewarding, and entertaining as Incommunicado… It's a family! When you're on the water with the Inc crew, everything else in life fades away and you can't help but laugh. We all want to win, but we want to have fun doing it. Either way we're having a post-race Dark and Stormy.
Are there victories you're particularly proud of?
First Governor's Cup win (2001), winning overall in CRAB Cup, Chesapeake Bay High Point, Block Island 2015.