What sailors on boats can learn from hikers on land
Although I spend a lot of time sailing small one-design boats, last month, I was lucky enough to go on a bucket-list-tier adventure: backpacking in the Grand Canyon. We spent four days below the rim in amazing hiking weather—except for the last day, which featured an epic climb out in a snowstorm.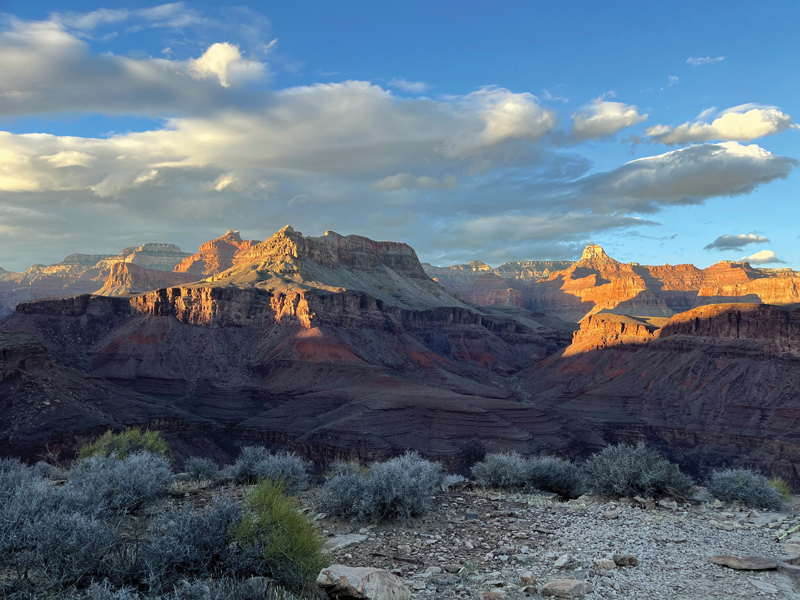 Even on that wet, cold hike, with frozen fingers, we made sure to follow one of the key tenets of time in the backcountry—Leave No Trace. That meant not only making sure our snack wrappers ended up in our backpacks or pockets so that we could properly dispose of them once we were out of the canyon, but also taking a quick moment to pick up someone else's trash if we came across it on the trail. (Accidents happen; despite all best efforts; sometimes a quick move to put a granola bar wrapper into one's pocket does not hit its target.)
Because of the collective effort to Leave No Trace, the Grand Canyon is virtually trash-free on trails that make up the main corridor from the North Rim to the South Rim. That makes for an enjoyable hiking experience for us humans and supports a healthy habitat for all the critters who live there. By leaving no trace, hikers, runners, and tourists show that they truly treasure the Grand Canyon.
So, how about sailors?
Do we treasure our playgrounds? Often, it doesn't look like it. Let's lean in together and commit to three New Year's Resolutions: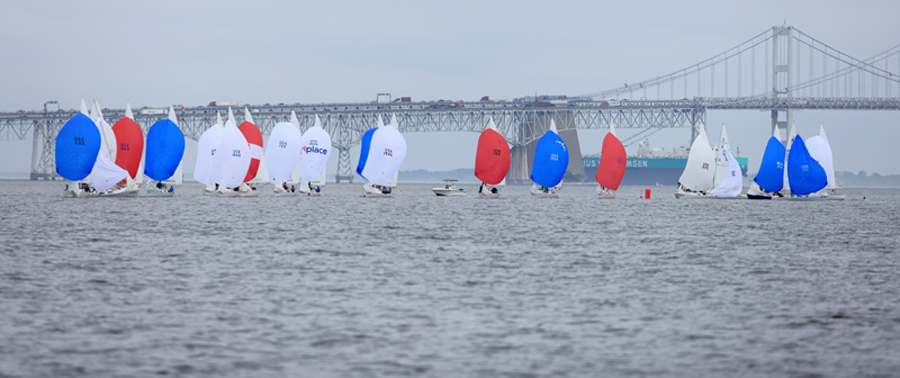 Pick up your trash. And while you're at it, pick up someone else's trash.
This is the basic level of Leave No Trace. Walk into any boat yard, and there's a close to 100-percent chance you'll run across at least a few randomly discarded bits of electrical tape and dropped ring dings. Plastic water bottles (seriously, who still uses those?!) are frequent sights, too. Litter also includes organic things such as orange peels and pistachio shells. If you see it, just pick it up and deliver it to the nearest trash (or recycling, if appropriate) bin. Many junior programs employ a fun take on this effort, where young sailors are directed to "pick up five pieces of trash" at some point during their day. These small efforts not only help keep our boat yards looking nice, but they also help keep litter from being blown into our waterways.
Do you have extra stuff at the boat yard? Manage it properly.
Keep it in the proper place, and if there's stuff you're no longer using, it doesn't belong there. Random extra spars. Ladders. The dinghy trailer you don't use very often. To be blunt, all of this stuff is a pain in the butt for the folks who manage your yacht club or sailing association's facilities. If you have these items, check in with your facilities team to see if they are acceptable to leave at the boat park, and if so, where they should stay. While you're at it, label your stuff! A streamlined boat park is a happier experience for everyone.
Extra boat gear? Pass it along to someone who needs it.
This is a full-on win-win scenario. Have you acquired a few spray tops, but there's one that you just don't love, so you never use it? Is there an old-ish set of sails lingering in your shed? There are sailors who would treasure those items. Your fleet may have some sailors who are just getting into the fleet; they might really appreciate a set of sails to get them started as they digest the initial costs of buying a boat. Some fleets have a "loaner" boat to help people test drive a boat—and having replacement sails for that loaner boat can really help. For your personal sailing gear, know that especially junior sailors are always hungry for new lifejackets, cold-weather sailing gear, and boots. Check in with your club/association/fleet to see if they are planning on a gear swap to kick off their early 2023 sailing season. Lighten your closets and get that gear to someone who can use it!
by Kim Couranz
About the Author: SpinSheet Small Boat columnist for more than a dozen years, Kim Couranz has earned several national and world titles in Laser Radials (ILCA 6) and Snipes. She has also raced J/22s, J/24s, and Ynglings on an international level.
Find more racing articles here.
Find out when our new issue comes out by signing up here.