Get race day off to a good start
Before you can go small sailboat racing, you have to get to the racing area. Sometimes that's right off the dock, but in most venues, there's a bit of a sail out. Getting there in time to warm up, do your racecourse reconnaissance/homework, and handle any final preparations before racing gets your day off to a good start.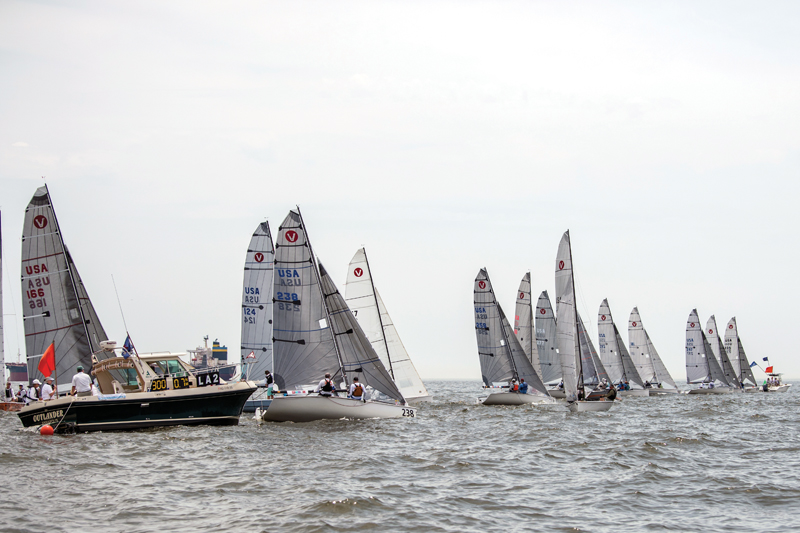 When to leave the dock
So, when do you leave the dock? Having served on race committee for a few events recently, I'd say in general, "sooner than you have been!" Watching boats show up just a few minutes before the first start—or even later—is frustrating.
Sure, there are times where there are extenuating circumstances: The hoist has a mechanical issue; the wind dies on the way out. Often sailors are just taking their sweet time—and when that causes the race committee to postpone, it's disrespectful to your fellow sailors and especially to your regatta volunteers.
In many fleets, a known cast of characters heads out to the racecourse on the early side. If you know who those folks are, you can always follow their lead. Watch when their sails go up, or when they roll over to the hoist, and follow suit.
But what if your fleet is a little more loosey-goosey? Learn a few key items, and be ready to shift a little earlier or later given the day's conditions.
What time is your first start?
One key item is an easy one: What time is your first start? Be sure to read your Notice of Race/Sailing Instructions to learn what Plan A is for the first start time. Remember it may be different each day of a regatta. Keep track of any amendments that may alter this time.
Figure out when you want to arrive at the racecourse to get ready. Perhaps this is a half hour, giving you enough time to do some tacks and gybes, get some headings, do a few lineups with competitors to check your speed, and do your starting line homework.
How long does it take to sail there?
Then, how long does it take to sail there from where you're getting in the water? Checking with locals is your best bet. If you get a range of times, err on the longer side of that range. If nobody has a clear answer, use a chart to figure out the distance and extrapolate how long it would take.
Check the wind, tide, and current
Also affecting your time: What's the wind doing that morning? If you have a nice 10 knots and you'll be reaching to get there, you might be able to trim a little time off your plans. Upwind in five knots? It will take you longer. How about the tides? Are you sailing against the current to get there? Add some cushion to your time. You are checking the forecast the night before your regatta anyway (right?), so you can put it to immediate use!
How much time do you need on land?
Consider your on-land portion of the morning. How long does it take to rig your boat, move it over to where it gets into the water, and get it in the water (and return dolly/trailer to a spot out of the fray). Are you ramp launching, or using a hoist, which usually takes a little longer. How big is your fleet: just a few boats launching, or a cast of thousands?
Communicate with your crew
Communicate your timeline to your whole crew, so everyone's on the same page. For example, "Our first start is at 11 a.m., so I want to be out there at 10:30 a.m. That means we need to be leaving the dock at 10 a.m., no later. So, let's start pushing the boat over to the hoist at 9:45 a.m. Let's all get to the club at 9 a.m. so we can rig up and get all our gear in the boat well before then."
When it's super windy...
One important caveat to the "get out there a little early" theme. If it's super windy, you may want to conserve both body and boat by trimming your pre-start warmup time. You still need to be there a bit before your first gun… but perhaps not too much!
by Kim Couranz
About the Author: SpinSheet Small Boat columnist for more than a dozen years, Kim Couranz has earned several national and world titles in Laser Radials (ILCA 6) and Snipes. She has also raced J/22s, J/24s, and Ynglings on an international level.