Team DFL racing update just in: And the last shall be last, one last time, if all goes badly enough.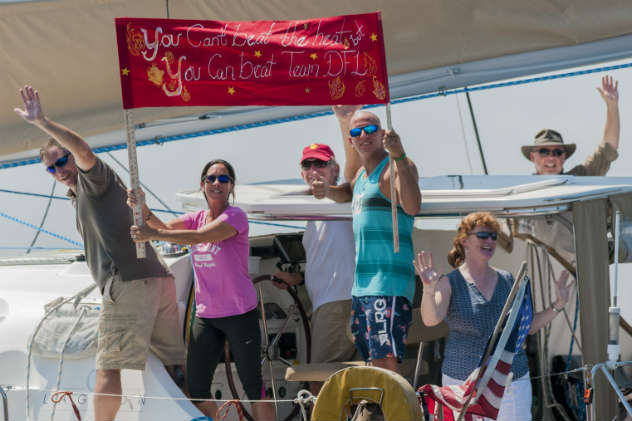 When 70-plus boats answer the starting gun at noon Saturday for the 10th annual Boatyard Bar & Grill CRAB Regatta at the mouth of the Severn River, every team will have the goal of raising funds for Chesapeake Region Accessible Boating. But only one hopes to do its best by being worst.
For the 10th straight year Team DFL, an Annapolis team of uncompromising losers, will compete with the goal of finishing dead last, so no one else has to suffer the indignity. That has not always been easy, says team leader Sara Aiken. "We worked our butts off for each and every disappointment."
Each year Team DFL adopts a theme and dress code.. This year the mascot is Jack Sparrow of Pirates of the Caribbean and the yacht is the PDQ catamaran Desert Star. Owner Eric Epstein will be aboard, as will the leader of the after-party rock band Misspent Youth, Dixon Ulmer, who has never been in a boat race.
"We hope his inexperience and confusion will help us achieve or goals," said Aiken. She enlisted her husband Ken to assist. "He knows how to sail a little but he hates racing."
The crew will dress up in hopes their puffy pirate garb will interfere in tricky maneuvers. Team DFL initially was drafted from Aiken's neighbors.
"We called ourselves the "Severn House International Team of Sailors (SHITS) but have opened the door to all qualified losers."
Sadly, this will bye the last year for Team DFL, unless someone steps up to lead the next effort. "I'm tired of fighting for last place," said the longtime skipper, who twice has come up short, once when an unscrupulous foe started an hour late and another time when the race committee went home before DFL got to the finish. "What fun is losing when they jimmy the rules?"
Funds from the regatta and after-party benefit CRAB, the venerable local charity whose goal is to take disabled people sailing. Race headquarters is Eastport Yacht Club, where the party is open to all and runs 4-8 pm. Admission is $15.
DFL, for those who don't know, is yachty parlance for "Dead Fershlugginer Last." ~by Angus Phillips
For photos from last year's Boatyard Bar & Grill CRAB Regatta, click here.
Check the weekend weather here.