39th Biennial Annapolis to Newport Race Wraps Up in Newport
The 2023 Annapolis-to-Newport Race got underway Friday and Saturday (June 2 & 3) on the Chesapeake Bay with offshore racing competitors bracing for challenging conditions in the Atlantic Ocean.
Separate starts on consecutive days were held in light air, a far cry from what the fleet of 53 boats in eight classes are expected to encounter during the offshore passage. Forecasts called for an upwind slog in 25 to 30-knot winds and 10-foot seas.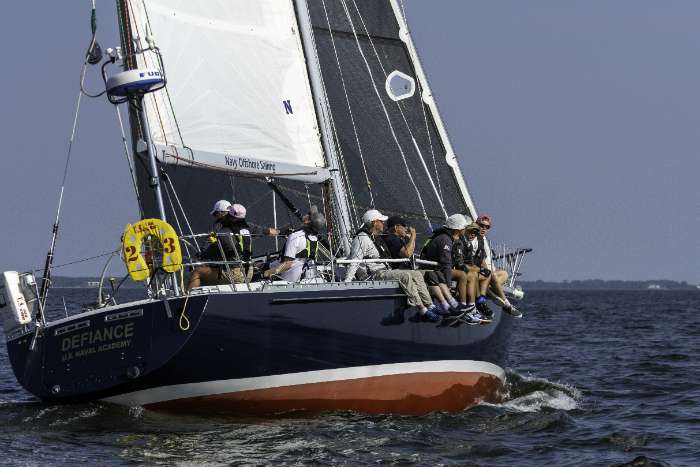 Tony Parker has completed more Annapolis-to-Newport races than he can remember and acknowledged this will be one of the more challenging. The 77-year-old Annapolis Yacht Club member was not looking forward to pounding upwind into steep waves for 25 to 30 hours or more.
Parker is fortunate to be aboard a boat that can handle such brutal beating conditions. The Washington, D.C. resident is the skipper of Reindeer, a Morris 47-footer that is a renowned offshore racer. Reindeer was previously owned by Newbold Smith, who sailed her to great success in various point-to-point distance races along the Eastern seaboard.
"It is an incredibly good ocean-going vessel, especially in the type of conditions we're going to see in this race," Parker said. "In heavy air either beating or close reaching, it's as good as any boat in the fleet. There are a lot of other boats that are going to struggle to handle these conditions."
Reindeer was among the 33 boats in three classes that started the 38th biennial A2N last weekend. Those were the bigger, faster entries in the overall fleet with Reichel-Pugh 45 Katsu leading the ORC 1 class off the line as part of the first wave of starters.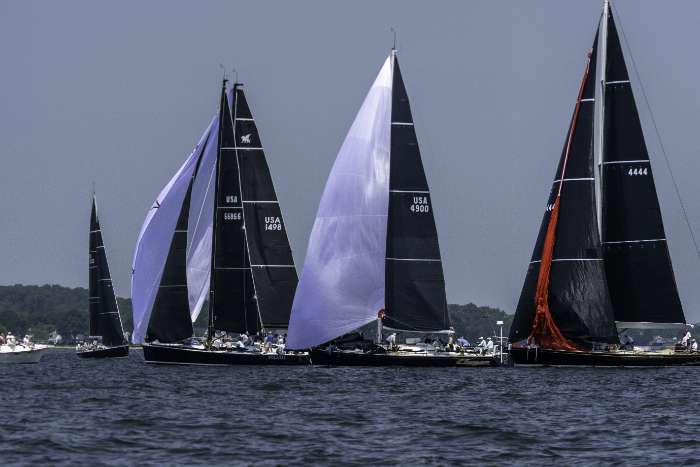 Saturday morning delivered 6 to 8-knot northeasterly winds on the Chesapeake Bay, which meant a downwind start that enabled crews to hoist spinnakers before or shortly after crossing the line. A favorable ebb tide helped propel the boats as they began the race's 120-nautical mile Chesapeake Bay portion.
After passing Norfolk and crossing the Chesapeake Bay Bridge Tunnel, the fleet rounded the Chesapeake Light and headed north toward Newport, another 355 nautical miles from the finish at the mouth of the Narragansett River.
The elapsed time record for the 475-nautical mile course was set in 2017 by the Volvo 70 Warrior, skippered by Stephen Murray of New Orleans. Blessed with favorable reaching conditions, Warrior completed the passes in 40 hours, 14 minutes, and 36 seconds.
With offshore conditions calling for 25-30 knot winds and 10-foot seas, an ability to keep the boat from breaking also becomes paramount.
Ken Comerford is the skipper of the J/121 Dark Storm and admitted he "almost pulled the plug" on participating in this year's race because of the forecast. Despite some reservations, the North Point Yacht Sales owner elected to forge forward with his fourth Annapolis-to-Newport.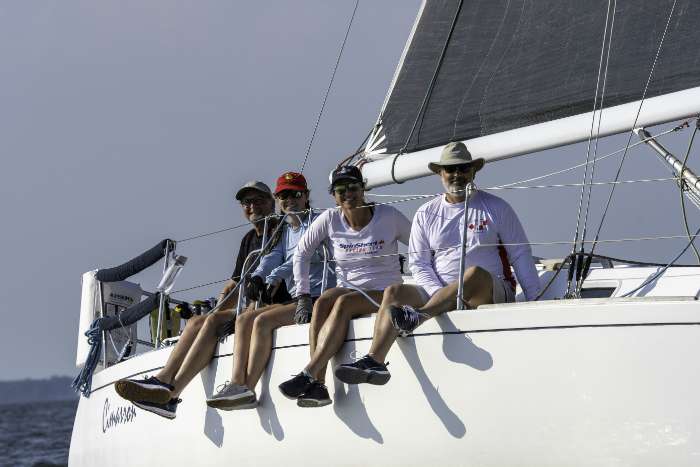 "We have seven really good sailors to push the boat," Comerford said. "I have a lot of confidence in the boat and crew. I don't have as much confidence in myself as I get older. I'm not sure I'm ready to pound upwind for 30 hours. It's going to be a lot of going upwind on port tack — a real grueling race."
And apparently it was indeed. Both the Reindeer and Dark Storm teams finished this difficult offshore race. Comerford's team won their class of 12 finishers (out of an original 17). Thirty-four of 63 original entrants chose not to compete or retired from the race. There are many salty stories to be told, so stay tuned to the July issue of SpinSheet for post-race analysis and special awards.
Find Mark Hergan's A2N Start photos here. Find full A2N results here.