Need more racing sailor crew? Ask a junior, high school, or collegiate racer to join your team!
This is a good news, bad news piece. Currently, there are some 25 Chesapeake Bay Yacht Racing Association (CBYRA) junior sailing programs being run by sailing associations and yacht clubs all over Virginia, Washington, DC, Maryland, and Delaware. These programs vary from one or two weeks with casual fun events involving every watersport imaginable to hardcore eight-week racing programs.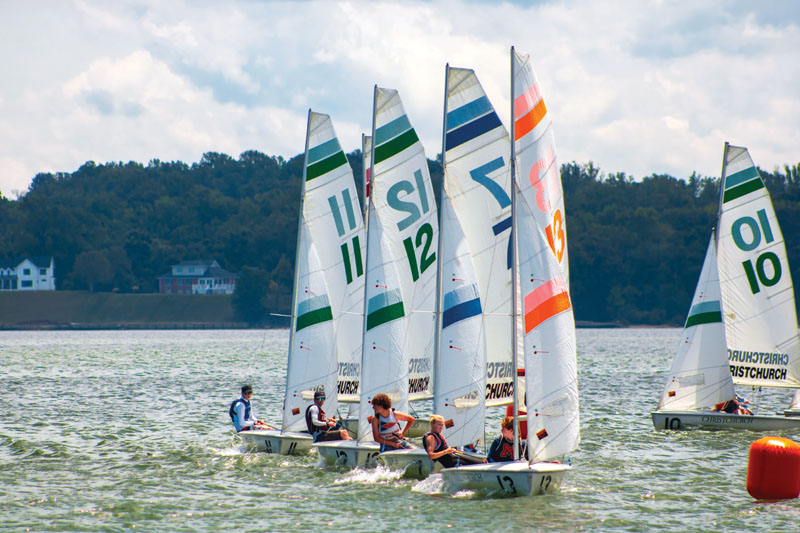 The good news is that they are well run by coaches, junior program directors, and US Sailing-certified instructors who care, run safe programs, teach the basics, and run advanced racing programs. CBYRA provides leadership, a budget for clinics, a website, a 14-race scheduling base, and a high point awards recognition process. The CBYRA junior division board officer, Dawn Forsberg, works cooperatively with the junior program directors to make it all happen.
What happens to these young people after the junior training program ends or their high school or collegiate career comes to and end? They may stop sailing; that's the bad news. What can racing sailors do to help? Do not let these young racers slip away! Invite them to race with you in your one-design or big-boat program. Ask a junior, high school, or collegiate racer to join your team!
Three things younger racing sailors have to offer you
Excellent training: This is something to value. It will help your program!
Knowledge: Listen to what they know and help expand their knowledge. They may pick up a wind shift or a favored end that you may have missed.
Experience: Consider and respect the number of starts, observed shifts, mark roundings, and finishes that they get in one or more seasons. One season of junior, high school, or college sailing may far exceed what many adult racers see over many seasons.
Ask a parent to come out with their younger child on your boat so that they are comfortable with you and your crew. Build and spread the love of the sport!
For more information, visit our junior sailing website, email Dawn Forsberg, and follow the CBYRA links to find the junior directors. Visit the Mid-Atlantic Scholastic Sailing Association, and the Middle Atlantic Intercollegiate Sailing Association.
Directors and coaches can refer you to young people who are interested in racing. See you on the water!
By Jon Anthony, CBYRA President
Questions? Email Jon.