Weekend Racing Roundup: It was a quiet weekend for racing around the Chesapeake, so we're heading around the world today to get our racing fix -- to France!
MACIF Shatters Round-the-World Record
French sailor François Gabart took the 99ft trimaran MACIF around the world in just 42 days, 16 hours, 40 minutes, and 35 seconds, besting the previous record for a solo circumnavigation by over 6 days. And it was just Gabart's first crack at the record. Not too bad for a rookie.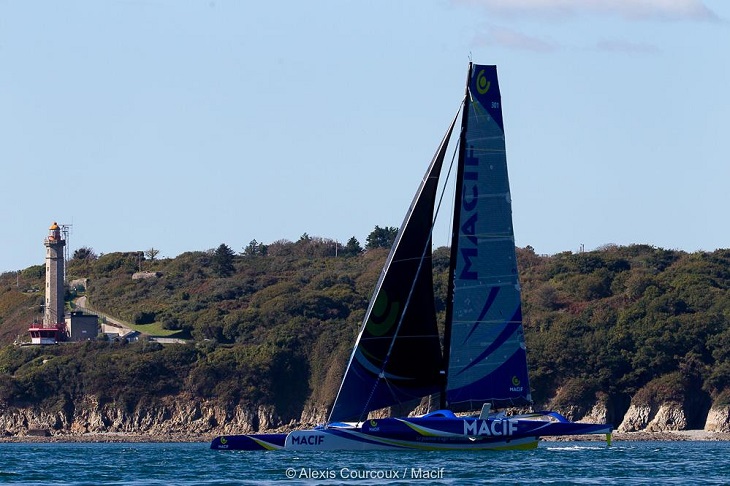 MACIF was on fire for portions of the trip -- at one point, the boat covered 851 miles (a 35.46kt average!) in a single day. To put that in context using a little cocktail napkin math: if you left the docks here at Spinsheet and started heading south, 851 miles would put you a little past Daytona Beach, FL!
Gabart ended up only about a day and half behind the all-time record, held by fellow countryman Francis Joyon and his five-man crew on IDEC 3. As it turns out, the French are pretty good at this sailing around the world thing -- they hold all the podium steps for the fastest circumnavigations in multihulls (solo AND crewed) and monohulls.
With the bar firmly set for going around the world to the east, we wonder if the "wrong way" record will be the next to be attacked -- it's 13 years old and sits at a pokey 122 days, 14 hours. And yes, it's held by a French sailor too.
Crazy Days for the Volvo Ocean Racers
When Race Control extended a portion of the Antarctic Ice Exclusion Zone (a virtual boundary that the teams cannot cross) further north after reports of a 60-metre iceberg, they made life on-board the boats safer but quite a bit harder.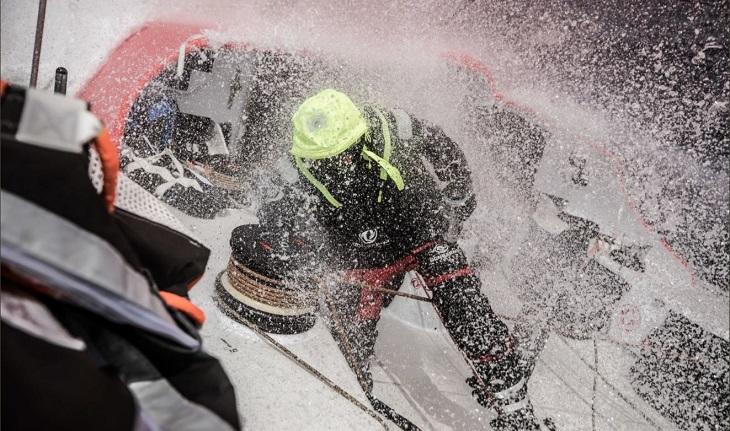 The extension created a "peak" in the exclusion zone that the teams had to travel north to get around. Once they got past it, the teams immediately started climbing down the ladder to get further south and back into the better breeze. This set off a gybing frenzy, with current leader Dongfeng throwing in 31 gybes in just two days. And on a Volvo 65, a gybe is no small thing -- each one can take up to 45 minutes to fully complete. For a little taste of everything that has to go on, Vestas 11th Hour Racing's on-board media reporter Sam Greenfield goes into some detail:
"First, everyone sleeping must wake up and put on all their wet weather gear. Then the crew moves every non-fixed bag/article/bit of the boat inside, down to the toothbrushes, from the old side to the new side. The OBR finds a bucket and sponge and bails out every drop of water that's pooled up on the low side. Non-complacency is not an option. When the internal stack has been shifted the sailors go on deck and shift another few hundred pounds of sails from the old side to the new side. Then they actually go through the process of gybing the boat." Or, as he more succinctly puts it: "In short, gybing blows."
The weather is no joke either. From Simon Fisher, navigator on Vestas:
"Conditions have been pretty full on to say the least. As the barometer fell and the low approached so did the air and sea temperature and we quickly found ourselves in the conditions that the Southern Ocean are famous for. After the passage of the front which saw gusts of almost 50 knots we commented on how wild the conditions were but over the last 36 hours we have quickly become accustomed to sailing in more than 40 knots downwind, with one gust topping out at 53 knots in the midst of a hail storm. 30-35 knots has become to feel quite moderate these days which is a measure of how windy it has been.
Despite the sea and air temperature hovering around 7-8 degrees [44-46 degrees Fahrenheit] and the wind still blowing hard morale on board is good."
Unfortunately, AkzoNobel haven't made it through the hardest of the conditions unscathed. During a gybe that went a bit wonky, they pulled the track that holds the mainsail to the mast clean off. Since marinas or ports to set into for a repair aren't really a thing on the Southern Ocean, the team had to hoist crew members up the mast while sailing to make repairs. Not ideal. Here's a quick taste of what it looks like:
Unfortunately, the team's first attempt at a repair didn't hold and they had to try again -- so far though, the second attempt is hanging in there and the team is pushing hard to try and claw back any chance at improving their finish.
Incredibly, after eight days and over 3,000 miles sailed, Dongfeng and MAPFRE had a port/starboard moment while blasting along at 20+ knots. ""Not too long ago we had a port-starboard situation with MAPFRE, and that's an amazing thing to have happen," Dongfeng's Carolijn Brouwer reported. "The guys on MAPFRE had to ease their masthead sail and arc up to avoid hitting us. We've been battling it out, gybing the whole night through, with probably an hour max on each gybe."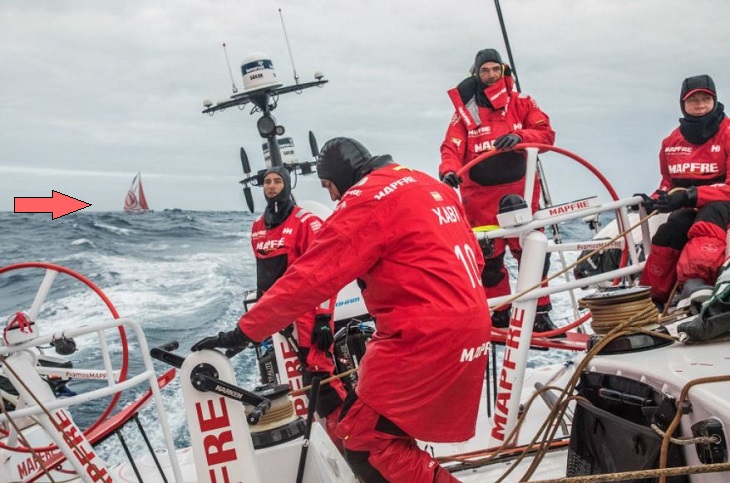 With less gybing forecasted for the next 24 hours and a little more drag racing, the crews will hopefully get a little more time in their bunks and start to recharge for the last 2,700 miles into Melbourne.
Star Sailor Almost Done with Transatlantic Voyage
Last week we told you about an Italian sailor, Dario Noseda, who was trying to cross the Atlantic on a journey from Spain to the Bahamas on a Star. At the time, he was about 800 miles from the finish -- he's now down to just 50 miles now, but he also really needs to end this journey. He's been out of food for over a day and has been getting battered by strong winds and waves for about 48 hours. After over a month on a Star, we can't think of a sailor more deserving of a shave, shower, STRONG cocktail, and a comfy bed. He's got a crowd waiting for him to finish and Dario is expected to arrive in Martinique around 7:00pm Eastern. You can follow the final updates on the Facebook page dedicated to this adventure: Star in Oceano.