Tis' the season to get a gift for your favorite sailor, so we asked some racers to let us know what they had on their wishlist to Santa this year.
This, of course, assumed that they were a racer on the "Nice List" because Santa was watching carefully all year. Oh, he sees you when you're rocking, and he knows it's one pump per wave. He knows you if didn't give enough room, so keep clear for goodness sake.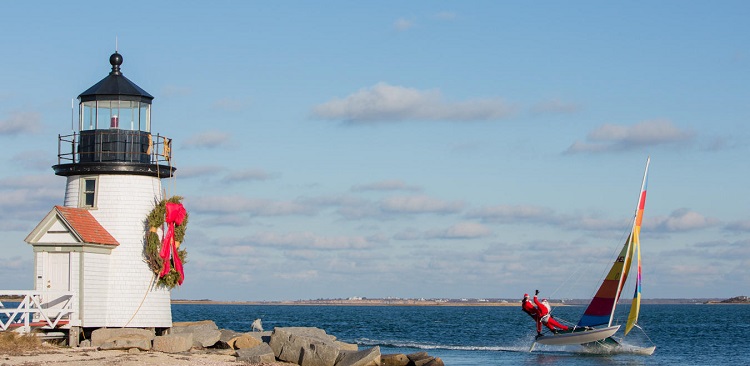 The most popular request was a new spinnaker pole (or some upgraded parts for one). Can't say that we saw that coming in this era of the asymmetrical spinnaker, but we're very happy to know that the art of a good end-to-end gybe is hanging in there. Some of the sailors were very particular about the details for their new pole, but you can safely assume that anything tubular in shape is probably going to come decorated as a candy cane -- the elves in the North Pole are pretty fanatical about that.
And just like years past, any list for Santa usually includes a pair of Dubarry boots. They're like a warm, dry hug for your feet when the conditions deteriorate and the Ultima Leather Boot was a popular request. The brown leather also matches the fur on your team of reindeer, so you don't have to sacrifice style for function. Sailors that weren't near the top of the "Nice" list can expect a pair of Gore-Tex socks -- in truth, most racers prefer them when range of motion and fast feet are important. This usually includes, you know, anyone forward of the wheel.
Staying with footwear, one sailor asked for "sailing shoes that won't stink up my car and are allowed in the house…", suggesting Musto's Dynamic Pro Shoe. That's a pretty unrealistic request even for a bearded old man that can soar through the night's sky with nine flying reindeer, but he may just oblige.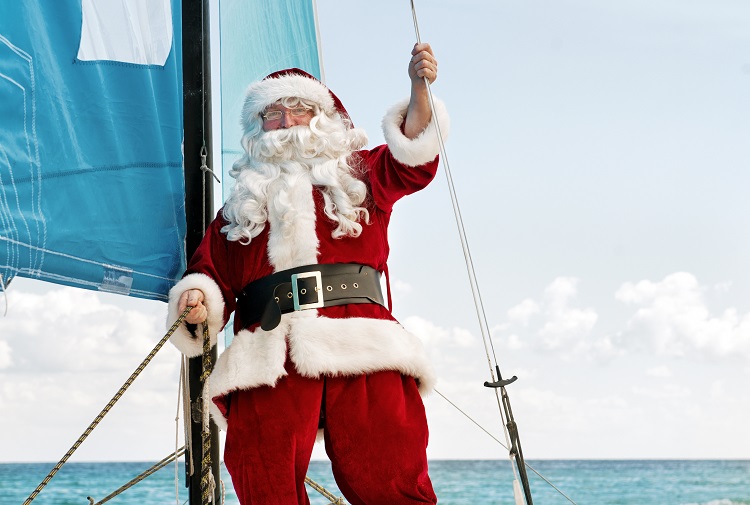 What wasn't surprising were the color specific details from some people's lists. As every good racer knows, it'd be a waste of everyone's time to even leave the dock if your color palate isn't in perfect harmony. Santa, a man who has single handedly made a red suit the fashion staple of December since around 1881, surely approves. For example:
- "A tapered aluminum Thistle pole with Proctor ends... with blue anodizing? The blue would just look cool with my hiking straps." - Nick Moreau
- "Carbon fiber spinnaker pole..red- to match the kites" - Eric Richardson
- "Any of the lovely Laser control lines from Southeast Sailboats… [they have] some available in purple, just saying." - Kim Couranz
- "A pink spinnaker" - Yvonne Green Short
One racer tried to sneak in a new anchor/steaming light for his powerboat along with a new spinnaker, but we referred that one over to PropTalk Santa.
There were a couple of less material requests:
- In addition to a blue spinnaker pole, Nick Moreau channelled his inner Tom Sawyer and mentioned that "the gift of my friends' time is what I really want. I'll provide beer and sandpaper and varnish and epoxy". We're thinking that you're going to need more than beer if you want them to remain friends, Nick.
- Century Club member Ashley Love had one of the best requests: " A team to work with all year to sail Women's Snipe and J22 Worlds next year!" And that's really what it's all about, right? Having fun on the water with other sailors and working towards some exciting goals! Santa's lawyers just need to make sure he won't be charged with kidnapping if he delivers gift-wrapped crew members.
- And pretty much every boat owner asked for a "less complain-y crew -- I'm providing free boat rides here!" Unfortunately for them, Santa was a bow guy in his youthful, slimmer days and saw all of the times that you never turned downwind while the crew is trying to flake the jib after a race, taking waves to the face and fighting with the sail. Needless to say, you made the "Naughty" list.
Regardless of what you asked for, we hope Santa delivers! Happy holidays to all!