A regatta plan for racing against new-to-you competitiors
A big part of the fun of a regatta comes before the event even begins. As you register, you look at the list of your competitors and think about all the folks you have sailed against time and time again and consider the conversations and friendships you'll be able to continue in the boat park. When you head out on the water, you know who's likely to plaster a tight lee-bow on you or is a little wild on the starting line. You've got some known quantities to consider.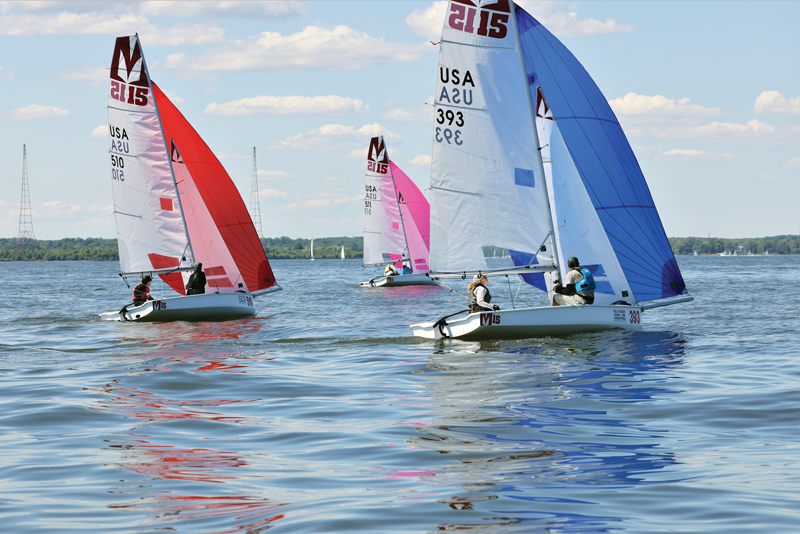 But what happens when the cast of characters changes, and you don't know many of your fellow racers? On shore, it's a fantastic opportunity to build new friendships and learn from other sailors. But on the racecourse, things have a different feel.
This can happen at regattas big and small. Often traveling out of your region and sailing in a different geography introduces new players. Big "championship" regattas often attract lots of names you might not know yet. And sailing in a new-to-you class brings new-to-you sailors, too.
So, how best to navigate the world of the unknown? With an open mind and a bit of a defensive streak. Here are some key areas on the racecourse where keeping your eyes open and planning ahead can help you deal with the unknown.
Starts
The starting line is where personalities come out to play. With your known cast of characters, you know what to expect. Maybe Jane likes to come in from leeward, tack in, and set up close—so you know you need to defend a bit to help create your hole if you see her coming in. Perhaps Jim does the same approach—but always leaves at least a boat width so you can collaboratively get off the line.
But with competitors you don't know (yet), you need to plan for the worst and hope for the best. Creating your hole becomes more important. Having your crew (if you're not sailing singlehanded—if you are, this is on you!) keep an eye out for potential hole-stealers is important. Give your competitors the chance to do the right thing—as in don't automatically start yelling at them "don't go in there," but be prepared that they might.
Mark roundings
Tight mark roundings with folks you don't know can be a big roll of the dice. You have no idea how good other boats' boathandling skills are—so will they really pull off that last-minute douse-and-round? Maybe… maybe not. Will they be the screamer who insists they absolutely have an inside overlap when it's super sketchy? To keep yourself out of trouble here, develop a Plan A, but have a Plan B close at hand. If the boat in front of you attempts that douse-and-round but it turns into a douse-still-dousing, you'll be able to take advantage of that. Likewise, it may be best to just slow down a tad and let the screamer go ahead, avoiding any potential protest room time and passing him on the next upwind.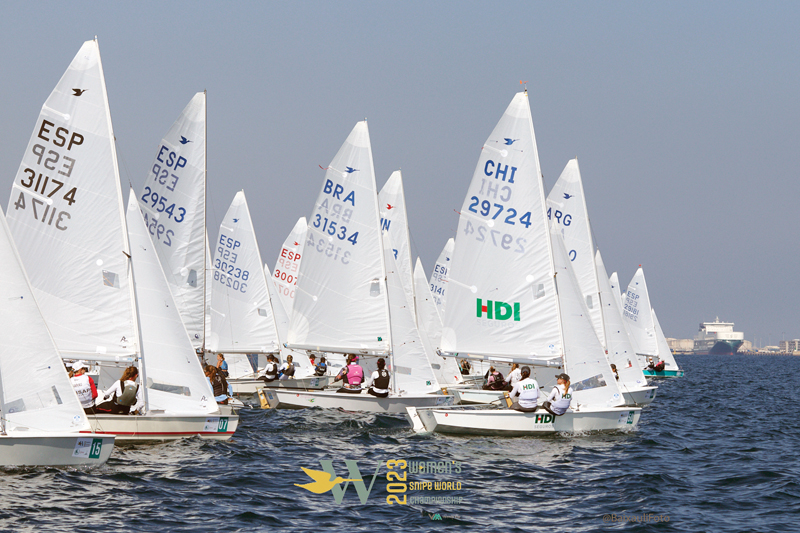 Upwind
The upwind leg poses a few different questions: How do these new-to-you folks like to sail, and how do they interact in crossings? When you know how people sail, you know where to set up relative to them. If Johnny is a pincher, you don't want to set up on his windward hip; while if Jasmine prefers to foot and go fast, her windward hip could be a dandy place to be. Giving yourself a little extra room to play relative to other boats can be beneficial when sailing around unknowns. Consider going just an extra half boat length before you tack on someone's hip.
Upwind crossings are also a place where knowledge of others' sailing styles can help. With sailors you know, you can duck them closely and know they won't freak out. With sailors you don't know, close crossings can lead to a range of emotions that may not be beneficial to either boat. Offering just a tad bit more space can help avoid chaos (and chaos is, of course, super slow).
Downwind
Some sailors get super aggressive downwind and will sit on any boat they can to block their wind, no matter the strategic or tactical situation. Other folks aren't talented at sailing the boat as far down as it could be, and just sit there on your windward hip, prohibiting you from sailing as low as you'd like. Both scenarios can be a big bummer… and also just super annoying. Not knowing who might have that as a style, your windward or offset mark rounding can set you up for success or failure. If you know you have a clear preference for sailing toward one side or the other (or low down the middle), talk that through before you get to that rounding mark so you can discuss with your crew how other boats might affect your plans.
Overall
Sailing against new people is a great way to raise your awareness of what's happening on the racecourse. But best of all, it's an opportunity to grow your sailing community. Some aspects of sailing against new-to-you people can be confusing and frustrating as you learn their habits. But approach those situations by communicating early and often in clear, calm tones—not by yelling after the fact—and you'll not only have more success on the racecourse, but you'll also set a positive foundation for the next time you sail (and socialize) with your new sailing friends.
by Kim Couranz
About the Author: SpinSheet Small Boat columnist for more than a dozen years, Kim Couranz has earned several national and world titles in Laser Radials (ILCA 6) and Snipes. She has also raced J/22s, J/24s, and Ynglings on an international level.