USNA Varsity Offshore Sailing Team Proves Successful in 2019
"I wish I could put a finger on it," says Navy Varsity Offshore Sailing Team (VOST) head coach Jahn Tihansky when asked why his team proved to be so successful in 2019. "The team has been getting deeper in terms of experience level. It's also very much a self-supporting team. The upper classmen really work hard to pass their technical skills down."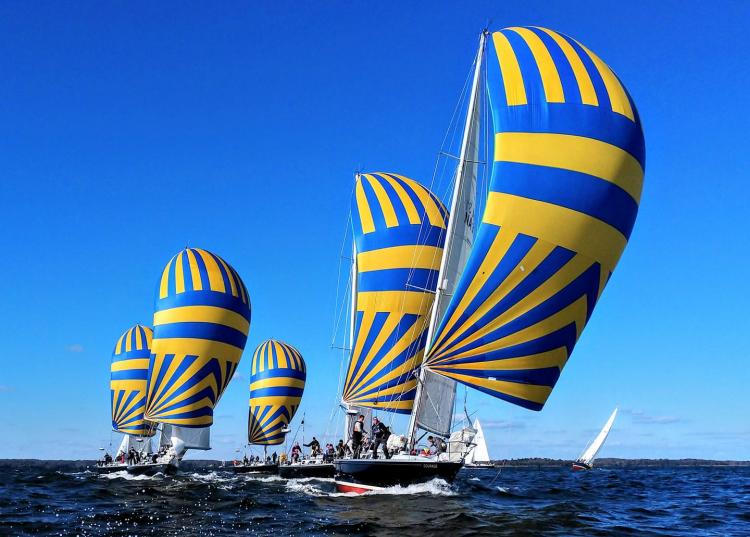 Coach T, as the Midshipmen call him, admits that they do have more team members who arrived at the U.S. Naval Academy with sailing experience than usual—as a rule, 85 percent of them show up with no sailing background and start from scratch.
Tihansky notes that unlike other college sailing programs where they recruit competitive sailors, the offshore sailing team at the Naval Academy works differently. "Realistically, I have no pull to get someone in," he says. Yet right now, he feels fortunate that the experience level among Mids is strong and trickling down successfully to the eager-to-learn teammates.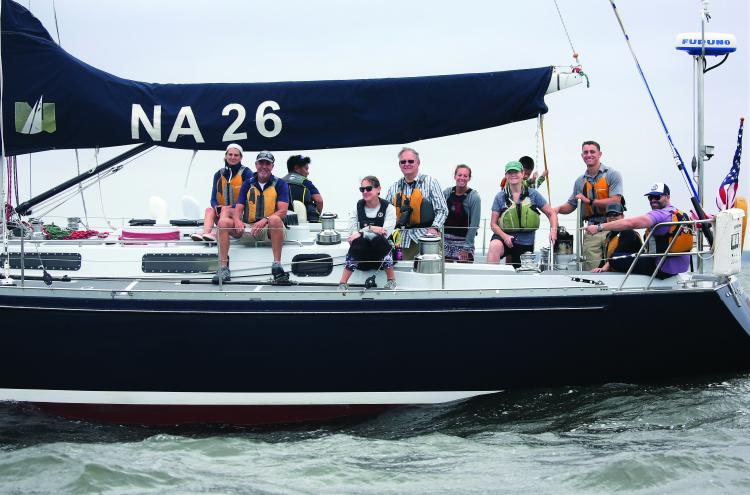 Among the racing victories of the 2019 season for VOST were: Annapolis to Newport Race (first and second), Marion to Bermuda Race (first and third), Block Island Race Week (first and second), McMillan Cup, Storm Trysail Intercollegiate Regatta, Great Lakes Intercollegiate Regatta, Shields Trophy, Marblehead to Halifax (overall win), Southern Collegiate Offshore Regatta, and the U.S. Sailing Offshore Championship aka Lloyd Phoenix Trophy.
When asked to name a few memorable moments from the season, Tihansky hesitates and says, "There are so many of them… I'd have to say the Annapolis to Newport Race (in June). We were sailing against so many people that we know. It's nice to be able to compete well against them. Next, I'd say the Marblehead to Halifax Race."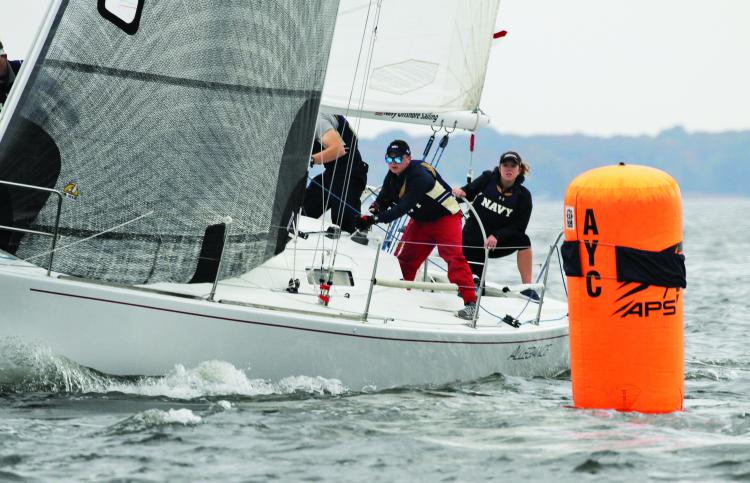 A race run (with a hiatus or two) for 114 years, this now biennial, 360-mile race from Marblehead, MA, to Halifax, Nova Scotia, predates the Newport to Bermuda and Transpacific Yacht Races. In July, Midshipman Sean Caraher skippered USNA's Reichel Pugh 66 Zaraffa to the Division ORR 1 and overall win. Mishipman Matt MacClellan led USNA's Ker 50 Wahoo to second place in ORR 2.
Tihansky also noted how proud he was of the team for capturing the Lloyd Phoenix Trophy, which is the U.S. Sailing National Offshore Championship (for 10 teams from each U.S. Sailing area). This was the first time VOST had tasted victory at this event since 2005.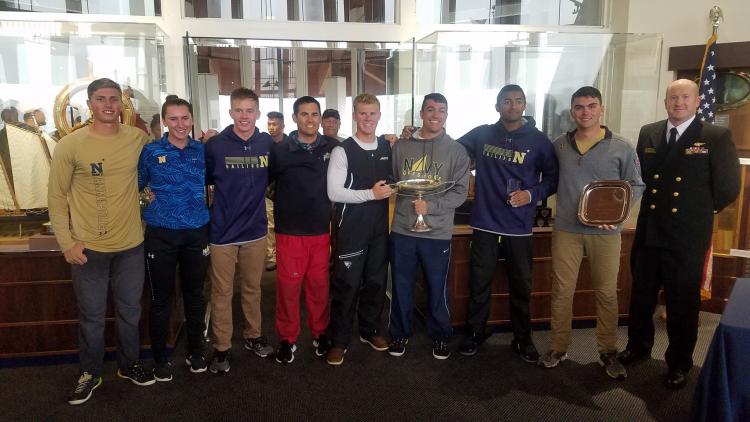 "We did have an advantage, sailing on our boats, the Navy 44s, in our backyard," says the head coach. "But the people we sailed against have sailed their whole life. Our team needed to put up points early on. They did well the whole regatta. They were a super team, very mature."
Following the distance race of about 20 miles, watching the VOST team cross the finish line right in front of the USNA's Robert Crown Sailing Center on the Severn stands out in memory.
Although he has the glowing air of a proud mentor, Tihansky, VOST head coach for nearly 15 years, isn't into "helicoptering" over his team. "The Midshipmen are in charge of the boat. They run it."
The only two other full-time coaches are Pete Carrico (who also has extensive maintenance duties) and Nancy Haberland (who also runs junior varsity sailing). Thirty active volunteer coaches help run the VOST program; they and the paid coaches are hands off. An onboard coach—one per team—may talk the Mids through organization of maneuvers or even run up to the bow to give tips on spinnaker set-up, but they are there to guide, not do.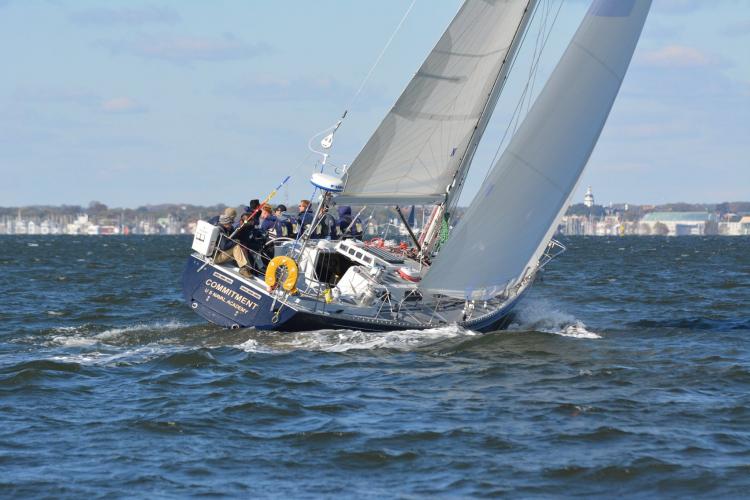 "Our mission is to develop leadership skills among Mids. They have to walk across the commissioning stage ready to lead. People tell me that this is one of the few opportunities where they are faced with genuine risk where their decisions matter… Offshore, the Midshipmen can't be completely in charge because of their inexperience, but they do make the decisions. It's a big responsibility."
Offshore sailing is a three-season sport at the Academy: spring, summer, and fall. Beginning in mid-January, team members start classroom training. By mid-March, they are out on the water practicing five afternoons per week through the end of April. The summer program counts as a month-long professional development course, one of two required summer cruises for leadership development. The fall season runs from late August through early November when USNA hosts the Kennedy Cup.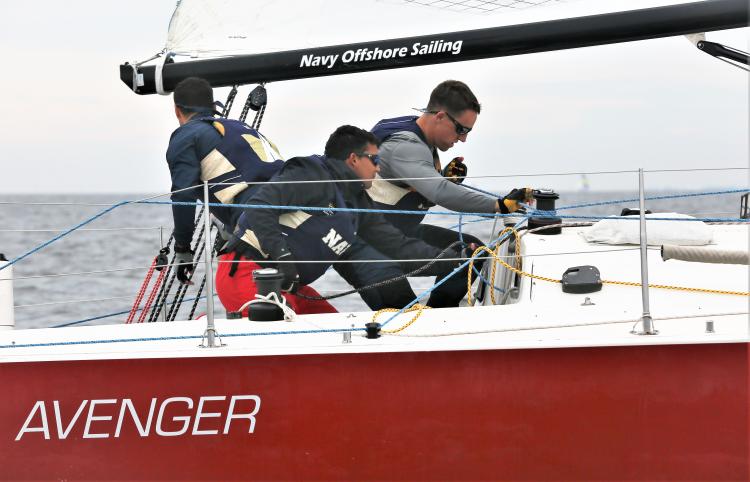 This past fall the team tried something different at the request of Midshipman Christian Hoffman, the winning skipper of the Marion to Bermuda Race. Rather than keep the same teams on each boat, they mixed up their crews more often.
"It had its pros and cons," says Tihansky. "I'm a big believer in a team and developing a team… I'm also a big believer in diversifications of skill sets."
Although the system was successful for many events, the VOST team was disappointed in their sixth-place finish at the Kennedy Cup. Tihansky blamed himself for perhaps not managing the crew selection well enough. He also gives Midshipman Hoffman credit for pushing hard to try something new.
In his one-on-one evaluations with team members following the fall season, Coach Tihansky says, "The feedback I am getting is that the changes did force people out of their comfort zones, but they learned a lot."
Learning and leadership are what it's all about at VOST. And although they've won impressive numbers of regattas this year, they aim to win more in 2020. Go Navy!
~by Molly Winans