Ken Read Will Speak at the Original Safety at Sea
Celebrating 40 years in 2019, the Annapolis Safety at Sea Seminar was the original event. The 1979 Fastnet Race disaster caused sailors around the world to rethink their approach to safety. Officers, coaches, and sailors at the U.S. Naval Academy (USNA) responded with the very first Safety at Sea Seminar. This year's edition will feature Ken Read as the keynote.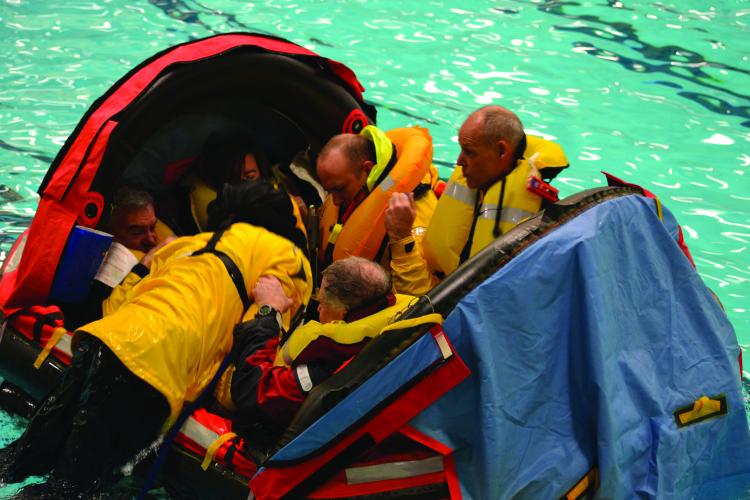 Annually over the last 40 years, mariners from across the country have participated in the continuously evolving event set to unfold March 30-31 at Alumni Hall, USNA. Each year, technical experts, premier ocean racers, adventure sailors, and sail training professionals blend their expertise into what has become the most complete and comprehensive U.S. Sailing-endorsed safety training seminar.
Two-time Volvo Ocean Race Skipper and president of North Sails Ken Read will present the keynote address on Saturday morning. Ken is a three-time College All American, College Sailor of the Year in 1999, and nine-time World Champion. He sailed aboard Ericson in the 2005-2006 Volvo Ocean Race and was skipper of the Puma Ocean Racing Team in 2011-2012. Puma was dismasted 2150 miles from Cape Town South Africa. Under jury rig they proceeded to safety and reentered the race with a new mast.
He skippered Comanche to victory in the 2015 Sydney to Hobart Race. "I'm not the first to cross the vast and isolated runway known as the Southern Ocean, and there are many tales far more harrowing than mine. Racer, voyager, explorer—each before me has his or her own Southern Ocean tale, but all accounts bear the same truth: the place is cold, wet, gray, nasty, and unforgiving. And let me add, relentless." (Read Sailing World June 2012)
Other speakers include Steve D'Antonio on damage prevention and control. Capt. J. K. "Kip" Louttit ( USCG (Ret) will discuss and demonstrate care and maintenance of safety equipment. Navy Sailing Varsity Coach Jahn Tihansky will discuss the details of crew overboard rescues. Back by popular demand, the seminar will again offer an afternoon weather seminar featuring Joe Sienkiewicz from NOAA and Dr. Gina Henderson from the Naval Academy.
Dr. Michael Jacobs will present emergency medical care and hypothermia on Saturday. He will discuss questions ranging from how to treat contusions to why it's important to understand the dire implications of hypothermia. Sunday will feature offshore cruiser and instructor John Kretschmer who will present the cruise preparation segment of the program. This year's seminar will address the needs of offshore racers and cruisers as well as provide important safety tips for those whose boating interests remain much closer to home.
On Saturday all training includes: damage control, care and maintenance of equipment, weather forecasting, handling heavy weather, emergency medical, man-overboard prevention and recovery, USCG communications, and search and rescue. Saturday-only participants receive a U.S. Sailing Certificate, valid for five years. The course lasts a full day and costs $175. This course certificate is an excellent credential for all sailors or powerboaters.
Sunday training continues with two options: A cruising track includes an in-depth look at cruising with the option of "tnteractive," small group discussion sessions, or "practical," in-pool liferaft and safety training. The two-day option costs $225 and includes the U.S. Sailing Certificate. The other Sunday option, a World Sailing Offshore Personal Safety Course valid for five years, is available to a limited number of attendees (the first 90 to enroll). This two-day seminar costs $325. This course is tailored to requirements for offshore racing sailors.
The event is locally hosted by the USNA Sailing program and the Marine Trades Association of Maryland. Register at mtam.org.