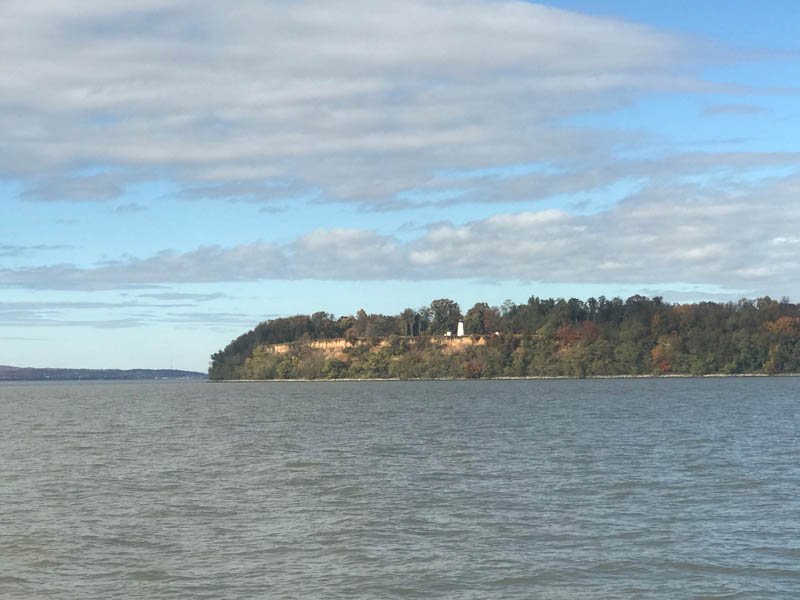 No kidding; the Bay actually does start here.
Havre de Grace: No kidding, the Bay actually does start here: Concord Point Lighthouse, to be specific. As a kid I spent most of my summer weekends traveling to Tidewater Marina where my parents kept their boat for almost 30 years starting in 1974. A lot has changed over the years: ebbs and flows of people and businesses. Islands popping up and growing ever bigger. Condos on the waterfront, top notch golf, and a casino nearby within Uber range. A lot has stayed the same. The flats are shallow, and the Amtrak train rolls across the bridge on time. Incorporated in 1785, there's a lot of history here to explore: restaurants, antique dealers, numerous town events, and a museum. It is definitely worth a trek up the Bay, especially late summer; no nettles here.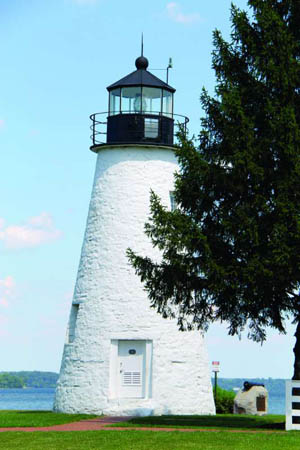 There are several marinas to choose from: Tidewater, Log Pond, Penns Beach, and Havre de Grace City Yacht Basin (which I'm told has a fantastic youth sailing program), all before the bridges; Havre de Grace Marine Center is north of the railroad bridge. You will find numerous restaurants in town. Tidewater Grill does have a small dock to land on. Walk it off on the promenade at Tydings Park with an ice cream from Bomboy's. As far as anchorages go it's wide open, just big enough to make you feel unprotected (from weather).
The racing scene takes place on Tuesdays (Lightnings) and Thursdays; I think Thursday night beer can races go back to the 70s. The town also hosts the Havre de Grace Yacht Club Invitational in October.
Let's face it, if this is your home port, there is only one direction to go from here: south. Okay, that's not really true. Port Deposit and Perryville are north unless you are vertically challenged; the Amtrak Bridge (52 feet) is a swing bridge, but I have never seen it open. There are about four nautical miles of navigable river. If you ever wondered where those barges of stone come from, it's here; the Vulcan Materials Company is on the west bank just north of Garrett Island. As kids we would beach a boat and do a little hiking.
Three islands
Let's get back to heading south. Just down the channel, and it's a well-marked channel, you will find three islands. Fishing Battery Island was the original, and Sand Island and Treasure Island were the result of dredge spoils. Fishing Battery has swelled to almost four acres and is now the Susquehanna National Wildlife Refuge (NWF). Sand and Fishing Battery are both local favorites, even though the NWR is restricted above the high tide line. Great place to take a dip, nice sandy bottom. Did I mention the flats are still shallow? Don't take your eyes off the depth sounder when leaving the channel.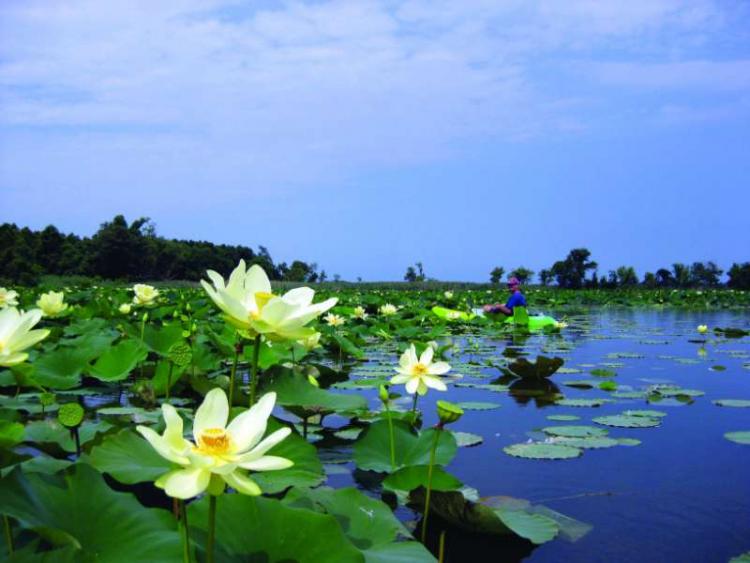 Four rivers
After passing the islands, the Bay opens up. The Northeast, Elk, Bohemia, and Sassafras Rivers lie out in a clockwise rotation. Check Turkey Point Lighthouse off the list, as you just went by it. All are well marked and boast numerous anchorages and marinas. The channel gets skinny heading up the Northeast, but I know a racer who makes it with a seven-foot draft. The Northeast River Yacht Club (NERYC) has a nice spread with a great youth sailing program in the summer. Past NERYC you will find more marinas and the town.
Follow the Elk north to the Chesapeake and Delaware Canal to Chesapeake City and beyond. Schaefer's Canal House on the north side was here before the canal was even built (I just made that up); across the way in the Anchorage Basin there is room to drop the hook and a free dock if you are lucky. The Chesapeake Inn has docks as well. Numerous restaurants and shops are all within a short walk. Ice cream, too.
The Bohemia River is home to Chateau Bu-De Winery and Vineyard, one of several on the Eastern Shore. The Sassafras is a beautiful river, and a cruise to Georgetown usually finds its way into our plans once a year. There is about a mile of no-wake zone before you approach the marinas. Anchoring is not a problem. Six marinas, several restaurant options, and ice cream, of course!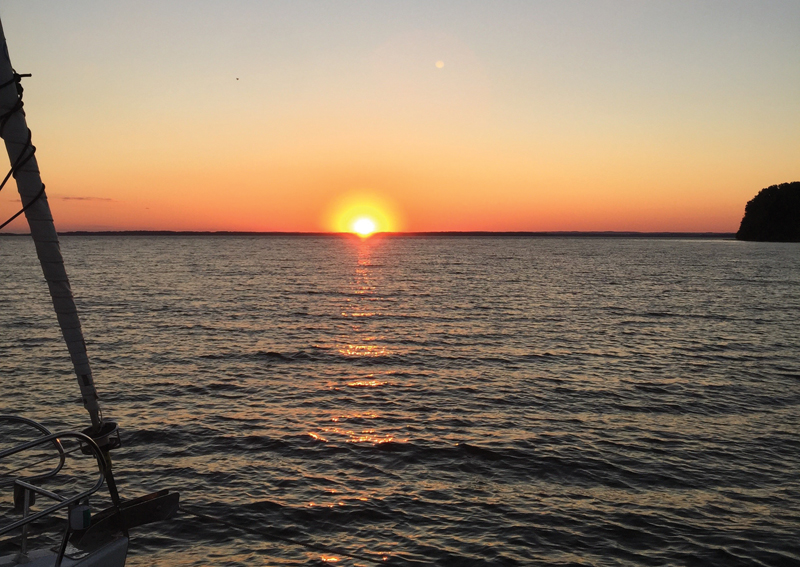 Down the Eastern Shore
Next down the Eastern Shore is Still Pond, wide open to the north and northwest; this is a terrible place. Crab traps so thick it is impassible. The two creeks that feed it, Still Pond and Churn may look like paddleboarding heaven, but they are both so polluted that nothing lives in them. The Coast Guard had a small base here at one time, but even they left. Do not come here; tell all your friends to avoid it at all costs if you really love them. Sea nettles everywhere, all 12 months. (Note: your friendly editor has anchored, paddled, and swum here, enjoyed it, and lived to tell the tale; check the wind direction and overnight forecast as it is a rather exposed anchorage.)
Worton and Fairlee Creeks are a different story. One is peaceful bliss with unobstructed sunsets; the other is action and 30-boat raftups. One is an easy anchorage; the other a white-knuckle ride along the beach and sharp right turn. In between are miles of beach, too! On a settled night you can pretty much drop the hook anywhere and kick back. No, I'm not going tell you which is which. Trust the marks and do both. You may find a couple of nettles late in the season.
And back to the Western Shore
On the western shore is Pooles Island and Aberdeen Proving Ground (APG). The restricted area is marked on the charts: usually Monday through Friday, normal business hours. Range boats will let you know if you wandered too close; we're talking about live fire exercises, baby. If you hear a big boom, look for some smoke. APG is an entire town itself. Look it up.
The Bush, Gunpowder, and Middle Rivers with their many tributaries provide many marinas and gunkholing possibilities. Go explore. The Blue Angels use Martin State Airport on Frog Mortar Creek when they are in town.
Hawk Cove might be the single biggest pleasure boat anchorage on the Bay. This is on the west side of Hart-Miller Island, now a Maryland State Park. The two islands had been eroding away, but now are combined, joined with a dike and filled with dredge spoils. Only accessible by private boat, the park spans 1100 acres. They claim 3000 feet of sandy beach and some trails; primitive camps sites are available in season. Carry in, carry out. Drop out of the Cut by Pleasure Island, and you are back on the Bay.
About the author: Captain Joe Musike runs Experience Sail out of Rock Hall, MD.