St. Michaels, Maryland holds a treasure trove of activities
The historic Maryland harbor town of St. Michaels gives sailors on the Chesapeake Bay plenty of well-known reasons to visit. From the picturesque Chesapeake Bay Maritime Museum, Talbot Street's unique and interesting shops and restaurants, or picking crabs at The Crab Claw, to the renowned Inn at Perry Cabin where the movie "Wedding Crashers" was partly filmed. Been there, done that. Peeling back the onion a layer or two reveals a treasure trove of events, activities, and attractions to give sailors numerous new ways to visit and enjoy the beauty, arts, culture, and history of St. Michaels. Here are some of my personal favorites: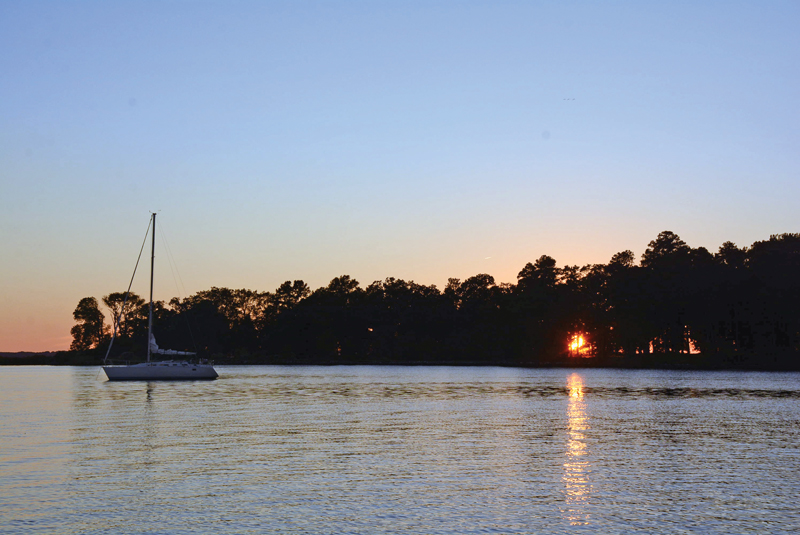 Taste of St. Michaels
There's no shortage of great restaurants in St. Michaels, so what better way to sample them all than a "tasting crawl" all in one day? Scheduled for Saturday April 15 from 11 a.m. to 4 p.m. this year's event gives visitors a chance to sample food and drink selections from the town's award-winning restaurants and other participating businesses, with tastings ranging from $1-$5 (stmichaelsmd.org).
If you miss this event, have no fear! Simpatico provides free tastings hand-picked Italian wines every weekend and all week long, in its courtyard or shop located at 104-106 Railroad Avenue, just off Talbot Street.
Morning Brew in the Barn
For early risers and car enthusiasts alike, why not stroll over to the Classic Motor Museum St. Michaels for their one of its weekly Saturday Morning Brew in the Barn gatherings for coffee and camaraderie amidst their impressive collection of antique and classic cars. Located at 102 E. Marengo Street, it's free for members, $5 for guests, and runs from 9-11 a.m. The collection includes a rotating array of pre- and post-World War II classic automobiles, mid-century muscle cars, vintage trucks, motorcycles, and other era-inspired collectibles.
Bottomless Mimosas
If the ideal start to your day involves sipping mimosas on the wrap-around porch of an historic home built in 1806, then The Galley Restaurant has just what you need. Operated as a hotel for a decade until 1901, the building was later converted into a bank until 2013, where it now runs as a restaurant, complete with the bank vault still in place. Ghost hunters have spent nights in the home to witness paranormal activity spanning from more than two centuries of former residents and guests who visited there.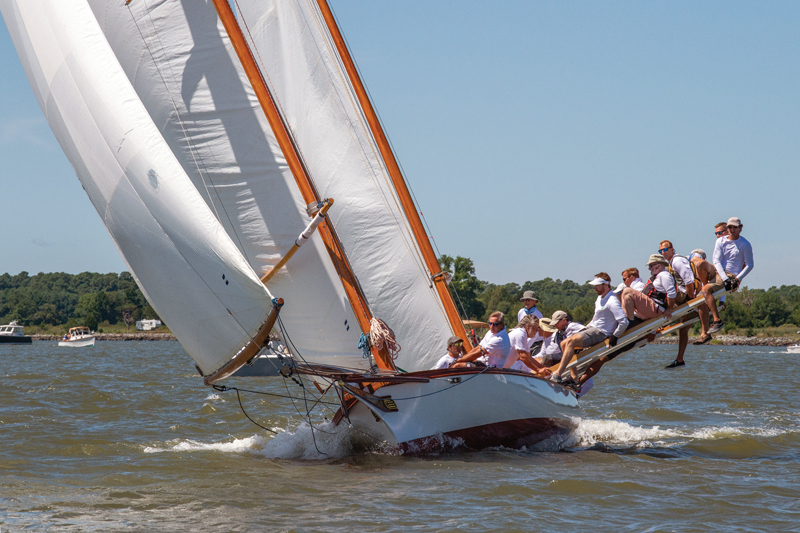 Log Canoe Races
It's nearly impossible to be out on the Bay any given weekend in-season without seeing some sort of sailboat regatta taking place. But seeing the log canoe races of the Miles River Yacht Club (MRYC) is something truly special. According to the MRYC website, these gorgeous boats started racing on the Miles River in 1840. Today, a fleet of about a dozen log canoes dating back to the 1800s or early 1900s still race near St. Michaels from June through August. Starting this year, the Chesapeake Bay Maritime Museum will provide log canoe race charters, giving visitors front row seats to watch a log canoe race from a CBMM charter vessel. For this year's racing schedule, visit milesriveryc.org, cbmm.org, or spinsheet.com.
Parks, Water, and Bike Trails
St. Michaels and the area west of town across Tilghman Island is known as District 5, The Bay Hundred of Talbot County, and boasts more than 600 miles of shoreline, providing a variety of parks, trails, and streams for outdoor venturers of all types. Right in town, Shore Pedal and Paddle provides bikes, kayaks, and standup paddleboards to rent or purchase. Several bike trail routes are clearly mapped out, including the 38.2-mile Chesapeake Views trek down Tilghman Island, the 29.6-mile Oxford/St. Michaels trek via Easton, and others throughout the region. Find free trek maps at tourtalbot.org.
For the kayakers, several tours are also mapped out and range in distance from two to eight miles in length. Chesapeake Bay Maritime Museum also offers a four-hour, guided "Paddle & Tasting" tour on Saturday, June 3, which concludes with a wine tasting at Triple Creek Winery.
St. Michaels Nature Trail
Visitors who prefer to explore on foot can enjoy this short 1.3-mile paved hiking trail where the Baltimore, Chesapeake, and Atlantic Railway once carried passengers to the beach resort town of Ocean City, MD. Nearby Easton has converted another section of the former railroad tracks to a 2.5-mile hiking path running right through the center of town.
Saturday Farmer's Market
If you're looking to support area farmers and access fresh, locally grown produce, be sure to visit the St. Michaels Farmers Market, held every Saturday from April through November at Muskrat Park.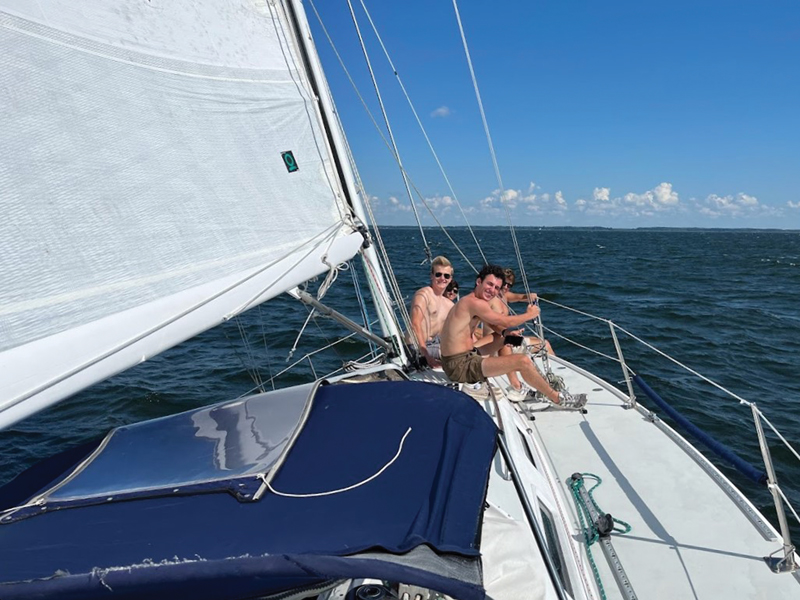 Wye River Anchorage
If you are traveling to St. Michaels by boat, there's a wonderful anchorage called Shaw Bay located just up the Wye River near the north end of the Miles River. A narrow peninsula provides protection from the western winds and a breathtaking sunset vista. The cove is quiet and feeds into the Wye Island River Sanctuary, where Wye Island Natural Resources provides a labyrinth of hiking trails throughout this protected wildlife area where bald eagles nest.
Whether you're seeking adventure on the water, on foot, or on a bike; or in taking in its history or culinary delights, St. Michaels offers so much more than the typical "haunts." Be sure to plan on adding some of these lesser-known activities to the agenda for your next visit there.
by Capt. Steven Toole
About the Author: Captain Steven Toole covers cruising, destinations, and other Bay-related topics for SpinSheet. An active racer and cruiser of his J/120 Hot Pepper, he holds a USCG Master Captain's License and serves as vice president of the Chesapeake Racer Cruiser Association.