Waiting on Ice--SpinSheet February 2009 Throwback Thursday: Here's one from the SpinSheet archives...
With a frigid presidential inauguration on the horizon, planners in Washington, DC, weren't too happy about the plummeting temperatures on January 15. Five men in St. Michaels were thrilled.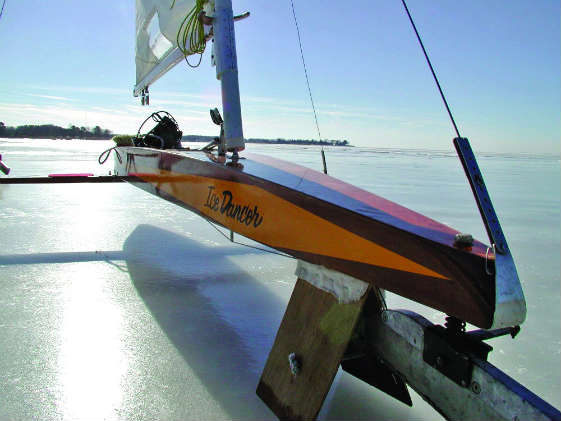 The "Turkey Gang," as labeled on a handwritten sign on their reserved table at the Carpenter Street Saloon, meets for lunch every Thursday, turkey special day. In this season, they pray for a deep freeze.
"It's such a sickness," says Mike Keene, who lives just down the road in Claiborne, MD on the Eastern Bay. "When the ice comes in, no work gets done around here. Five years ago, we were out on the ice everyday for about three weeks."
The iceboats that link these enthusiasts arrived in St. Michaels in the great freeze of 1977, when the DN World Championships took place on the Miles River.
The 12-foot DN, the largest iceboat class in the world, has a typical performance of two to four times wind speed. That means you can travel at 20 knots in a five-knot breeze. The C-Street gang quotes their iceboating buddy, January Winter—yes, it is his real name—who says, "Sailing the DN is like being strapped on your back on the hood of a Corvette, while going 60 miles per hour on the freeway."
Diana Mautz came into the saloon carrying a plaque she'd retrieved from the bottom of a trash box at the Miles River YC from the 1977 DN Championships. "It was so festive, it was like the Fourth of July at the club," she remembers. "Everyone in the whole community put a sail on whatever they could find, even inner tubes, and people were ice skating. We used Christmas trees as race marks. I'm not sure if I've ever seen it so festive around here."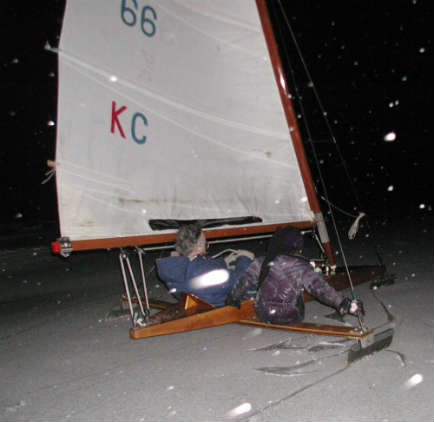 She tells the story of a bunch of German iceboaters, who stayed at her house for the event. She let them carry on and behave badly in German for a few days before busting their chops and admitting that she spoke their language. She remembers them wearing lines with grips and ice picks on the ends (ice or bear claws, they're called) for climbing out of holes.Mautz is one of the 10 or so who still have iceboats in their garages.
Although she doesn't sail the boat, the fond memories of the DN regatta 32 years ago stick with her. "I just can't part with the boat," she says. "She lets us crash it, repair it, and return it," says Keene, as the gang downed Cheetos, bar popcorn, and no-frills turkey sandwiches.
They estimate eight to 10 iceboats still stored in garages around St. Michaels. Their friend Winter had the legendary worst crash. Afterwards, the boat no longer resembled a boat of any kind. Winter emerged from the wreckage in the ice hole wet and bloody with a big grin on his face.
Jim Richardson says, "It's hard to see a hole in the ice when you're down that low. I tried to warn him, but you can't hear anything when you're going that fast."
Richardson had his own wicked crash a few years back when taking what they claim is irresistible, that one last lap. "I was cold, and I think my brain got frozen. Ithought I was turning, but I went straight, ran up on shore, and broke my tooth."
Does he wear a mouthguard now? "A football helmet," he says. His iceboating and summer weeknight racing crewmate, Kirke Harper adds, "Iceboating is a contact sport."
What's it like to sail on an iceboat? They all agree that your eyes water. "Ice spray comes up in your face," says Harper.
"Your feet get cold, and it works its way up your legs and whole body to your neck," says Renny Johnson.
"Then adrenaline kicks in, and counters it," says Keene.
These guys are sailors. A couple sail Stars, Keene sails log canoes, and a few crew on a 30-foot Pearson for weeknights and Saturday regattas.
"You don't have to know how to sail to iceboat," one of them says. "Is that why you do it?" Keene asks. They laugh.
When the ice comes—which did not happen at all in 2008—they hold an ice festival in Claiborne. They build a fire in one of those portable pits on the ice, and Keene rolls out an Oriental carpet runner for the kids to strap on their skates.
If someone fears walking on the ice, they can be pushed out on lawn chairs. Then of course, they sail on it.
The C-Street gang has been meeting for turkey Thursdays for five years. They wait for ice. When it comes, they sail like madmen, crash, patch the holes late night, and sail again the next day, if the ice holds strong.
As for the festive nature of this rugged pastime, Keene says, "Ice does that. It brings out communities."
You can only iceboat on ice, so they wait. Being closest to the water from his house, Richardson makes the call. When it comes to ice (and he really was just referring to iceboating), he says, "Every day is a gift. You never know when you're going to get another day."
~by Molly Winans
This article first appeared in the February 2009 SpinSheet. FUN CRASH FOOTAGE HERE.