Sailing changed his life for the better
Sailing for almost everyone is either a recreational or competitive pursuit. For Matt Rutherford, sailing is a calling. It has challenged him to compete against himself. Pursuing a calling helps define your life and its mission. Sailing pulled Matt away from a world of a religious cult, rehab, juvenile detention, and eventually prison. Finding his calling has given him a new life, while inspiring sailors and others around the globe.
Matt has always followed his calling with his own skills and a shoestring budget. He has settled in the Chesapeake Bay region for his base in advancing the science of ongoing changes in our oceans, particularly in the northern latitudes around the Greenland ice sheet.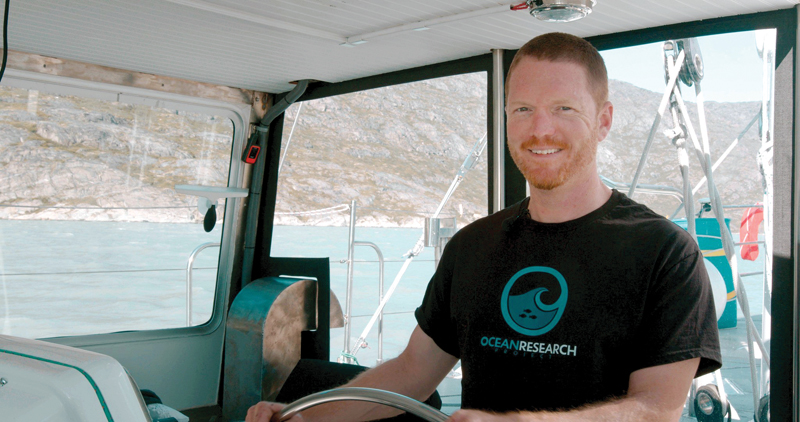 The epic sailing voyage
Most know of Matt because of his solo, non-stop sail over 309 days in 2011 and 2012 to circumnavigate the Americas. His effort broke two Guinness World Records: as the first person to accomplish this and as the smallest vessel ever to cross the Northwest Passage. Sailors around the globe followed his effort on his website.
He sailed this epic voyage aboard a donated 40-year-old, 27-foot Albin Vega which he repaired and fitted for the effort. This audacious feat was memorialized in the inspirational and beautiful documentary "Red Dot on The Ocean" (which is available on PBS and various streaming services). Watch it with friends and family if you have not seen it. Consistent with his efforts to always do good, this sail raised money for Chesapeake Region Accessible Boating to help others also find fulfillment on the water. The international Ocean Cruising Club awarded Matt the 2012 Jester Medal for an outstanding contribution to the art of singlehanded sailing.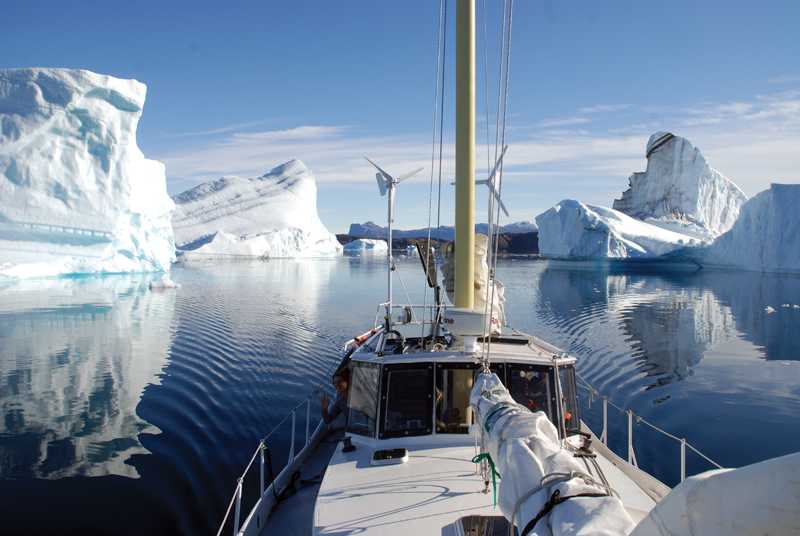 Always on a fixer-upper sailing vessel
Matt's calling has always been fulfilled on donated or well-worn vessels that require his self-taught sailing and mechanical skills. Matt did not learn to sail until he saved enough to buy a 24-foot Coronado in 2004 and cruised it from the Chesapeake to Florida. Three hurricanes crossed his path that year. His next vessel was a Pearson 323 sailed singlehanded twice across the Atlantic to Gambia, the North Sea, and the Bay of Biscay among other places. He sailed a borrowed 29-foot boat across the Pacific to study plastics in the ocean. In between these adventures Matt saved just enough from odd jobs and boat deliveries to plan for his next adventure.
Matt scraped up enough to buy Ault, a rusted and decrepit 42-foot steel cat-ketch that needed 12 steel plates, among a lot of repairs, before it could reliably float. He sailed her across the Atlantic and studied a garbage gyre along the way. He sailed her to Greenland to conduct research.
In between these adventures he founded his next audacious adventure: the non-profit Ocean Research Project (ORP), a donor-funded, grass-roots effort to match governments, sailors, scientists, and educators to study and preserve the oceans we all love. All the research is conducted on sailing vessels with a small fraction of the daily operating costs and carbon footprint of other research vessels. The focus is on the northern climates where ocean changes are occurring rapidly. Work in the Chesapeake is also taking place.
Sailing to Greenland and beyond
Matt's reputation as a doer resulted in the donation to him of a steel-hulled, 72- foot Bruce Roberts Voyager design. The vessel was a shell and required donations and two years of work by Matt and other volunteers to build her out. Christened the research vessel Marie Tharp, she had her maiden successful voyage to Greenland for research in summer 2022. Her steel hull permits work in ice-filled waters more safely. She is named after Marie Tharp (1920-2006), an underrecognized cartographer and oceanographer who published the first maps of the ocean sea floors which helped establish the science of seabed formation and continental drift.
These many achievements led the Cruising Club of America to select Matt as the 2021 Young Voyager of The Year Award. The Covid lockdowns prevented Matt from receiving the local recognition that such an award deserves. Even so, the local and global sailing community can help Matt pursue his calling. ORP accepts tax deductible donations of cash, services, supplies and boats. Sailors may purchase berths to travel and learn with Matt and his crew on different legs of the voyage from Annapolis to Greenland and back between May and October. As an energetic, knowledgeable, and entertaining speaker, Matt only asks for donations to ORP. Contact him at [email protected].
About the author: Annapolis sailor Greg Walker has written various articles for SpinSheet over the years. He serves on the board of the Ocean Research Project.