Sitting Down With Senator Sarah Elfreth To Talk About a Better Environment for the Chesapeake Bay
Maryland State Senator Sarah Elfreth represents District 30, which includes Annapolis City and parts of Anne Arundel County. She was first elected to the Senate in 2018 and was reelected in 2022. Her campaign garnered endorsements from the Maryland League of Conservation Voters, Sierra Club, and the Maryland Farm Bureau. Elfreth chairs the subcommittee that manages the budgets for the Departments of Natural Resources, Environment, and Agriculture. She serves on the Chesapeake Bay Commission and was chair in 2022.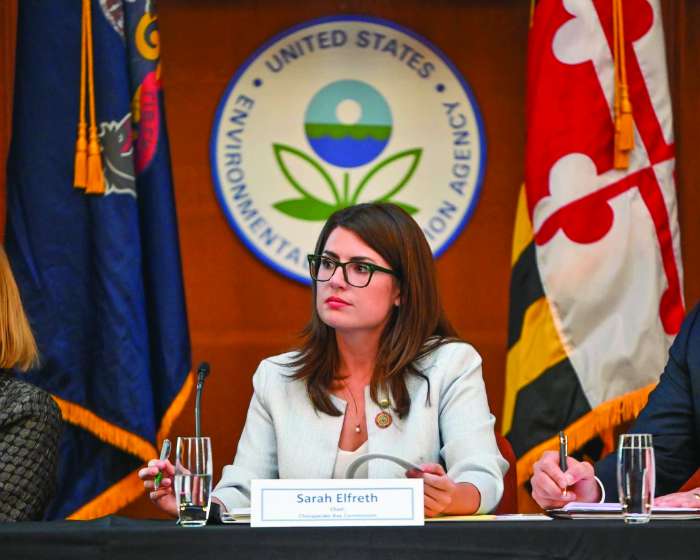 I sat down with Senator Elfreth to discuss three environmental bills she sponsored during Maryland's 2023 legislative session that became law.
"We're just stewards (of the environment) for a period of time, and it's our obligation and my responsibility as a senator to make sure that we're leaving it better than we found it. So, that's why easily 30 percent of my legislative agenda is environmental," said Elfreth.
Natural Resources - Forest Preservation and Retention is the bill the senator worked the hardest on during her five-year tenure in the senate.
The bill updates the Forest Conservation Act (1991), to ensure there will be no net loss of forests while also providing flexibility to local communities and prioritizing forests based on their ecological importance. Forests located along rivers are a high priority for conservation because of their natural ability to filter water.
"We wanted to raise the bar in terms of forest protection, but at the same time, create more tools for our local partners to actually meet that higher bar, because right now they only have so many tools to meet it. It's clearly not enough," said Elfreth.
Passing the bill was a "long, long journey." She is proud that advocacy groups, legislators, and community members were willing to sit at the table and negotiate an outcome that was best for the state.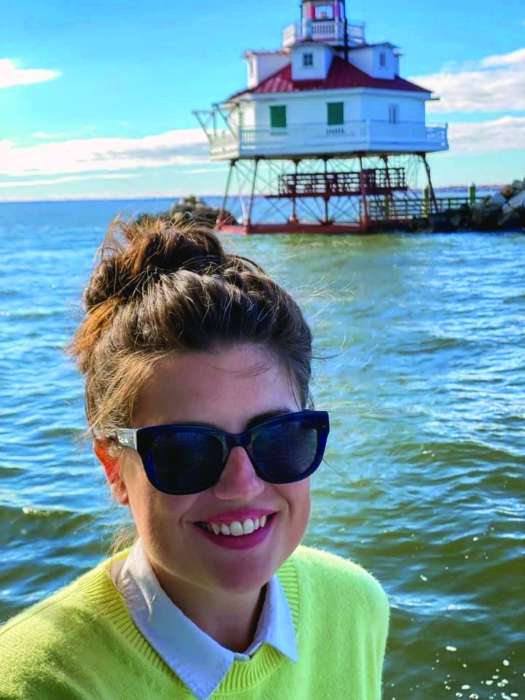 Maryland the Beautiful Act makes the goal of preserving 30 percent of lands by 2030 and 40 percent by 2040 the law.
Senator Elfreth said, "It's really important to establish ambitious policy goals, because that's going to help us have an aim and focus. At the same time, we need to make sure that we're providing tools within the law and the budget that are going to help us achieve it."
A $10 million rapid preservation fund that land trusts can tap into through a revolving loan fund is one of the tools included in the bill to make the goals achievable.
"It's really hard for a nonprofit to cobble together millions of dollars rapidly to preserve and purchase land compared to the private market," said Elfreth.
This legislation promotes rapid land acquisition by providing nonprofits access to capital so tthat they can bypass the slow fundraising process that currently impedes land preservation efforts. When the money is paid back, it will be used to finance more projects.
The bill also includes technical assistance and training to improve the management of preserved lands. The Maryland state senator gave the example of using drones to improve management and monitoring for large properties with small staffs.
Buy Clean Maryland Act "is really about meeting our ambitious goals to reduce greenhouse gas emissions," she said. "People who spend time on the water, understand better than anybody that we're seeing rapid shifts in weather, the climate, and water temperature."
Cement production is a major source of greenhouse gas emissions. This bill aims to reduce those emissions by incentivizing the state procurement system to choose construction materials that emit the least amount of planet-warming gasses.
"This is a bill that really is going to help Maryland be a leader in connecting our behavior and our manufacturing back to the idea that we can make a difference and we can actively reduce our carbon footprint," she said.
Going forward, Elfreth hopes to address invasive species in the Bay, create a strategic plan for using the Waterway Improvement Fund, better preserve maritime history, and increase public water access. "We have to do a better job ensuring people have access to their Chesapeake Bay," she said.
"It's hard when we constantly get C's and D's on the [Bay's] report card. I wouldn't be happy with that if it were my report card, but at the same time, this is a marathon. It's not a sprint. We've got to keep going."
Learn more and find contact information at sarahelfreth.com
~ By Thomas Crabtree
SpinSheet's Where We Sail column is presented by Herrington Harbour.