U.S. Sailboat Show 2017: Here are 10 reasons to return to the U.S. Sailboat Show in Annapolis, October 5-9, and a sneak peek at the show.

1. To buy boats. Anyone who's done his or her homework knows that there are deals to be had at the show on sailboats (monohulls and multihulls), dinghies, and inflatables. If it floats, there's a boat show special, so make sure to do some preliminary research to get the deal done.
2. To buy gear. Show goers tote around bags of new foul weather gear, sailing shoes or gloves, lines, shackles, boat hooks, fenders—if it belongs on a boat and is portable, someone will buy it at the Sailboat Show and carry it up and down the docks, especially in the late afternoon before the show ends.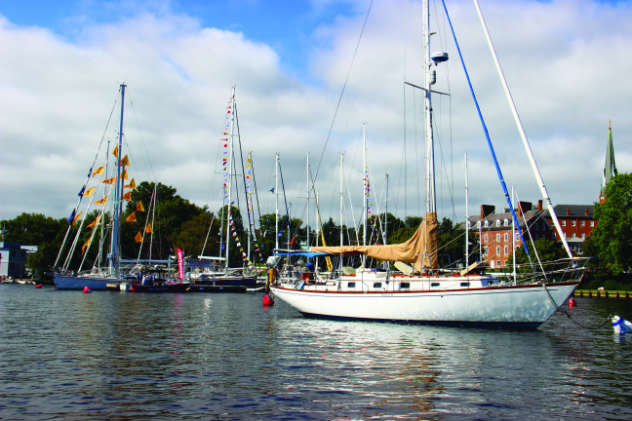 3. To rubberneck around. Make sure your neck is limber for show time, as there's always a lot to turn your head quickly. We sailors are attracted to shiny new things that look great and make our sailing lives easier. So, start your exercises now by sitting up straight; look left and then right; nod yes slowly. Beware, once your neck feels limber and you find yourself walking the docks or the tents, rubbernecking happens. It inevitably leads to #1 and #2.
4. To try stuff on. Have you always liked a certain style of sailing shoe or offshore boot? Do you prefer long-fingered gloves? What do you look like in those sporty sunglasses? Can you pull off one of those floating Tilley hats? This is why you come to shows. You can touch and feel everything and try it on for size.
5. To forget the non-sailing world for a while. Painkillers: the signature cocktail made with Pusser's Rum originated at the Soggy Dollar Bar in the British Virgin Islands. Pusser's of Annapolis sells gallons and gallons of that stuff at the show—and if you test one, you will understand the name. Caution: this may lead to #1 and #2 plus buyer's remorse, so drink responsibly.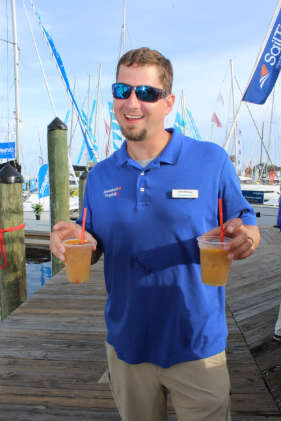 6. To remember sailing friends. Want to see your sailing friends from California, France, or Australia? At the SpinSheet booth (F5) we post a whiteboard for show goers to write their home ports on, and we are always amazed by how far they travel for Columbus Day weekend. The Sailboat Show is a rendezvous, a reunion, and a place to encounter great future sailing friends.
7. To see what's new. Some sailors don't intend to buy boats or gear; they just want the scoop. They want to know about the hottest electronics trends, even if they aren't ready to upgrade. They want to board the hottest multihulls, even if they're monohull sailors. Even those who aren't trend-setters want to know the trends. See #3 about things shiny and new.
8. To learn new tricks. We know you got into sailing because you love the outdoors, but at this show, it may pay to step inside from time to time and attend one of dozens of free and paid seminars on anything from diesel engine troubleshooting to provisioning your cruising boat. See the October issue and spinsheet.com for more.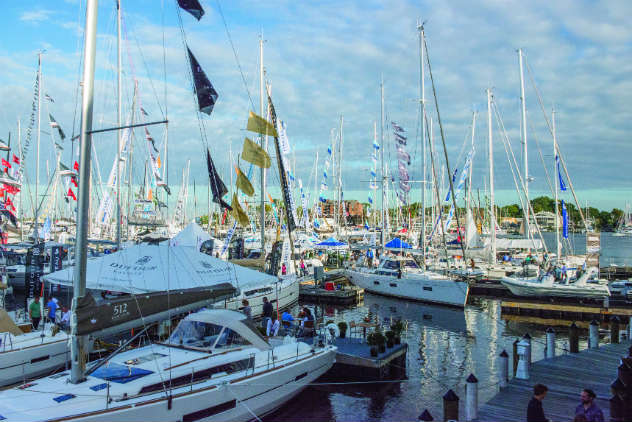 9. To visit America's Sailing Capital. Even if you learn nothing about George Washington's time in what was briefly the capital of the United States, you have to admit that Annapolis, with its pretty white State House dome, colonial feel, and sailor-friendly watering holes is a warm, welcoming destination by land and by boat. See the October SpinSheet for our "Visit Annapolis" section and click to spinsheet.com/annapolis-like-a-local.
10. Why wouldn't you? You're a sailor who's read this far… why would you miss the greatest show on earth? See you there.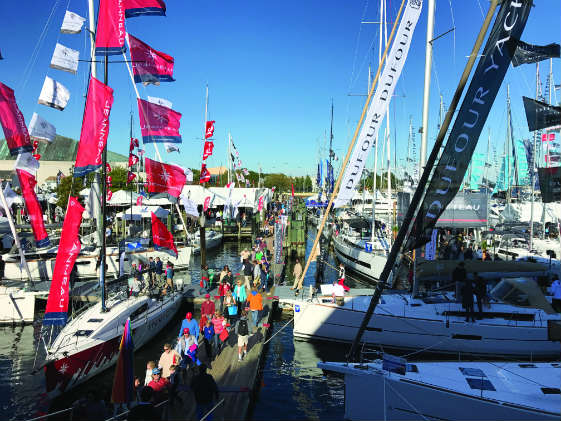 Need to Know At the Show
Dates: October 5-9
Location: City Dock, Annapolis
Times: Thursday, October 5 (VIP Day): 10 a.m. to 6 p.m.
Friday, October 6: 10 a.m. to 6:30 p.m.
Saturday, October 7: 10 a.m. to 6:30 p.m.
Sunday, October 8: 10 a.m. to 6:30 p.m.
Monday, October 9: 10 a.m. to 5 p.m.
Ticket Prices:
VIP Preview Day: $35
VIP Preview Day + Additional Day: $48
Adult One Day: $18 in advance, $20 at gate
Adult Two Day Combo: $31
Children: $5 (6 and under free)
Purchase tickets online to save $2 off the gate price.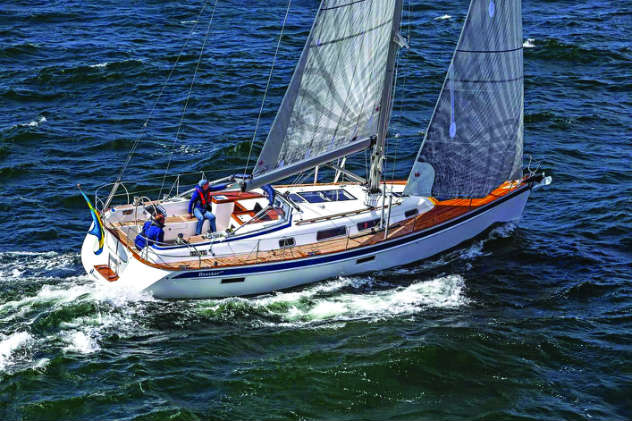 Premiering Boats
Beneteau Oceanis 51.1: One third of the hull is now stepped, creating additional interior space. More than 700 customizations available. Overall length 52 feet.
Dock F2.
Hallberg-Rassy 412: The largest aft cockpit by Hallberg Rassey, with offerings for twin or single aft cabins, one or two heads, arm chairs or settee in the salon, and a large cockpit. Overall length 41.5 feet. Dock E2.
Jeanneau Sun Odyssey 440: An entirely new, innovative layout that allows for greater ease of movement around the boat. Overall length 41. 5 feet.
Dock F1.
Reverso Air by Red Beard Sailing: The world's only nesting performance sailing dinghy; can be assembled in less than three minutes. Overall length 11.1 feet. Land 53 and 56.
Find more in the October SpinSheet!
What's New?
American Sailing Summit in Annapolis: October 5-12
Select from eight days of workshops, on-board trainings, and educational seminars presented by Annapolis Boat Shows, Blue Water Sailing, Chesapeake Bay, Cruising World, and SAIL magazines. Activities include Cruisers University (October 9-12), First Sail Workshops (October 5-9), Take the Wheel Interactive Workshop (October 6-8), and a variety of free and paid seminars. Register for events at annapolisboatshows.com.
No opening night party this year. But don't fret; the annual Distinguished Service Award will be presented at the Sailing Industry breakfast on October 6.