Crossing the Atlantic Aboard Blue Jay, a New Bali Sailing Catamaran
Whit is hand steering from the bridge deck, a big grin on his face. Blue Jay is romping, running before the mighty trade wind swells that heave up astern. We're 11 days sailing out of Lanzarote, Canaries. We're in the groove and making nine knots, as fast as 15 when launched just right down the wave faces. The watch is about to switch over; Bob and I are ready to go.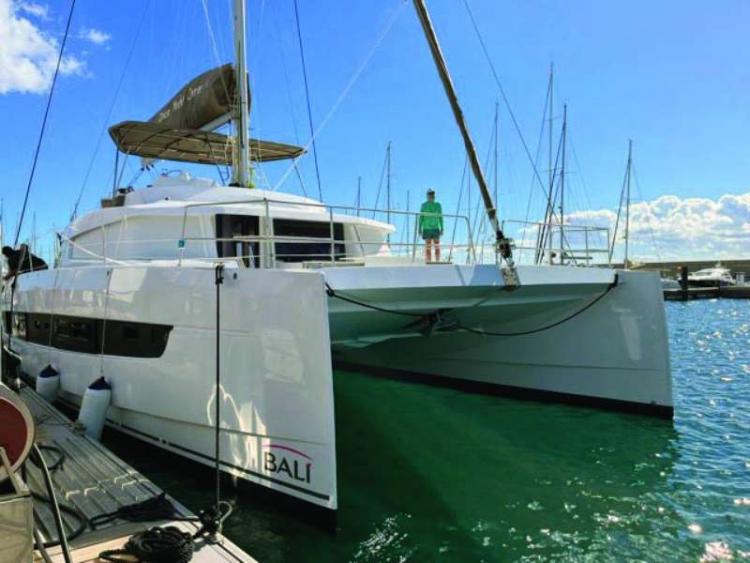 The text was brief, to the point, even though I hadn't heard a word from Ed in a few months. "The boat's almost finished. We're going to prep and provision and get through the Med and Gibraltar to the Canaries over the next couple of weeks. Come join us in Lanzarote for the transatlantic passage."
Wow, what an arresting invitation. I quickly did the necessary mental gyrations to figure out how to clear my plate for a month in order to make the trip. My wife, Marybeth, said, "Go!" My reply to Ed was equally simple: "Okay, sounds good. I'll meet you in Arrecife."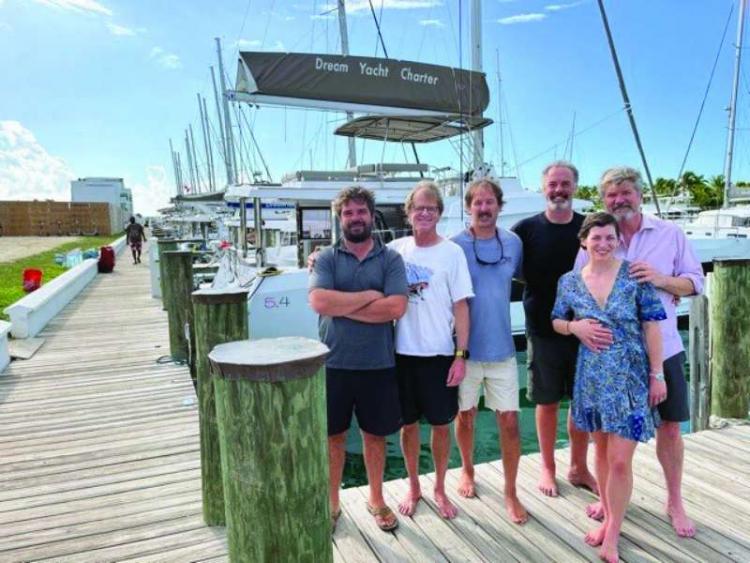 Ed's new Bali 5.4 catamaran had been under construction at the Catana yard in southern France for a couple of months. I knew he might need me to help with the transatlantic delivery, but I didn't think the boat would be ready in time to take advantage of this year's weather window of opportunity. I'd been distracted by other things, too. Well, it was time to pack my old duffel bag and find my way to the rendezvous in the Canaries. Game on.
I start my gear pile on the garage floor. I make to-do lists. I locate new foul weather gear since my old stuff had acquired the integrity of cheese cloth. I gather my PFD, harness, tether, my favorite knife, red-light headlamp, books, a change of clothes, toothbrush. Check. Check. Check.
I'm well acquainted with the reality that if you wait until everything is completely done, you'll never go. As we lay up at a marina in southern Lanzarote, things requiring our attention keep arising. I start to fear that we'll never leave. We have mechanical issues to solve which even involve one of us flying to France to personally gather repair parts. We do some wild goose chasing for propane tank fittings and other exotica. We provision and reprovision. There are customs and immigration and Covid hoops to jump through. We take on fuel and water. I ascend to the top of the 110-foot mast to inspect fittings.
Casting off
We do finally get away, casting off at 2 p.m. November 19. We thread our way through the Canaries on our southwesterly course. We follow a favorable wind forecast track which takes us down the coast of Africa on a seven-day passage to the Cape Verde Islands. We make a brief stopover at the port of Mindelo on the island of St. Vincent to look around and get a feel for the place, not to mention to pick up some fruit and fresh greens. And yes, the short stop requires entering and clearing Cape Verde customs and immigration.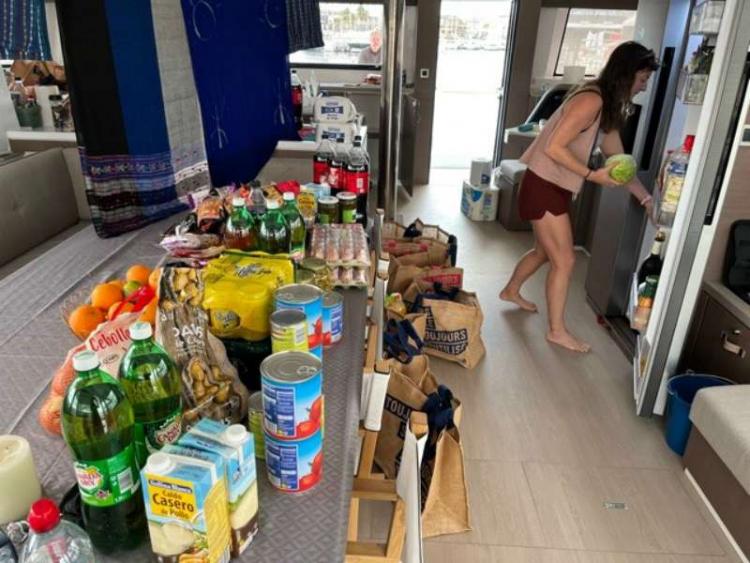 Our final destination landfall will be New Providence Island, Bahamas, to what will be Blue Jay's charter base. Our general route takes us on the traditional trade winds passage to the Lesser Antilles. We will head to the upper end of those islands—in the vicinity of the Virgins and Anegada—skirt them on the north, and continue the additional 1000 miles through the Turks and Caicos and Bahamas to our destination.
There are six of us aboard: Dylan, professional captain from South Africa; Ed, the gracious owner of Blue Jay and the brains behind the operation; Ina, historian and Ed's witty and delightful partner; Bob, technologist and gourmet chef; Whit, consummate sailor and worldly wise; and me, retired dentist and Chesapeake sailor with a long-held dream to experience a transatlantic passage.
The trades are impressive in their consistency. Once off the Cape Verdes we pick up the east wind and blast before it for days and days. We typically have 20-25 knots east-northeasterlies day and night, stronger in the frequent squalls. These pumping winds keep the seas running big and breathtaking. The view sternward is scary until we get used to it. The waves seem poised to topple over the stern of the cat, but they don't. She rises to meet them, and they rumble harmlessly under our hulls as we accelerate.
Life at sea
All six of us share watches in teams of two. We rotate through four-hour daytime watches and three-hour nighttime ones. Besides tending sails and keeping a lookout, during watch we steer or monitor the autopilot and various systems, navigate, inspect for chafe, man the radio, and write in the log. We also stargaze and observe clouds, dolphins, whales, birds, and turtles. For those long night watches, we are happy as long as the peanut M&Ms hold out.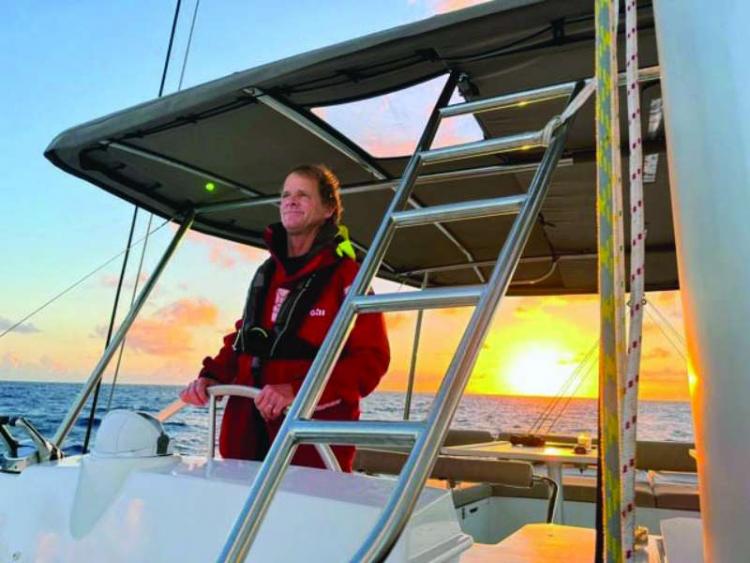 After a few days at sea, we settle into life aboard. We get accustomed to the motion of the boat, perfecting the stagger necessary to get from place to place, learning all the handholds and the sequence of their use. It is pretty comical to see each other grope our way around the boat as Blue Jay heaves with the swells.
The noises the ship makes while romping before the stout swells of the trades could be disconcerting at first, especially when lying in one's bunk. Squeaks, bangs, groans, hums, whistles. When the seas become particularly confused the noises reflect it in their discordance. But like the motion, one gets accustomed to these not-so-subtle murmurings of the boat working at sea.
The ocean is an imponderable shade of indigo and it changes perceptively throughout the day as the sun angle varies and as the atmosphere adds its effects. Watching it from the bridge or from the porch seat on the stern while plunking the ship's guitar never gets old; a little unnerving at times, but never old. Barreling along downwind day after day after day is not only spectacular but also a bit otherworldly, surreal.
We eat exceptionally well. Don't tell the folks back home; they probably think we we're crouching in the bilge, eating straight from cans of beans and tuna fish, munching on weevil-infested hard tack. Not quite, but that does come close to describing my first offshore passage some years ago.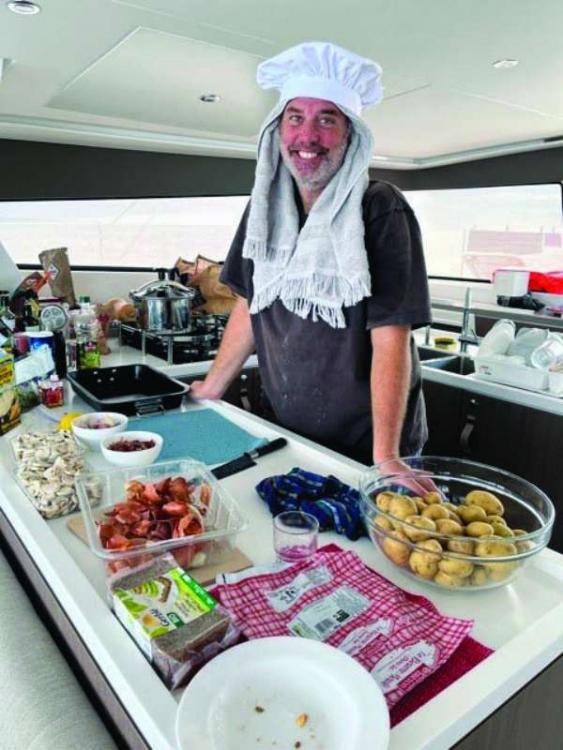 Aboard Blue Jay we have a full-sized refrigerator stuffed to the gills at the beginning of the voyage and overflowing cabinets. Bob is a no-kidding gourmet chef and keeps whipping up one sumptuous mid-ocean dish after another. For breakfast and lunch, we typically forage independently for leftovers, peanut butter, granola, and—as long as it lasts—fruit. For dinner every day at about 5 p.m. local time, Bob serves something amazing: pork-fried rice, Thai-spiced chicken, a full Indian feast, truffles macaroni and cheese. We have incredible shepherd's pie for Thanksgiving. One bright morning Dylan catches a robust yellow-blue, iridescent dorado on which we feast for a few days.
We rarely sight other vessels. We haven't seen another one for four days. We use the AIS on our chartplotter, which allows us to monitor commercial ship traffic and most larger private vessels within VHF range. It's very helpful technology that I'm grateful to have. Navigation is done electronically, but we plot on paper charts, too. Additionally, Whit and I review our somewhat rusty knowledge of celestial navigation sight reduction.
Stargazing!
One of the facets of the voyage which I have been oh so looking forward to is studying the sky, by day and especially by night. The stargazing is exquisite, and we study and gain familiarity with the starry dome like never before. I get reacquainted with the great navigational stars such as Cappella, Aldeberon, Vega, Fomalhaut, and Betelgeuse to name just a few. We are on the passage long enough to experience the moon in all of its phases and the planets marching steadfastly across the ecliptic.
Standing watch under moonlight flooding across and illuminating our little water world is sublime. The moonless nights are profoundly beautiful, too, if not sometimes a little spooky. After all, occasionally in the pitch black I get the feeling that we are hurtling through space on an out-of-control magic carpet ride. It's wild. And when those midnight squalls sneak up on us under cover of darkness, bringing sheets of rain and an extra shot of wind things get especially lively.
To keep the big cat Blue Jay moving required plenty of sail area, so we give it to her, and when it blows hard, we reef, day or night. Putting in or shaking out a reef becomes standard fare out there in the middle of the Atlantic. Besides our beautiful fully battened Elvstrom main, our sail inventory includes a handsomely cut roller furling jib and an Ullman asymmetrical spinnaker of heavy Dacron. The spinnaker is an 11th hour addition. We do not have a specific spin kit optioned on Blue Jay, so we improvise tack and clew attachments, winching, and other details of flying the much-employed sail.
One black night the hefty 14-mm halyard we use to fly the spinnaker parts at the masthead, dumping the massive workhorse of a sail into the sea where it streams by its sheets alongside the port hull. Thankfully, adrenaline flooding our veins makes relatively short work of wresting the beast back onboard.
Wildlife watch
"Whales! Whales!" The cry goes through the boat. We rush to the foredeck where we gape and squeal in delight like kindergartners. A pod of Minke whales has come to visit. They swim within meters of the boat, sometimes turning sideways to look up at us. Several times we encounter such whales on this passage, and even more often a pod of dolphins suddenly surrounds us and cavorts at our bows. Sometimes there are as many as 30 or 40 of them, including calves tucked up close to their moms. It is always a spectacular show that's over as suddenly as it begins.
Every day at dawn one of us goes on an "Easter egg hunt" to see how many flying fish leaped on deck overnight. Our record is 12 in one night. One fish even flies its way through a hatch to flop onto Ina's berth. Nice.
We work together; we try to run a tight ship. Besides trimming sail, there are various gymnastics required in keeping the ship moving well, assorted repairs and maintenance. We keep lines neatly coiled, the decks washed down, the galley clean. Dylan goes up the gyrating mast to deal with a recalcitrant halyard. I claw out to the end of the 20-foot boom to rehab the preventer. Some of these events require the entire crew, if not for hands-on assistance, for strong moral support.
The camaraderie of the crew, sequestered as we are in this ocean wilderness, is especially affirming. We share chores and laughter and the magic that is this passage. We compose and recite poetry. We meet on the bridge deck in the evening, have impromptu singalongs, and observe the sunset and the stars coming out before the off-watch crew scurry below to nap.
The route we follow gradually converges closer and closer to land. We reach the waypoint we've been working toward for weeks, one just to the north of the British Virgin Islands, and continue on a course through the Bahamas toward New Providence. Occasionally our thoughts turn wistfully to terra firma, to sleeping through the night. We start calculating when we might make landfall and how nice that will be. By the time that profound event will have occurred we will have sailed more than 4100 miles in the 25 days since leaving the Canaries.
In the meantime, the good ship Blue Jay sails on, its crew possessing a singular glow and feeling the life force of the ocean, happily poised there on that roiling interface between earth and sky.
By John W. Robinson