A beautiful sailboat reinterpreted
In 1914, Nathaneal Green Herreshoff wanted a daysailer for his own personal use. He had designed at least two prior prototypes, including Sadie for an Oyster Bay gentleman sailor.
Sadie, tweaked and downsized, was in his mind the perfect boat for solo sailing in Bristol Harbor and for his winter trips to Bermuda after World War I. You can see the original Alerion III with a truncated rig in the Small Boat Shed at Mystic Seaport Museum, painted in the Wizard of Bristol's iconic seafoam green.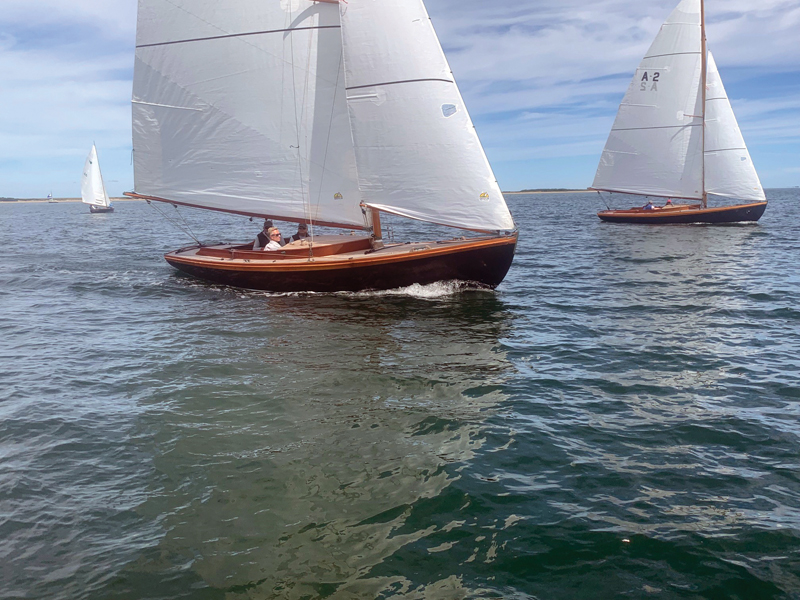 This beauty was reinterpreted in the late 1970s on the island of Nantucket by Alfie Sanford, a longtime resident and classics enthusiast who wanted to incorporate the new technology of cold-molded wood with Herreshoff's design. He also needed to adapt to local sailing conditions, namely the shoal water of Nantucket Harbor. Without the benefit of the customary Herreshoff scantlings brown book, Sanford with measurements of existing hulls backed his way into a set of building plans for these 26-foot knockabouts.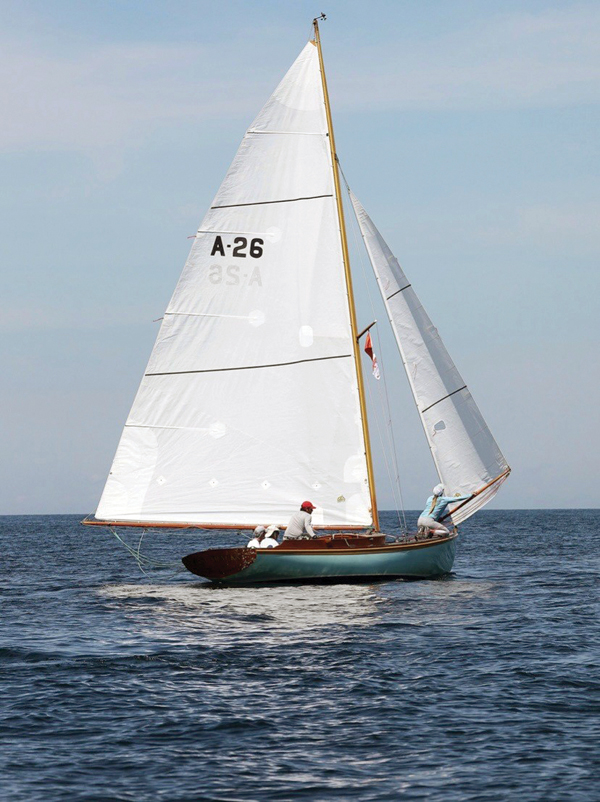 To deal with the fresh sea breezes offshore, a bigger rudder was in order along with some keel modifications to reduce weather helm. The Marconi rig had already become a feature of Captain Nat's original 1920s Alerion III. Above the waterline, Alfie left the signature sheer and concave bow lines.
The first boat was numbered A-2 and named Serendipity. The owner, chairman of Nantucket Community Sailing, Harry Rein, has 44 years of great sailing on his boat. Since 2006, six of the current 20-boat fleet have been commissioned. In the recent Harbor Race on August 16, almost all of the fleet battled through the tides and shoals of Nantucket Harbor with the winner a first-year owner of an original 1970s built boat.
The Nantucket Alerion is not to be confused with the modern fiberglass "stretched" Alerion 28, sometimes called the Alerion Express when rigged with the revolutionary self-trimming jib boom invented by Gary Hoyt, the Newport, RI, native soon to be inducted into the Sailing Hall of Fame. The boat is built in a local shed with the building techniques that the Herreshoff Manufacturing Company used in Bristol to produce a handful of Alerions while delivering hundreds of Alerion's little brother, the 12.5.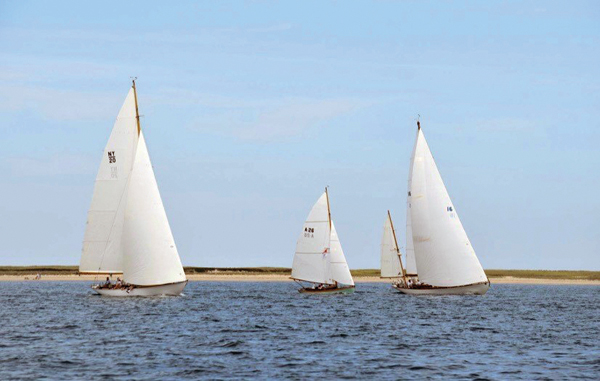 Today's Nantucket Alerion Fleet, now with 31 built on the island between 1977 and 2020, has a competitive flavor that Herreshoff might not have anticipated. The fleet has identical sail inventories built by Doyle in Marblehead on the designs one sees for other small knockabout keelboat designs such as the Wianno Senior or the local Nantucket centerboard design, the Indian. The rigging is modern, with main and jib ball bearing travellers, and high-powered cunninghams. By rule, every advance in rigging, such as jib inhaulers, has to be universally available to all boats before acceptance. Boat weights have to be in a range (5250 pounds, not light); not exactly the rigorous standards of the Harbor 20. This is as close to one design as custom wood boats can be.
These pictures are from the recent Nantucket Opera House Cup, which featured 52 classic finishers, including winner, the vintage 12 meter, Onawa, built in 1923. A-26 First Tracks is owned by Brian Simmons from the tiny ex-fishing village of Siasconset. I am his main trimmer and tactician.
by Tom Darling of Conversations With Classic Boats
To hear Tom Darling's latest Conversations With Classic Boats podcast, click to conversationswithclassicboats.com.
Read a review of the Alerion Express and other reviews of monohulls and catamarans.